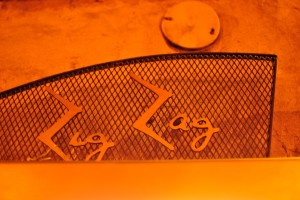 After our early morning start to see the condors at Colca Canyon, we were pretty tired by the time we got back to Arequipa, a four hour drive away. Our experience with altitude had left us feeling a bit sluggish and took away our appetites so I couldn't stomach the thought of eating anything complicated. While the Peruvian food we had eaten so far was tasty, some of it was really rich, and there were a lot of spices and herbs mixed into the sauces. I was in the mood for something plain and simple, and Zig Zag fit the bill.
One of the couples in our Colca Canyon tour group had eaten there before and recommended it to us. They said that we would probably need reservations but we decided to chance it, arriving at the restaurant at an early hour for dinner. The restaurant was empty but every table had a little "Reserved" sign on it. Uh oh. However, because we were there so early, they told us they could accommodate us if we finished before a certain time, when the reservations were to be honored. Since that gave us an hour and a half to eat, we had no issues. We settled down to eat and they brought us a small dish of cheese and olives to start. The cheese was crumbly and salty, like feta.
The menu featured all different kind of meats, most of which were sold by the gram and simply prepared. We picked out three dishes to share, including an appetizer of three different tartares – trout, tuna, and salmon. All three with simply prepared with a little bit of olive and citrus. Each was topped with a sundried tomato that was intensely flavorful. The plate was garnished with cornichon, hearts of palm, capers, peppers, and a tiny quail egg. The fish was super fresh, and nicely cut into small cubes. The portions of each tartare were ample, and we enjoyed every bite.
While we were eating our tartares, they also brought us some small rolls of bread with herbed butter. The bread was soft and chewy and the butter was flavorful. They were fine to nibble on.
For the main part of our meal, they brought us paper bibs to wear. Yes, bibs. Our waitress told us they were "necessary", and when our food came, we saw why. We had ordered a grilled platter that came with four different kinds of meat. The meat was served on hot volcanic stones and were sizzling hot. The juice from the meat was literally sputtering when the platter arrived, so the bibs protected our clothes. In reality, we probably didn't need bibs but it was all in good fun. We found them amusing and wore them proudly. What astonished me most, however, was the amount of food we were brought.
When we ordered the assorted meat platter (which I actually thought came from the appetizer section), we told the waitress we would be sharing it. When the platter came, there were actually two sets of stone, each with its own set of four meats. It also came with a huge bowl of french fries that could have easily fed four people. I couldn't believe this was one order, and I worried that the waitress had misunderstood us and had placed two orders instead. Turns out that wasn't the case. It really was an order for one, and boy, that was a lot of food. The meats were marked with toothpicks so we could identify what each one was, and it came with ostrich, alpaca, beef, and lamb.
The meats were already cooked to perfection so we quickly removed them from the stones to prevent them from overcooking. They were very simply prepared, just a little seasoning and grilled on the stones. After all the rich foods we had eaten on our trip, it was a welcomed change. The alpaca was tender and tasted similar to veal or pork. The beef had actual beef flavor, and the lamb was nicely gamey. The only meat we didn't like was the ostrich, which was tough and bland. We dipped the meats into the various bowls of sauce that included an ajo sauce (garlicky), tartar sauce, herbed butter sauce, and a spicy rocoto (pepper) sauce.
The fries that came with the meats were heavenly. They were super crispy on the outside, potato-y on the inside, and not greasy at all. They were seasoned with salt and that was it. I ate handfuls, even without ketchup, and enjoyed every one of them. I am an avid french fry eater and even I couldn't get through all of it. We left half the bowl behind, and let me tell you, I was really tempted to ask them to pack it up for us.
We had been worried that the meats wouldn't be enough food so we got a small order of camarones, or crayfish, which are an Arequipan specialty. The camarones also came sizzling hot on a volcanic stone. We were too busy eating all the meat first, however, so they did get a bit overcooked sitting on the hot stone. They were still really tasty though, fresh and flavorful.
The camarones came with a choice of a side dish so we opted for fried yuca. They turned out to be breaded yuca croquettes, with a crisp exterior and creamy interior. They were really good but a little starchy, and we were beyond full at this point.
The veggie action in our meal came from a side dish of ratatouille. To be perfectly honest, we really didn't eat it because we were too busy stuffing our faces full of meat and carbs.
Josh and I had walked into the restaurant not feeling so hungry, and the amount of food we ended up ordering (by accident) was pretty hilarious. Our table was absolutely filled, and despite not having an appetite to begin with, we made a pretty good dent into everything.
Overall we both absolutely loved Zig Zag. It was one of the best meals we had in all of Peru, even though it was one of simplest meals we had. The meats and camarones were all top notch and the presentation was pretty neat. The fried sides were all well prepared, and I couldn't stop eating the french fries even after I was stuffed. The restaurant was empty when we arrived but by the time we left, it was packed and there was a line at the door. The vibe was upbeat but not stuffy, and it's someplace that I wouldn't have minded hanging out at the bar. Service was great and the prices were actually really reasonable. For all of our food, which included the trio of tartares, the assortment of meats, the camarones, all sides, plus a few Cusquena beers, the total was S/182 after tax and tip. That's about US$67, which would be an absolute steal here in NYC. If you find yourself in Arequipa, run, don't walk to Zig Zag! Reservations are definitely recommended.
Zig Zag Restaurant
Zela 210 – Cercado
Arequipa, Peru