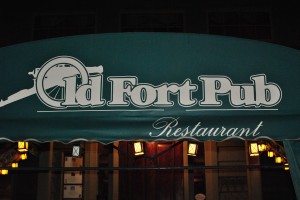 I have to admit, the first time I heard about the Old Fort Pub was on Rachael Ray's show, "$40 a Day." Man, that show used to tick me off half the time. One single sushi roll does not equal dinner, no matter how dainty of an eater you are. Which she clearly was not. And having your husband buy you frozen hot chocolate? Also not fair in context of the show. But I digress! So on the Hilton Head episode, she had a sunset martini at the Old Fort Pub. Given the name, and the fact that she just had a drink there, not a meal, made me think that it was a casual bar on the water. So to my surprise, when Josh's parents said they had a really nice meal there last year, I knew I wanted to check it out.
We had a reservation just in time for sunset, and it was a gorgeous evening. The dining room was a bit rustic but the main feature was the wall of windows that looked out onto the water, perfect for watching the sun go down. We stepped out onto the deck (you can also eat out there if you want) for a few quick photos: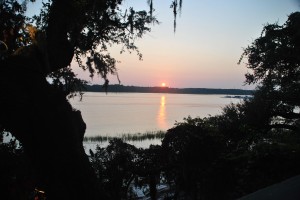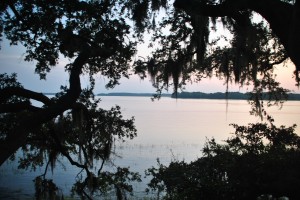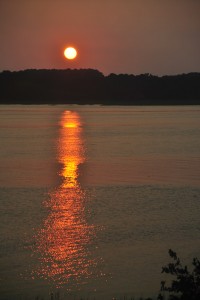 We went back into the dining room and settled in to look over the menu. There were lots of different dishes that I wanted to try so it was hard for us to decide. Ultimately I ended up dictating to Josh what I wanted, and he being the amenable guy that he is, agreed to all of my choices. After we made our selections, we were given an amuse bouche of smoked salmon cream in a pastry shell. The cream was a bit runny but it had good salmon flavor. I love smoked salmon in all forms so I liked it, but Josh wasn't too impressed.
We also got a basket of warm bread that had come right out of the oven. They were big rolls that you could pull apart into four dinner roll-sized pieces, and the top crust was nice and crispy. The inside had a nice chewy texture, and we ended up eating tons of these rolls with the accompanying herb butter.
For our appetizers, Josh and I shared the she crab soup (of course!) and the seared lamb tenderloin. Alice raved about the she crab soup last year so I was eager to try it. The soup was rich and creamy and chock full of crab flavor. Unfortunately, they were a bit heavy handed with the sherry so each spoonful had sort of an alcoholic bite to it. I'm not sure if they make it like that all the time, or if this was an anomaly, but I found it to be kind of unpleasant. Too bad, because it would have been an amazing soup otherwise.
The seared lamb tenderloin appetizer turned out not to be what I had imagined, but it was still quite tasty. I thought that it would be thin slices of barely cooked lamb but it was actually sort of like pieces of lamb kebab. It was served with a little goat cheese tart, baby mache, and beet chips. The lamb was tender and flavorful. I just wish there was more of it, as there were only four small cubes. All the components of the dish really worked well together, and I liked the gaminess of the lamb with the gaminess of the goat cheese.
For our entrees, Josh and I split the crispy Carolina trout and the crawfish cakes. The trout was perfectly seared so that the skin was super crispy, and it was nicely seasoned. The fish was served with baby artichokes, cremini mushrooms, grape tomatoes, and a sherry cream sauce. The portion of trout was huge, and I didn't even get through half the plate. I liked how the cream sauce bound all of the components together. My only complaint was that there was some mashed potatoes under the fish that was overseasoned with white pepper. I just ate around it, and everything else was spot on.
The crawfish cakes were prepared low country style and were served with green tomato, avocado, sweet pepper relish, and creamy stone ground grits. There were two huge cakes jam packed with crawfish meat and very little filling. The outside was nice and crispy while the inside was creamy and flavorful. The grits were chunkier than I expected but still very tasty. The green tomato and sweet pepper relish provided some nice acidity for the dish, while the avocado added some creamy richness. There was also one whole crawfish on the plate, which I dispatched by pulling off the head, sucking out the juices, and then removing the tail meat and eating it. Yum!
For dessert, Josh couldn't resist ordering the special of the night, a root beer float. It was pretty simple, just some scoops of vanilla ice cream topped with an organic root beer and served with a chewy tuille cookie. The root beer had a clean taste to it, not overly medicinal, and having a root beer float is just whimsical enough to bring a smile to anyone's face.
Overall our dinner at the Old Fort Pub was our favorite out of all the meals we had in Hilton Head this year. From start to finish everything was really well prepared and the flavors were delicious. Service was good, and the restaurant had a really lovely atmosphere. Portions are huge here, making it a good value as we had tons of leftovers that fed all of us for lunch a few days later. We were all pretty impressed with our experience, and I hope it's a place that we'll come back to again.
Old Fort Pub
65 Skull Creek Dr.
Hilton Head, SC