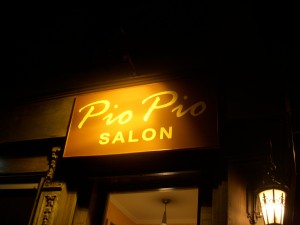 As I mentioned earlier in my post about our trip to the Galapagos, Peru is still at the top of our "must visit before kids" list. Seeing Macchu Picchu will have to wait until next year at least, but in the meantime, we were happy to be able to try some Peruvian cuisine when Josh's parents suggested we go to Pio Pio for Sunday night dinner.
We headed to the Upper West Side branch of the restaurant, and it was a good thing we called for a reservation because the place was packed, and there were nine of us altogether. The music they were playing was loud and upbeat, which made the atmosphere seem very festive. Our table wasn't quite ready yet when we arrived so we squeezed ourselves by the small bar area and ordered a pitcher of sangria to start. The sangria is pretty decent, not awesome, but also a bit dangerous because it's sweet and goes down like juice.
I don't think I've eaten Peruvian cuisine before, but I knew we had to get some ceviche since that's a notoriously Peruvian dish. We chose the Cebiche Mixto, which was chunks of fish, shrimp, octopus, calamari, and scallops marinated in lime juice and mixed with red onion, cilantro, and hot peppers. It was a very refreshing dish, as the seafood was tangy with a nice little kick from the hot pepper. The scallops were my favorite part – fresh, tender, and tasty.
We ordered two Matador combos, which came with avocado salads to start. The avocado was properly ripe and fresh but I thought the salad was a bit boring overall. The ceviche was a much better starter.
The Matador combos also included chicken pio, which is a whole marinated chicken in a Peruvian sauce. One order of the chicken is pretty large and can feed about four people. It was tender and juicy on the inside and a little crispy on the outside. The meat was well seasoned and I enjoyed it a lot.
The combos also came with rice and beans, tostones, and salchipapas. The rice and beans were just eh. The beans didn't have enough seasoning and they just tasted bland.
The tostones were superb. Big pieces of plantain were pressed flat and fried to a nice crisp. They came with a container of garlic sauce on the side to dip with, and you know how much I love garlic sauce with tostones.
I didn't know what salchipapas were but when they arrived, I was so excited because I've seen pictures of them on other blogs. Salchipapas are basically French fries topped with slices of hot dogs. I love French fries, and I love hot dogs. Put them together – wow! My new favorite side dish! The hot dogs were cooked after they had been sliced so they were a little crispy on the edges and just worked so well with the thick cut French fries. Even without ketchup, I ate almost an entire plate of this by myself.
In addition to the Matador combos, we got a large order of the Jalea, which is a fried seafood platter. The large order really is large but the seafood is really heavily breaded. I identified pieces of calamari and fish, but after a while everything just sort of got clumped together and it was hard to tell exactly what you were eating. There was a little bit of onion and tomato salsa sprinkled on top of the platter, but otherwise, the seafood was under seasoned and lacked pizzazz. It definitely needed some sort of dipping sauce, or extra lime to squirt on top. I was pretty disappointed with this dish and wouldn't order it again.
Another disappointment was the Arroz Chaufa, which was Peruvian style Chinese fried rice. We opted for the beef, and it was mixed with eggs, onions, and soy sauce. However, this dish also lacked seasoning and just tasted heavy and oily. I can make better fried rice at home.
The Camarones Cuzco were sautéed garlic shrimp on top of yellow rice. This was also an unmemorable dish. The shrimp were fine, if a bit lacking in flavor, and the rice was nothing special.
I did like our side order of maduros though. The sweet plantains were thick cut and fried so that they had a nice texture but weren't too greasy or starchy.
We were pretty stuffed after all that food so we decided to split one dessert, a slice of tres leches cake. Some people also ordered coffee or espresso, which really confused the waitstaff for some reason. Josh wanted an espresso, and they kept bringing a regular coffee. Someone else wanted decaf, and they also kept bringing a regular coffee. It was really kind of laughable, they just kept bringing out the same cups of coffee over and over, until we got fed up and just took whatever they were offering. Josh thinks he wound up with a cup of decaf coffee, or else it was the worst regular coffee he has ever drank. It definitely was not worth the aggravation.
The tres leches cake was ok. I've only had it once before so I don't really have a basis of comparison. The cake itself is a bit dry, but the milk that they soak it in makes it wet. So it tastes kind of like a sweet gritty wet cake to me. I think I'll pass on it next time.
Overall I thought the food at Pio Pio hit some pretty high highs and some pretty low lows. Service, however, was not so great. In addition to the coffee issues, we had placed two orders of the Matador Combo but they only brought out one order, so some of us had to wait an extra half hour to get a piece of chicken. It also threw of the timing of the meal a bit. I ended up eating more of the Jalea than I wanted to, only because I was hungry while waiting for the rest of the chicken and the sides to arrive. And by the time they arrived, I was pretty full yet unsatisfied. I kind of felt like the only time they really paid attention to us was to constantly refill our sangria glasses so that we would have to keep ordering more pitchers.
Negatives aside, I really did enjoy the chicken, and the ceviche. I'd go back there just for these items. The side dishes were also really good, except for the rice and beans. The combos are pretty decent deals if you're splitting with a lot of people. Otherwise, I might just order a pio chicken a la carte and then cherry pick my favorite sides, like the salchipapas and the tostones. Just make sure that if you do go with a big group to make a reservation. It was late on a Sunday night and the restaurant was still hopping when we left.
Pio Pio (multiple locations)
702 Amsterdam Ave. at 94th St.
New York, NY