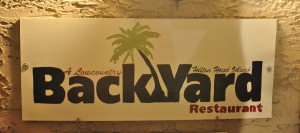 I did do a little bit of research on Hilton Head restaurants before we went down, and one restaurant that I found was called A Lowcountry Backyard, which featured local lowcountry cuisine. My brother, sister-in-law, and nephew left that afternoon so we had a slightly smaller group for dinner, though there were still 12 of us. This restaurant also does not take reservations, though they said that if we called ahead they would put our names on the list and try to accommodate us. We arrived at the restaurant, they told us the wait wouldn't be too bad, but we ended up waiting for over 45 minutes. The restaurant is on the smaller side so we had to stay outside. There's a pretty garden with tables and chairs but the wait was uncomfortable because the mosquitoes were relentless.
We were bitten up and slightly annoyed by the time we sat down. Again, we had to split up into two tables because they didn't have anything large enough for a group of our size. Josh and I sat with Jessica and Eric while the "adults" were squeezed into the other table. We started off with a round of local beers as we perused the menu. The menu wasn't very long but there were lots of things that I wanted to try. We ended up getting a few appetizers to share. First up was the fried green tomato stack, which was pretty self explanatory. A few pieces of lightly breaded and fried green tomatoes were stacked together and served with pickles and ranch dressing on the side. The breading was well seasoned though slightly soggy. We could taste the sweet/sourness of the green tomatoes though, and overall we enjoyed the flavors of this dish.
We also shared the blue crab dip, which was lump crab meat blended with cheese to make a warm and creamy dip. I always thought that seafood and cheese shouldn't go together, but the combination worked well in the dip. We could taste the sweet brininess of the crab meat while the cheese added a rich tang. The texture was smooth and creamy, with little lumps of crab. There was flat bread and tortilla chips on the side for dipping.
Lastly, we got an order of pimento cheese with grilled flat bread and tortilla chips. I was curious about pimento cheese since it's pretty popular in the south, but I hadn't really ever tasted it by itself. Basically it's a combination of cheddar cheese, mayo, and pimentos all blended together. To be honest, I wasn't a fan. I found the spread to be too chunky and the texture was slightly off-putting for me. There would be little lumps of cheese and little clumps of mayo, and the flavors didn't meld for me. We ended up passing the dish over to the "adult table", where it was quickly gobbled up. The adults raved about the pimento cheese, preferring it over the blue crab dip that we liked. I guess it's just a matter of personal taste!
For our entrees, Josh and I shared the shrimp and grits and the Bischick. The Bischick was a lightly breaded and pan fried piece of chicken breast served over a homemade biscuit and topped with lowcountry gravy. The chicken breast was thick, juicy, and tender, and the breading was well seasoned. The homemade biscuit wasn't as salty or as buttery as the fast food biscuits that I'm used to, but it had a nice fluffy texture to it and stood up well with the chicken. The gravy was thick and creamy, adding seasoning and richness to the sandwich, though the amount was slightly overwhelming and I ended up scraping some of it off. I did enjoy the dish as a whole, as it was fun and flavorful.
The Bischick came with a choice of one side dish so I opted for macaroni and cheese. It was a very good version with lots of tangy, sharp cheese. The noodles were al dente, the sauce was creamy, and there was shredded cheese on top that added an extra punch of flavor.
The shrimp and grits were a combination of sauteed shrimp and sausage slices mixed with a creamy bacon sauce and served over grits. This dish definitely packed in a lot of flavor, though it was on the border of being just slightly too salty for my taste. But the shrimp was cooked perfectly so that they still had a light, bouncy texture. The bacon cream sauce was truly decadent, and the creamy grits had soaked up all the flavor of the other ingredients. It was a pretty heavy and rich dish so I was glad that we went halfsies, since I think it would be hard to polish off a full portion of this by yourself.
We also got an extra side dish of collard greens, which definitely helped to counteract the richness of our two entrees. The greens were just a little bitter with a slight tang to cut through the rich gravy on the Bischick and the creamy bacon sauce on the grits.
Jessica ordered the potato chip meatloaf for her entree, which was something I really wanted to try. She generously gave us tastes of her dish, and although I couldn't taste the potato chips (which they use instead of breadcrumbs), the meatloaf itself was well seasoned and flavorful. They use a combination of ground pork and beef, and they grill slices in a skillet before serving so that there's a nice outer crust while the inside has a softer texture. The meatloaf was glazed with a peach barbecue sauce that was sweet and tangy.
Overall I really did enjoy the food at A Lowcountry Backyard but the wait for a table was kind of ridiculous, especially since we had called before we went and they said we should be ok. It seems unavoidable to wait because the restaurant doesn't take actual reservations and the place is pretty small. The food was flavorful and well seasoned, though the preparation is simple. It's definitely home-cooked food, hearty and comforting, but not refined or mind-blowing. Portions are big and prices are extremely reasonable. Perhaps that's why the restaurant is so popular; I just wish they would take reservations. If you have the time and the patience – go. If not, you might not think it's worth the wait.
A Lowcountry Backyard
32 Palmetto Bay Rd.
Hilton Head, SC