After eating some very good puffy tacos at Henry's, we continued our taco crawl with a stops at Taco Tex and El Milagrito Cafe, which I had read were some of the best breakfast taco places in San Antonio. Taco Tex was a very nondescript storefront in a strip mall (I forgot to take picture of the sign), but it was surprisingly crowded given the time of day (it was a little late for breakfast, a little early for lunch on a weekday).
Josh ordered two tacos for us and brought them out to the car where I was waiting with J. The first was a beef fajita al carbon taco, which had lots of big strips of meat, grilled onions, lettuce, tomato, and shredded cheese. I was kind of surprised to see the lettuce, tomato, and cheese, but I guess that was the "Tex" part of the taco? They really didn't need to be there, and actually detracted from the overall flavor of the taco. The beef was tender and well seasoned, and the grilled onions were the only topping I thought the taco needed. The flour tortilla was soft and had a nice chewiness to it.
The pastor taco was our main reason for visiting Taco Tex. It's seasoned pork marinated with chiles, spices, and pineapple. There was lots of meat piled into the taco, but nothing else, which also surprised me. Usually there is some pineapple mixed in, and maybe some chopped cilantro and onion on top. Nevertheless, the meat itself was had a good char on the outside that gave it a nice texture and lots of flavor. The filling was a little sweet, a little spicy, and definitely woke up our taste buds.
Overall, we thought Taco Tex was solid joint with tasty, cheap tacos, but it's definitely not a can't-miss destination. If you're in the area and hungry, it's a great place to grab a quick, satisfying bite. The flour tortillas were good, and the pastor packed a lot of flavor.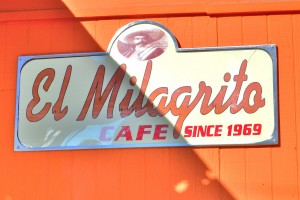 El Milagrito Cafe was our last stop in San Antonio. Since we had an hour and a half drive ahead of us on our way to Austin, we decided to stop in for a full sit-down lunch, having already whet our appetites with the tacos we had eaten earlier. The menu was huge, and as usual, we had a tough time deciding what to order; I wanted to eat pretty much everything listed. J snacked on the complimentary tortilla chips and salsa while we debated our options.
We ended up getting one more batch of tacos, mixing up flour and corn tortillas based on our waitress' recommendations. First we tried the barbacoa, which is beef that is slow cooked under its incredibly tender and falling apart. The flavor of the barbacoa was intense, almost gamey, though the texture was a bit too soft for my taste. It came with chopped cilantro and onion on the side, which we added on top of the taco with a squeeze of lime juice. We ordered this one on a corn tortilla, which was nicely griddled and didn't have that gritty corn flavor that usually deters me from corn tortillas.
We also got al pastor on a corn tortilla, wanting to compare the al pastor here with the one we had just eaten at Taco Tex. The pork here was cut up in bigger pieces, and it seemed saucier, whereas the Taco Tex seasoning was more cooked into the meat. It was milder in flavor, not as sweet or spicy, but also filled to the brim with meat. Again, I was surprised by the lack of pineapple. Maybe that's just a NYC thing?
An article I had read about El Milagrito said to order the Asada a la Mexicana taco with guacamole on top, so we did. It was grilled steak mixed with diced peppers, onions, and tomatoes (I guess representing the green, white, and red of the Mexican flag). While I liked the creaminess and extra oomph that the guacamole added, the steak itself was on the blander side, but tender. We ordered this taco on a flour tortilla, which was slightly thicker than the corn tortilla but had a nice flavor and a great chew to it.
We also had to get one last "true" breakfast taco before leaving San Antonio. We went for the Taco Loco, which was chorizo, potato, beans, and eggs on a flour tortilla. It was a ton of filling, a ton of flavor, and something I would happily eat for breakfast every day.
We picked up another chicken fajita taco for J, which she ate half of during lunch, and then finished the rest after we arrived in Austin. She seemed to really enjoy the chicken, which was tender and well seasoned, and she loved the flour tortilla.
Overall, the tacos from El Milagrito Cafe were among our favorites in San Antonio. They had the best flour tortillas, the fillings were abundant and flavorful, and the overall vibe of the restaurant was great. It's nothing fancy but it's bright and clean, service was spot on, and prices were ridiculously cheap. The most expensive tacos we ordered were $2.25 each (the barbacoa and Asada a la Mexicana), with the rest coming in under $2. Pretty much all of the breakfast/lunch plates on the menu were less than $7. If I had the stomach capacity, I would have ordered even more food than we already did. I wish we had a place like this closer to home, and if we're ever in San Antonio again, I would happily go back.
Taco Tex
15104 San Pedro Ave.
San Antonio, TX
El Milagrito Cafe
521 E Woodlawn Ave.
San Antonio, TX