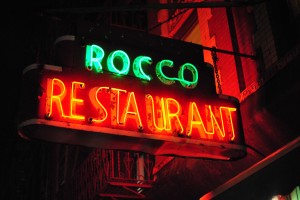 Rocco Ristorante is an old school Italian joint down in the Village that's been around for years. It has become one of our more standard destinations for Sunday night dinner with the family, as the restaurant serves solid food at pretty reasonable prices. The atmosphere is warm and homey, with lots of pictures hanging on the wall with all of the famous people who have dined there.
Our meal always starts with a round of bruschetta on the house. Thick slices of toasted Italian bread are covered with chopped tomato, a little bit of chopped onion, some garlic, basil, and a healthy dose of olive oil. It's a simple dish but always perfectly seasoned and delicious.
The regular bread is decent, though it's better when served warm. It has a somewhat crispy crust but the insides are a bit dense. I like the chewiness though, and it's slightly sweet, perfect for slathering with salty butter.
Josh and I went halfsies on a caesar salad and the beef carpaccio. The menu says that the caesar is served for two, but they never give us any problems when we order for just one person. The dressing is really well prepared, creamy but not gloppy or overwhelming. I like the homemade croutons, which add a nice garlicky crunch.
The beef carpaccio is a huge portion of thinly sliced raw beef on top of a bed of arugula. There are big chunks of shaved parmesan cheese on top, which I love. It's lightly dressed with just a little olive oil and salt, and I always squeeze some lemon over the top and get a nice crank of freshly ground black pepper. The beef always tastes fresh and slightly sweet, pairing perfectly with the salty parmesan, bitter arugula, and tangy lemon juice.
Linguine with white clam sauce is one of Josh's favorite dishes, and they prepare it very well at Rocco. The pasta is always al dente, and there are lots of big, juicy clams scattered on top, still in their shells. The sauce is heavy on the garlic, which we enjoy, but is still light and not overly greasy. The flavor of the clams definitely takes center stage.
I usually get the chicken parmesan but on this particular evening, I decided to go with the veal. Both renditions are very good, with thick cutlets pounded out a bit and nicely breaded and fried. There's lots of mozzarella cheese melted on top, and the red sauce is definitely a high point – sweet and tangy. I actually don't have a preference between the chicken and the veal. Both are flavorful in their own way, and the meat is always tender. I just wish the restaurant would serve the dish with a side of pasta instead of the boring, mushy, buttery vegetables (carrots and zucchini this time) that come on the plate.
We don't always get dessert but we've tasted the tiramisu before, which is always good. The zabaglione with fresh strawberries, however, is incredible. The zabaglione is thick, creamy, and rich, not too overpowering with alcohol flavor, and goes perfectly with sweet strawberries. Josh's sister was tempted to lick the bowl clean, that's how delicious it was.
Overall we always leave Rocco full and satisfied. The food is uncomplicated but solid Italian fare. The menu has all of the classic dishes, and nothing is ever a surprise. They have a great red sauce, which is important for any Italian restaurant. Service is always warm and accommodating, and the atmosphere is low key. I'm sure the restaurant will continue to be a part of our Sunday night tradition.
Rocco Ristorante
181 Thompson St. between Houston and Bleecker St.
New York, NY