Josh and I recently attended our first baseball game of the season, courtesy of Randy. He generously gave us his Yankees tickets for a Saturday day game against the Cleveland Indians. Unfortunately the weather wasn't ideal, with a persistent misty rain that drizzled down on us throughout the entire game. It was also pretty windy and chilly, but fortunately we came prepared with raincoats and long pants.
We arrived at the stadium with some time to spare so we walked a loop to check out the various food options. We were searching for Mike's Deli and its famous eggplant parmesan sandwiches but couldn't seem to locate the stand. We asked a bunch of people and got nowhere, until finally someone was able to tell us that the deli was no longer available at the stadium. Doh! We were pretty disappointed and started looking around for a backup plan.
We were surprised to see that there was no line at Lobel's, where we had to wait for almost an hour last year for a steak sandwich. Perhaps the novelty has worn off and people don't want to pay $15 for a sandwich anymore? Since we had already tried the steak sandwich, we continued on our way. We also decided to bypass Johnny Rockets and Brother Jimmy's, but that didn't leave us with too many other choices (sorry, we still think Citi Field is nicer and has better food concessions). We finally settled on Carl's Steaks for some Philly cheesesteaks.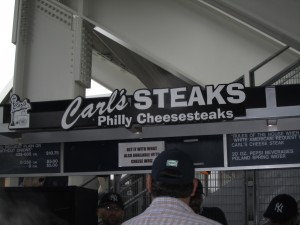 I wasn't thrilled with this option, as I know there are branches of Carl's Steaks in the city. But given our other choices, this seemed like the best option. Josh and I decided to split a cheesesteak, but we argued about what kind of cheese to get. He wanted American, I wanted to try Cheez Whiz. Josh refused to back down so we ended up with the American cheese. I didn't like the flavor of the cheese but the rest of the sandwich was ok. The steak was thinly sliced and we got it with the sauteed onions. I thought the filling was a bit paltry, but I saw other sandwiches being made that were fuller, so I guess it varies from sandwich to sandwich. The sub roll that it was served on was soft and chewy, and it wasn't a terrible sandwich for $10.50 (yes, overpriced, but not overly so for a ballpark).
To round out our lunch, we headed to the closest Garlic Fries stand because we had really enjoyed the fries from there last year.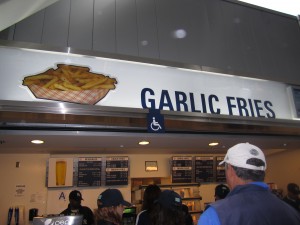 We got a large order of the garlic fries, and were happy to see all the garlicky topping mixed throughout. Though the fries had been sitting out for a while and were slightly cold, the garlic punch really made an impact on our taste buds. If you like garlic, these fries can't be missed. A large order cost $9.50 but is pretty big and can split among several people.
After we got our food, we settled in to watch the game. Our seats were on the upper level but behind home plate, so we had a great view of the field. Coincidentally, Josh's uncle and some of his cousins were sitting in the next section over, so we sat with them for a while as well. Despite the lousy weather, we had a great time. It was an exciting game and the Yankee victory made it all the more fun. Thanks Randy!