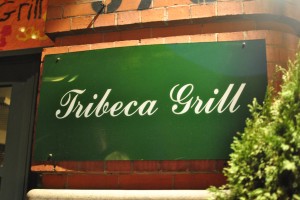 For Jess' birthday, we made a reservation at the Tribeca Grill because it was the only restaurant we called that would seat 10 people without forcing us to explore "private dining" options. We've eaten there before and the food was pretty good – it was straightforward, hearty, American fare. We found out when we got there that in addition to the regular menu, they were offering their Restaurant Week menu for dinner on Sundays. The Restaurant Week offerings sounded pretty good, and I liked that the options came directly from the regular menu, something we don't see too often on Restaurant Week menus. Our waiter assured us that the Restaurant Week dishes were the same portion sizes as the regular menu, and considering that most of the a la carte entrees cost close to $30, the $35 three course menu seemed like quite a bargain.
The Restaurant Week menu online was different than the one we received so I'm not sure if the offerings change from day to day, but here is the menu we got:
First Course
Heirloom tomato & goat cheese salad ~ Sweet corn sauce and opal basil vinegar
Braised artichoke & fennel salad ~ Marcona almonds, green olives & manchego cheese
Warm asparagus salad ~ Morels, cipollini onions & lardons, fig essence
Second Course
Goat cheese ravioli ~ Artichokes, favas, cherry tomatoes & spinach
Pan roasted Atlantic salmon ~ Sunchokes, caramelized beet & apple chutney
Grilled Berkshire pork chop ~ Cassoulet of summer beans, chive dumplings & ramp salsa verde
Roasted red snapper ~ Summer squash, Tunisian couscous, pea shoots & warm tomato vinaigrette
Third Course
Chocolate truffle cheesecake ~ Espresso anglaise
Vanilla & grenadine flan ~ Market berries
Morello cherry financier ~ Yogurt sorbet
While we were deciding on what to order, we munched on the bread offering, which was a round, hard roll with a chewy interior. It didn't have much flavor to it but I was hungry so I just slathered on lots of butter, which made it a bit more palatable.
Our appetizers arrived right away, and 8 out of 10 people at the table ordered the same thing – the heirloom tomato and goat cheese salad. It looked beautiful on the plate, with many different kinds of tomatoes in assorted shapes and colors. The sweet corn vinaigrette was really interesting, and the dish was both sweet and tangy at the same time. The tomatoes were intensely flavorful and paired well with the micro basil scattered on top. My only complaint was that there wasn't enough goat cheese for my liking, just a small dollop. But the dish was wonderfully light and refreshing, and huge hit at the table.
In addition to splitting the tomato and goat cheese salad, Josh and I selected the braised artichoke and fennel salad as our other appetizer. The salad was a tall tower piled high with the ingredients. There was I think frisee mixed in, which added a slight bitterness, and a tangy dressing that added a nice acidity to round out the flavors. The artichoke and fennel were very tender and worked well together with the olives and manchego. I just wasn't a fan of the almonds, as I thought they overpowered everything else, but Josh enjoyed them.
For our main course, Josh and I chose the grilled Berkshire pork chop and the roasted red snapper. The pork chop was huge and cooked perfectly, so that it was still tender and juicy. It was nicely seasoned and there was a sweet smokey flavor to it that we later found out was maple syrup. It was served on a mix of summer beans that were fresh and seasonal. There were two small chive dumplings that were like chewy gnocchi and didn't really serve much purpose. There was also a ramp salsa verde that I think was on top of the pork chop, but I didn't detect much ramp flavor. Still, it was a well constructed dish and another favorite at the table.
The roasted red snapper had a crispy skin that was nicely seasoned but unfortunately, the fish itself was overcooked and bland. It had a rubbery texture to it that made it a bit hard to eat. I ended up breaking it up as best as I could with my fork, then mixing it in with the accompanying couscous and squash. The couscous was light and fluffy, and the squash was tender but still had a nice bite to it. The tomato vinaigrette tied the whole dish together and provided the acidity that the fish badly needed.
For dessert, we had the chocolate truffle cheesecake and vanilla and grenadine flan. The chocolate cheesecake really didn't taste much like cheesecake but that was ok. I like chocolate better than cheesecake anyway. It had a chocolate cookie crust that tasted like an Oreo cookie, and I liked the espresso anglaise that was drizzled underneath.
The vanilla and grenadine flan wasn't as silky as I would have liked but it had a nice vanilla flavor to it. The grenadine was slightly sour, which cut through the sweetness of the dessert, and the market berries were plump and fresh. Texture aside, it was a very tasty summer treat.
Overall we were all pretty impressed by the meal we had at the Tribeca Grill. The Restaurant Week menu proved to be a good value, and we left the restaurant full and satisfied. Service was good but they did pace our meal pretty quickly, giving us the impression that they were rushing us out. We did end up lingering a bit over coffee and dessert but all of our courses were served at quick intervals.  The restaurant was packed though, especially for a Sunday night, which might have contributed to the frenetic pacing. We were still pretty pleased with our experience regardless, because the food exceeded our expectations. As for the decor, it's a pretty restaurant with tall ceilings and a loft-like feel, and the ambiance is upbeat but intimate. While I think the a la carte menu is a bit pricey, I would still recommend the restaurant for a special occasion.
Tribeca Grill
375 Greenwich St. at Franklin St.
New York, NY