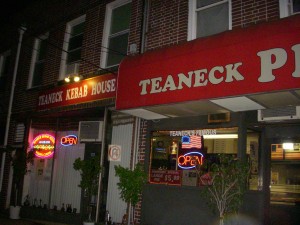 I first heard about Teaneck Kebab House when it was reviewed by the NY Times. Josh and I got a delivery order from them one weekend that we were in NJ but at the time, I wasn't really familiar with Afghan food. Since then, I've grown to love all kinds of middle eastern cuisine. I had a craving for it so when Josh and I found ourselves heading to NJ on Friday night, I suggested picking up food from the Teaneck Kebab House and bringing it home with us.
We had to wait a little while to pick up our food, as they were still baking a batch of Afghan bread for us. We were starving at that point so we ripped into the bread during the drive home. It was hot and crispy and absolutely delicious. Two pieces came with the food we ordered, so I'm glad that we picked up an additional order, which was another two pieces. This bread is seriously addictive.
We got an order bouranee baunjan, which is eggplant covered in mint, garlic, and yogurt. It doesn't look very appetizing but it's absolutely delicious. The eggplant is tender and breaks apart easily. Mixed in with the yogurt sauce, it's perfect for dipping the Afghan bread into. This was my favorite dish of the night.
We also ordered the mantoo, which are beef dumplings topped with yogurt sauce and spices. The dumplings were shaped like tortellini. They were large but didn't have too much filling in them so mostly it was just pasta. It's also supposed to have tomato sauce (the NY Times review likened it to pasta Bolognese) but I didn't really taste any tomato; the mint in the yogurt sauce was the predominant flavor. The dish was also very greasy for some reason, as there was a pool of red-tinged oil that gathered at the edge of the container. I was a bit disappointed as I've had better versions of mantoo elsewhere.
For our main course, we split a combination kebab platter which came with beef chapli, lamb, and chicken kebabs on a heaping pile of rice. The chapli, which is ground beef mixed with onions and spices, was super spicy. My mouth was on fire after one bite. I ended up dipping it into the leftover yogurt sauce from the mantoo, and that helped temper the heat. Once I got past the burn, the kebab was actually really tasty and seasoned with interesting spices. Both the lamb and chicken kebabs were cooked perfectly. I loved that the lamb was gamey, but people who are adverse to gamey lamb might be turned off by that. All the kebabs were really tender though, which is not an easy feat to accomplish. Too often I've been plagued by dried out and chewy kebabs. I wasn't sure why the chapli was served in two different shapes though, one cylindrical and one flat patty.
The combination platter also came with a salad of lettuce, tomato, carrots, cucumbers and onions topped off with a minty dressing. It was a good way to cool off my mouth after the spiciness of the chapli, and it was a generous serving.
Overall I really liked the food from the Teaneck Kebab House, and it would have been even better had we ate there because the food got a little bit cold on the drive home. Next time I think we'll try eating at the restaurant rather than taking out. Portions are pretty big and the food is reasonably priced. Josh and I had two appetizers and shared one entrée, and we were absolutely stuffed. The restaurant is a BYO too, so it's really a great value.
Teaneck Kebab House
251/253 Degraw Ave.
Teaneck, NJ