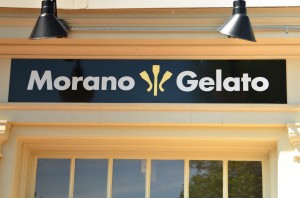 When I was researching restaurants in the Hanover area prior to our trip, I came across an article that named Morano Gelato as having the best gelato in the US. With that kind of endorsement, it was hard to pass up a chance to taste it for ourselves. After the post-wedding brunch, Josh and I headed back to Main Street to try some of the gelato before we hit the road back home.
We both opted for small cups with two flavors each. Much to my disappointment, the pistachio gelato wasn't ready yet. I guess they make different batches throughout the day so that all of the gelato is fresh. There was a sign explaining the process.
I ended up getting riso (rice) and stracciatella while Josh selected ricotta pear and sweet milk. I had expected the riso to taste like rice pudding in gelato form and was surprised that it was mildly sweet and creamy, like vanilla, but not cinnamony at all. It was studded with bits of chewy rice, and I enjoyed the textural contrast. The stracciatella also had a vanilla base and was run through with chocolate shavings. The sweet milk tasted to me like the riso gelato minus the rice. The ricotta pear, however, did have a distinct pear flavor to it and a bit of tang from the ricotta.
Morano Gelato wasn't around during our college years, which was too bad because it seemed like a nice shop and I would have liked to have been able to taste more flavors. It was the texture of the gelato that really sealed it for me though – it was creamy, smooth, and rich, but not overly dense. It's a bit pricey (a small cup was about $4 and the serving size wasn't that big) so it's not somewhere that we would go all the time, but it's a nice splurge once in a while. If you're in the area, it's definitely worth a taste.
Morano Gelato
57 South Main St.
Hanover, NH