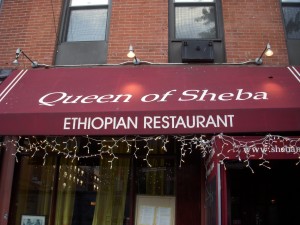 I've always been intrigued by Ethiopian food but never got around to trying it out, so when Shiraz suggested we try something "different" for our get-together, I quickly suggested a place near my apartment, Queen of Sheba. I've read a lot about injera, the spongy sour bread used in place of utensils to eat the food, and since I love to eat Indian food with my hands using naan, I was excited to compare the two cuisines, as they seemed to have a lot of similarities.
The restaurant was packed by the time I showed up at 7:30 on a Tuesday night, which I took to be a good sign. It's a pretty small space, and the line was almost out the door. Luckily Shiraz had gotten there earlier so we were seated immediately. Going through the menu was easy for us, as we quickly spotted two combination platters, one meat and one vegetarian, that seemed to cover a wide range of the menu. Being newbies, we figured this would be a good way to test out the different stews and taste the various spices used in Ethiopian cuisine. We also ordered a bottle of red South African wine, a pinotage, which was deliciously fruity and well priced. Most of the wines on the list are around the $25 range – very reasonable.
We started off with an appetizer of sambosas, which are similar to Indian samosas or middle eastern sambusas. Basically they're triangular packets of dough that contain some sort of filling, and are deep fried. Queen of Sheba offers a choice of lentil or meat filling, and we being the carnivores that we are, chose meat. A short while later the sambosas arrived, but unfortunately they weren't very hot and the dough was a bit tough and chewy rather than crispy.
The filling inside was good though, ground beef seasoned nicely with a lot of spices. There was a dark red dipping sauce that came with the sambosas, but I couldn't identify the flavors. It was a bit smoky, but not spicy. Overall, the sambosas reminded me more of beef empanadas than samosas, but still good, even with the soggy crust.
After a semi-long wait (the restaurant really was busy), the server came by and started moving all of our wine/water glasses and napkins to the edge of the table. We looked up and saw the enormous platter she was carrying and quickly understood why. When we had first ordered, she asked if we would be sharing and we said yes, so I guess they combined both entrees onto one platter to make things easier. They also gave us a platter full of folded pieces of injera, and we quickly dug in.
The problem with ordering the combinations though was that we had no idea what was what. Each dish was its own individual mound on the platter, but the waitress didn't tell us each mound was. I, being the nerd that I am, had printed out a copy of the menu from menupages so while I was eating, I tried to identify the items based on the menu descriptions. I failed, miserably. Everything was really delicious though (although some of the meats were a bit tough and dry), and the injera was everything I hoped it would be – soft, fluffy, not too sour, and easy to use to scoop up the food. I barely got my fingers dirty, which is a huge accomplishment for me. And even though each mound was pretty small, the amount of food overall was insane.
We barely got through half of each pile (and I was starving when I arrived), so we had to ask for the rest to be boxed up. The resulting box weighed a ton and was filled to the brim (and made an excellent lunch at work for the next few days!).
I would definitely come back to this restaurant, though I'm not sure if I would order the combinations again. It was great to be able to try a lot of different things; I just wish I knew which dishes I liked best so that I can order them again. If I keep going with this route, I might never know what I'm eating. Next time I'll just order a few different things from the menu and hopefully I'll end up with a better knowledge of what may eventually become my go-to dish at other Ethiopian restaurants.
Queen of Sheba
650 10th Ave. between 45th and 46th St.
New York, NY