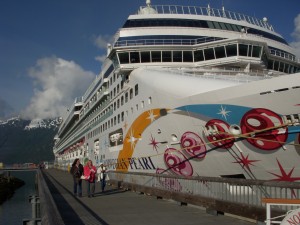 Before we set sail on the Norwegian Pearl, I did what I usually do before going somewhere, which is check out the restaurant situation. I did a bunch of google searches but I couldn't find full reviews of the restaurants on board. I knew there were restaurants that were included in our cruise fare, as well as ones that required a cover charge, but I couldn't find too many details about each one.
After we got back from the trip, I was initially just going to write a brief overview about the food on the ship but thinking back, I decided to write full reviews so that other potential cruisers might get a better idea of what the food is like on the Pearl. Personally, I wish that I had known beforehand more about each restaurant and which restaurants were worth the extra cover charge because we might have chosen differently. I won't cover every single thing we ate (which was A LOT of stuff) but I've highlighted some of the hits and the misses.
Garden Cafe
The Garden Cafe is the buffet on the ship. We ate breakfast and lunch there basically every day, and though some of the hot entrees changed during lunch, it was the same food for the most part. For breakfast, I usually had smoked salmon either on a roll with cream cheese or as salmon eggs benedict. Breakfast potatoes with peppers and onions fulfilled my carb craving, and there was plenty of bacon, both crisp and chewy for people who prefer one over the other.
For lunch, I mostly stuck with the same things each day – hamburgers, pizza, sandwiches, and salad. I did try some of the hot entrees occasionally, but none of them ever tasted that good and were often the wrong texture. Meats were often tough and overcooked. There was a sushi station, but it didn't serve any raw fish, just vegetarian and california rolls.
The burgers were standard, but I liked them better than the other options. And when there was a huge lunch rush, it actually worked out better because they cooked the burgers more quickly, resulting in a less dried out patty.
There was also a pasta bar in the buffet, where you can pick your noodle and have your choice of sauces. I tried the farfalle with bolognese sauce one day and it wasn't too bad. Fortunately the pasta wasn't horribly overcooked, since they par boil it and then heat it through in a pan with the sauce.
I was really impressed with the salad bar at the buffet, as they had a wide variety of lettuces and toppings. They had all the usual standards (romaine, iceberg, cucumbers, tomatoes, etc.), but they also had artichokes and olives and different meats and cheeses available. I was surprised to see arugula offered by itself, as it's a pricer lettuce than romaine or iceberg or those prepackaged mixed greens.
Most days I'd have a big plate of arugula topped with some parmesan cheese and lightly dressed with olive oil and lemon wedges. I also enjoyed the caesar salads, which they would toss in front of you to spread out the dressing. Topped with pieces of grilled chicken, this was another lunch staple for me.
The most dangerous thing about the buffet is the unlimited daily access to french fries and soft serve ice cream. When we were bored on the ship, which was a lot of the time, we'd go for a snack of french fries and ice cream. The thinner fries were best, but you never knew when they would pop up. One batch might be skinny, and the next batch would be thicker fries. There was high turnover for the fries though, so at least they were always hot and crispy.
The soft serve ice cream also varied for some reason. Sometimes it would be a bit icier, and for a few days, it was super thick and creamy, like custard. Ice cream was so popular on this trip that they actually ran out of ice cream cones before the cruise was over.
Overall I didn't hate the buffet. There was decent variety and you just figure out right away what you like and don't like, and you stick with it. Even picky eaters will find something they like. I ended up eating the same things each day, but I didn't mind. There are seats inside and outside, so most days we sat on the back deck and watched the scenery go by as we ate. It was relaxing and helped pass the time.
Indigo
Indigo was the more casual main dining room on the ship. It served the same menu as the Summer Palace, the other main dining room, but it didn't have a dress code. It operated like a restaurant, with waiters and waitresses and a large menu offering appetizers, soups, salads, and entrees. Reservations were recommended, but not required. The menu changed every day, and would be posted outside the restaurant each night. We would always check out the next night's menu and decide if there were enough items that interested us. If there weren't, then we would opt for one of the other restaurants that required a cover charge.
We ended up eating at Indigo twice during our cruise. The first time was lobster night, one of the more popular nights at the main dining rooms. The lobster ended up just being eh, as they were frozen tails shipped in from Australia. They were tough and chewy and a total disappointment to the New Englanders in our group.
I happened to order the duck that night, and it was absolutely delicious. It didn't have crispy rendered skin, but it was actually cooked to medium rare and was juicy and tender.
Appetizers were a mixed bag. I had a decent tuna tartare that tasted pretty good, but Josh's mom was put off by the gray color of the tuna.
But on another night, what was described as a scallop appetizer turned out to have only three tiny bay scallops in the dish.
Desserts also varied in quality depending on what you ordered. Crème brulee was pretty decent, if a bit too sweet. But it had an appropriately crispy sugar crust the crackled under the spoon.
Chocolate cake with vanilla sauce, which was billed as one of the "Cooking Light" options, tasted as such. It was neither chocolately nor satisfying.
Overall Indigo wasn't terrible, but it was far from great. There were some offerings, like caesar salad and steak frites, that were available every night so if you weren't into whatever specials they had on the menu that day, you could always go with a standby dish.
The restaurant was a nice change from the buffet, and the only thing you had to pay extra for was drinks (soda, alcohol). You don't have to tip the waitstaff (unless you really wanted to), as an automatic gratuity is charged to your cabin at the end of the trip ($12/person per day). And because food is unlimited on the cruise, if you want to order two appetizers, go ahead. If you want an extra lobster tail at dinner, don't be shy about asking. The waitstaff is pretty accommodating and no one is in a rush to kick you out. You could eat at Indigo (or the Summer Palace) every night and be perfectly satisfied.
Teppanyaki
In addition to the buffet and the main dining rooms, the ship also offers other restaurants where you pay a cover charge to eat in. The charges ranged from $10-$25, but I'm not sure if all of them are worth it.
We ended up checking out the dinner menus at Indigo every day before deciding whether we wanted to eat at a pay restaurant. If there wasn't much available that we liked, then we would go for the pay restaurant. While Indigo's menu changed every day, the others always stayed the same so it didn't matter which day you went.
The Teppanyaki restaurant was an additional $25 charge per person and offered seafood and prime cut meats that were cooked on the hibachi in front of you. This was one of the more popular restaurants, especially with families that had children, as the hibachi chefs put on quite the show. Seating was also limited, as the ship didn't have too many hibachi tables, so reservations are a must have.
We started the meal off with miso soup, which was pretty standard but tasty.
We also received a small portion of edamame but they were kind of limp and sad and didn't have enough salt on them.
Next came the seaweed salad, with strips of seaweed and cabbage mixed together, topped with cucumbers, carrots, and tomatoes. The dressing was sort of a watered down thousand island dressing, not the tangy carrot ginger dressing that I'm used to.
All the meals came with vegetables cooked on the hibachi. The chef meticulously laid all the ingredients out, and made sure to flip over each piece.
It was kind of amusing to watch, since hibachi chefs usually just flip the vegetables around like if he were cooking stir fry, but this chef was really methodic about it and presented each person with a beautiful little stack.
We also got fried rice, which is just rice, eggs, and soy sauce all cooked together on the hibachi.
Josh and I both ordered the Land & Sea option, which came with filet mignon that was pretty tender and cooked rare to order.
And it came with shrimp, but only four tiny little pieces.
For dessert, there was fruit "sashimi", which were thin slices of fruit that came with assorted dipping sauces. I thought it was a simple dish, and kind of disappointing because you can get all the fruit you want at the buffet.
There was also mochi ice cream, which were small balls of mochi filled with mango ice cream and green tea ice cream. I like mochi so I enjoyed these, but people who aren't familiar found the texture to be off-putting.
Overall the food wasn't bad but portions were pretty tiny. We ate here on our first night, so we didn't realize that you could actually order more than one main course if you wanted to. Some other people around us added lobster tails to their order, but we didn't know you could do that.
So if you do decide to eat at the Teppanyaki restaurant, just remember that you're not limited to just one menu choice. We were pretty unsatisfied after our meal, and I didn't think it was worth the extra $25. The food was not as tasty or as well seasoned as the food we get from our hibachi restaurant at home, and at $25, it was actually more expensive than most of the options we get at home. You don't get as much food, and they didn't serve noodles, which are usually my favorite. There was also no mustard sauce, which is a huge deal for me because hibachi just doesn't taste as good without mustard sauce. So in my opinion, unless you're really craving hibachi for some reason and can't live without it for a week, skip this restaurant and just wait until you get home.
Shabu Shabu
Of all the restaurants that required an extra cover charge, I thought Shabu Shabu was the best value. For $15, we got a massive amount of food that we couldn't even finish, and there was a lot of variety as well. In addition to the edamame and seaweed salad that we also had at the Teppanyaki restaurant, we received assorted vegetables, tofu, meat, noodles, and dumplings that we could cook ourselves right at our table.
Shabu shabu is basically like Chinese hot pot, or like fondue. You receive raw ingredients and cook them in a broth that is heated on a hot plate at the table. As the ingredients finish cooking, you scoop out whatever you want to eat and it's guaranteed to be hot and cooked to the temperature you want. It's a lot of fun to dump stuff into the broth and watch it cook in front of your eyes. As the meal goes on, the broth acquires more and more flavor, and then you can drink it if you'd like. If the the broth runs low, they'll add in more. It's as simple as that.
We opted for the seafood broth instead of the chicken broth, because my dad has a serious aversion to poultry (he grew up in a market in Taiwan with a lot of chickens and can't stand the smell, even to this day). The meat that comes with the dinner includes beef and chicken, but we just asked for extra beef and no chicken for the same reason. No one gave us a hard time about that. We added vegetables to the broth first, to give it some more flavor. They gave us cabbage, carrots, onions, shiitaki and enoki mushrooms, as well as some tofu. The mushrooms were my favorite and added an earthiness to everything.
A second plate of vegetables came with lettuce, spinach, snow peas, broccoli, and more mushrooms.
Once everything was bubbling away, we started adding the beef. The smells coming from the broth were absolutely incredible.
The beef was sliced super-thin and cooked very quickly. It only needed to be dunked for about a minute or two before it was ready to be eaten.
Next up were the noodles, and they gave us lots of different kinds to choose from. There were thin and thick rice noodles, ramen noodles, and udon noodles.
My favorite were the thicker udon, which I cooked briefly to retain their bite.
Last up were the dumplings, which came with pork and leek, shrimp, and vegetable. These were frozen but still cooked quickly in the broth and were pretty tasty. My favorite was the pork and leek; the vegetable ones were kind of bland. It was hard to tell which kind you fished out of the broth though, so you wouldn't know which dumpling you got until you bit into it.
We were stuffed but made room for ice cream. I got green tea, except it was really pale and had no green tea flavor at all. Bleh! Josh fared better with the coconut ice cream, which was appropriately coconutty and rich.
I really enjoyed Shabu Shabu a lot. It was a fun and interactive meal, and completely satisfying. I liked the variety of food we got and all the vegetables and meat were really fresh. The waitstaff was really nice and very attentive. They made sure our pot was always full of broth and brought us more of whatever we wanted. This was definitely one of my favorite meals during the whole cruise.
Blue Lagoon
The Blue Lagoon was a casual restaurant that's open 24 hours. There's no cover charge, it has table service, and it serves a bar menu (i.e., chicken tenders, buffalo wings, artichoke dip) that is good for days when you're craving comfort food.
We were sick of the buffet one day so we decided to come here for lunch. The restaurant is located in the middle of the ship, and we made sure to snag a table right next to the window. It was great for doing some whale watching, and we saw several whales during our meal, as well as some seals that were slipping in and out of the water next to us. Pretty cool stuff.
We started out with an order of spinach and artichoke dip topped with romano cheese. It was a little bit greasy, but creamy and gooey. It wasn't the greatest spinach and artichoke dip, but it was pretty satisfying. My main complaint though was that it was served lukewarm.
My mozzarella, roasted pepper, and basil panini was also a bit lukewarm. The cheese wasn't quite melted all the way, which was too bad because it was actually a really tasty sandwich. The bread was pressed and crispy and the ingredients really worked well together. The sandwich came with fries that were just ok, decent cole slaw, and a few random leaves of arugula.
Josh got an order of hot wings, which were served hot and spicy and were really delicious. The hot sauce wasn't quite like buffalo sauce, maybe a little bit more tomatoey in taste, but it was really good. It was a large order and completely satisfying.
Overall the Blue Lagoon was a nice break from the lunch buffet and a relaxing way to spend some time whale watching indoors. We ordered a bucket of Alaskan Amber beer and ate our lunch at a leisurely pace. The food was ok, but would have been better if they were served hotter. The advantage of the restaurant is that it's open 24 hours, so we would stop by after having some drinks late at night and get an order of chicken tenders or some pick up some dessert to cap off our evening. It's a very convenient go-to place on the ship.
Le Bistro
Le Bistro was the fanciest of all the pay restaurants we went to. It even had Versace dinnerware as its place setting, which I thought was pretty neat (yes, we turned the plates over to see). Despite the fancy décor, however, the cover charge was on the lower end at $15, and I think it was worth the extra money.
I had a hard time choosing what appetizer I wanted so I spent a long time negotiating with Josh to pick our top two choices and split them 50-50. We decided on the onion soup au gratin and the escargots bourguignonne. When we placed our order, however, the waiter encouraged us order two appetizers each. Perfect! So I ended up having the onion soup as well as a duo of foie gras terrine and smoked duck breast, while Josh stuck with the onion soup and escargots.
The onion soup was one of the best things I had all cruise. It was rich and beefy and absolutely satisfying. My only complaint was that it wasn't completely covered in cheese; only the crouton had cheese on it. Still, it was really delicious as is.
The foie gras terrine was a bit of a disappointment as it was way more livery than foie gras usually tastes. It definitely had the funky flavor that you would find in any liverwurst. The smoked duck breast was good, but it didn't really go with the foie gras. I ended up spreading the terrine on accompanying brioche toast and eating the smoked duck separately.
The escargots were served with the traditional garlic herb butter, and they were hot and delicious. But how can you go wrong with garlic and butter?
For my main course, I chose the roasted rack of lamb. It came with sauteed artichokes, cherry tomatoes, zucchini, and a green olive sauce. The lamb was cooked rare to order, but it had a huge layer of fat on it. I know that cooking it rare means less time for the fat to melt, but this was an excessive layer. I tried to cut it off but there was just too much of it, so I didn't get to nibble on the lamb bones, which is usually my favorite part. The dish was just ok; I've definitely had tastier lamb elsewhere.
Josh had the special of the night, a veal chop served with asparagus and potato gratin. The waiter failed to mention, however, that the veal chop was stuffed with bleu cheese. Ugh. Josh and I both hate bleu cheese with a passion. Although he tried to scrape it out, there was just too much of it and we could taste it throughout the dish. Cutting the veal chop in half to stuff it also caused the meat to be overcooked, so it was pretty dry and tough.
For dessert I had a chocolate "napoleon" that was kind of weird. It had chocolate cake at the bottom, and a ring of chocolate on top, but I have no idea what was in between. Maybe some sort of hazelnut cream? No clue. It was pretty though.
Josh had crepe suzettes, which were doused with grand marnier. They had a nice orangey flavor but were way too sweet.
Overall I was a bit disappointed with Le Bistro, but the restaurant had so much potential. The appetizers were definitely better than the entrees so I'm glad the waiter encouraged us to order two. I still left the restaurant full but not completely satisfied. Josh's mom had a filet mignon, which was cooked perfectly, but she said it had absolutely no flavor. The onion soup was really wonderful though. The $15 cover charge isn't totally outrageous, and you do get to dine in a really nice atmosphere. If you really like french food, then I think it would be worth the extra charge.
Summer Palace
We only ate at the Summer Palace on the last night of our cruise, as we were deterred by the dress code. However, we heard from other people that the dress code was not enforced, so we went in jeans and sweatpants and it was totally ok. No one bothered us about how we looked.
I couldn't decide which appetizer I wanted, and this being a cruise with unlimited food, I ordered two appetizers (my sister did as well, so I didn't feel as bad). The first was a seafood ceviche, but it was kind of gross. It had overcooked shrimp and calamari and bay scallops in it, and it was covered in what tasted like salsa. Definitely not like ceviche.
The second, a strawberry soup with a balsamic reduction drizzled on top, tasted like a smoothie. It was really good but more like dessert than an appetizer. I think it needed a bit more balsamic vinegar to make it more savory. I still enjoyed it though.
The last night happened to be another lobster night, and it was the same tough and dry Australian lobster tails, served over pasta. The pasta wasn't so bad, but the lobster was still a disappointment. Josh wasn't thrilled with his meal.
I ordered the rack of lamb though, and it was fabulous. It was way better than the rack of lamb that I had at Le Bistro, and this one didn't have an extra cover charge! To avoid the same problem I had last time with the huge layer of unmelted fat, I ordered my lamb medium rare and it was cooked perfectly. They also cleaned the bones better this time so I was able to nibble away happily. The accompanying lentils were also cooked perfectly, with just a little bite to them. Overall this was a really well put together dish.
For dessert we had a pistachio pot de crème, which was good but not so strong in pistachio flavor. It was rich and creamy though.
We also had a molten chocolate cake, which was standard.
Between the two main dining rooms, Indigo and the Summer Palace, I prefer Indigo. The Summer Palace is a bit stuffy in décor, though it might make people think they're dining on the Titanic or some other classic cruise ship. They didn't enforce the dress code with us, but we dined pretty late and the huge room was almost empty, so maybe that was why they let us slide. Indigo has much more modern décor and just seems a bit hipper. They both serve exactly the same food though, so it just depends on your personal preference. Either way, these restaurants are a nicer option than eating at the buffet yet again.
Overall I didn't think the food on the Norwegian Pearl was that bad. It certainly wasn't the best food, but it was passable. I was never really wowed by anything, but I also wasn't grossed out by anything. We ate a lot, and often, because there wasn't much else to do on the ship. Yes there's a casino and a pool and bars and sports courts and a gym and a spa and other activities, but you're on the ship basically for an entire week, minus a few hours when you're in port. And some days you don't go to any port, so you're stuck on the ship the entire day. Only little kids played in the pool (it was freezing out on deck but I guess the pools are heated), and the sports courts were generally always occupied.
We did clumb the rock wall on our last day, but it only took 15 minutes and made me super sore (I'm very out of shape).
We bowled one night, but at $5 a game, it's not exactly cheap.
Drinking was our main activity, whether it was drinking while whale watching in Spinnaker's Lounge or having drinks before dinner at the Crystal Pavilion, but drinks are also pretty pricey. We stuck mostly with beer, which was $5-$7 a bottle. Everything is charged to your room (you carry around a key card that they swipe) so beware of sticker shock at the end of the trip. They're also super pushy with the alcohol, which was a huge turnoff for us. Within 30 seconds of walking into a bar, at least two different people will come by and ask you if you want a drink. Even if you're already holding one. It was pretty ridiculous and very annoying, so just be warned.
As I mentioned earlier, I don't think cruising is for me. I didn't feel active and most of the time I was pretty bored. But I loved all the ports we went to and all of our excursions. The scenery in Alaska is worth suffering through a cruise for. I'd love to go back and explore some of the other areas that we didn't get to go to on this trip, but hopefully I can do those areas without having to cruise.