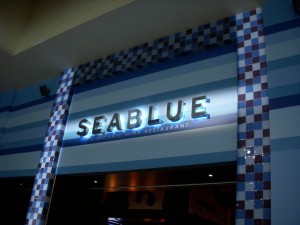 Josh had to work today so I met him for lunch again at the Cabana Grill. Not worth discussing again, but I do still love waffle fries! Since I was leaving for the airport right after dinner, Josh wanted to take me out to some place nice. He had heard about a Monday-Tuesday wine special at Sea Blue, a seafood restaurant in MGM Grand, and we decided to check it out.
Sea Blue is a Michael Mina restaurant and I was a bit hesitant about going because of the meal we had at Nobhill Tavern, another Michael Mina place. But the cuisine at Sea Blue is totally different, and Josh had favorable experiences there before, so I went with a hungry appetite and an open mind.
The menu at Sea Blue is not very complicated. There are the typical cold seafood cocktails, a create your own salad menu, and entrees are all grilled with the same side options; the only thing that you choose is your protein. The list of appetizers and sandwiches were more intriguing to us, so we decided to create a meal of small plates.
After ordering a bottle of one of our favorite pinot noirs, a relative bargain after the 50% off wine special discount, we were brought a delicious basket of naan bread and several dips.
The naan, a type of Indian flat bread, was soft and fluffy and the perfect vehicle for the accompanying spreads, which included feta and olive, roasted red pepper, and hummus. There was also some sort of spice sprinkled on the naan that was really savory and delicious, and I ate pretty much the whole basket over the course of the meal.
We asked the waiter to bring out our dishes as they were prepared, since we ordered mostly appetizers and no real main entrées. The first thing out was the cold seafood we ordered, which included raw Hama Hama, Flying Point, and Kusshi oysters, giant gulf prawns, and a ½ pound of Alaksa king crab legs. The oysters were plump and fresh, but some were brinier than others. Unfortunately I don't remember which ones were the ones I liked better, but they were all pretty good. The gulf prawns really were pretty big, and I liked dipping them in the accompanying grated horseradish and cocktail sauce. The Alaska king crab legs were disappointing though, having just tasted fresh king crab legs at Tracy's Crab Shack in Alaska. These had sort of a mealy texture that comes from being frozen. They weren't terrible, certainly better than the ones we had the Bellagio buffet, but nothing compares to the fresh ones.
The soft shell crab sandwich came out next, slathered with sweet and spicy mayo and a cabbage slaw. There was a large deep fried piece on the bun but I couldn't detect much crab flavor. I thought the breading and the mayo overwhelmed the sandwich, and it tasted a bit greasy. I wasn't I fan of this dish.
We ordered the lobster corn dogs because Josh had tasted them on a previous trip and liked them. When placed the order though, our waiter tried to convince us to order the calamari instead, and we should have listened to him. These corn dogs were soggy, didn't have much lobster flavor in the filling, and the whole grain mustard aioli was too sweet. All I tasted was the greasy outer corn coating. Plus there were only four little corn dogs to an order, which cost $15. I definitely think they were bad and not worth the price. I don't know why Josh liked them the first time, but maybe they had been cooked better. Flavor wise though, they fell short.
Up next was the yellowtail jack crudo with pickled strawberry and mint. I thought the presentation was stunning, with the beautiful pink fish and the bright red strawberries and the sprinkling of green mint. However, this tasted more like dessert, and the strawberries overpowered the delicate fish. Yellowtail is my favorite fish, and I couldn't taste it at all. I thought it was a neat concept but they just didn't go well together.
Finally, we had the tuna tartare with pine nuts and pomegranate, served with pieces of grilled pita. It was the most unusual tuna tartare that I've had, and I liked that it was different. The flavors were definitely Mediterranean, but they threw in a little bit of Asia with ribbons of shiso running throughout. It was an interesting combination and I think it worked well.
Overall I wasn't really that impressed with Sea Blue. I wasn't blown away by any of the dishes that we had, and I thought we ordered a pretty good variety of appetizers. We didn't try any of the grilled fish or meat entrees though, so maybe they are a better way to go. I liked that they were pretty experimental with their flavor combinations, but a lot of them didn't work. The only thing I really liked was the naan bread. Even though the 50% off wine special was a great deal, I don't think I'll be coming back here again.
Sea Blue
At the MGM Grand
Las Vegas, NV