In Skagway we opted to take a train ride through mountains on the White Pass rail. The train traveled approximately 30 miles from Skagway to Fraser, British Columbia. The view was impressive from the train, but the best part was when we got off the train and onto our shuttle bus in Fraser for the remainder of our tour. We saw lots of mountain goats and even a black bear eating flowers on the side of the road. Our driver was really informative, and the best part about being on a shuttle bus rather than a full size charter bus was that we could ask him to stop wherever we liked. At one point we saw another bear across the highway and he hit the brakes and pulled a quick k-turn right there in the middle of the road. A charter bus never would have been able to do that. Unfortunately, that maneuver scared the bear away but not before we saw it stand up on its two hind legs and look at us curiously.
The scenery in British Columbia was spectacular, and we saw some of the most beautiful lakes imaginable. I'll get to the food in a minute, but please take a look at some of my favorite shots from this tour. We booked this excursion through Chilkoot Charters, not the cruise line. I highly recommend this company for anyone who is interested in touring the Yukon while they're in port in Skagway.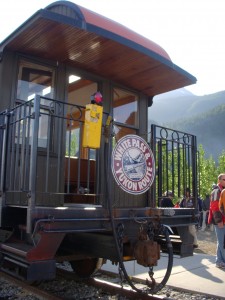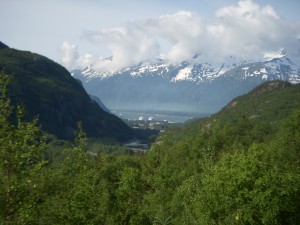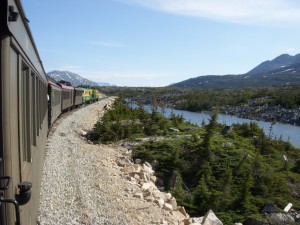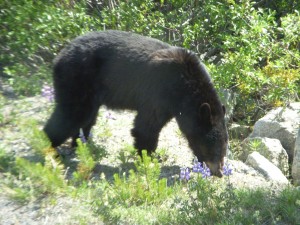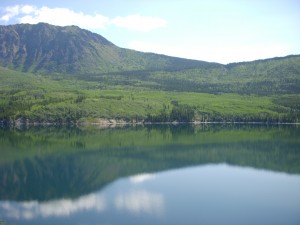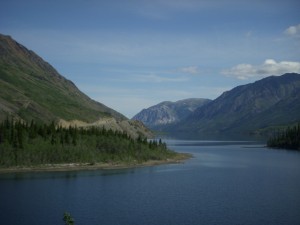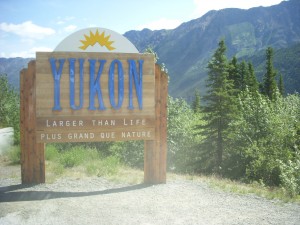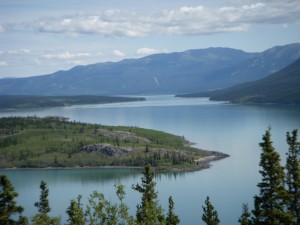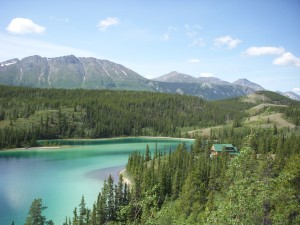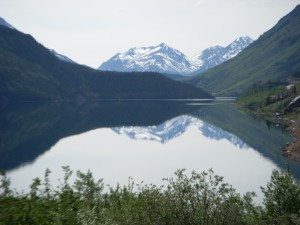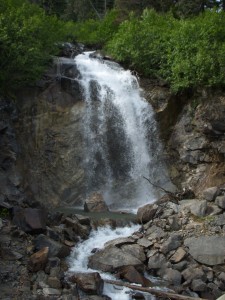 Caribou Crossing
In Carcross, Yukon, we stopped at a trading post called Caribou Crossing for lunch. The visit, and lunch, was included in our tour package. We didn't really get a choice of what we wanted to eat, as it is served cafeteria style, but the day we were there the entree was bbq chicken, which was very moist and delicious. Sides included cole slaw, which I liked a lot because it tasted like it was mixed with horseradish sauce, and roasted potatoes.
Doughnuts are the specialty at Caribou Crossing. There were dozens of plain old fashioned and cinnamon sugar doughnuts on a big table in the middle of the dining room, and you could take as many as you wanted. Josh and I weren't total pigs, so we just took one of each.
The food at Caribou Crossing was simple but tasty. You eat lunch in a big wooden lodge with picnic tables. It's rustic but fun, like you're eating at camp.
The best part of Caribou Crossing though is that it also has a wildlife museum, dog sled rides, horses, and husky puppies. These puppies were so unbelievably adorable. They were in a big pen and you could walk in and pick them up and cuddle them. PUPPIES!
The wildlife museum is basically an homage to taxidermy. There were stuffed animals – real ones – depicting different poses in the wild. It was neat, but also a bit creepy.
Overall Caribou Crossing was a fun place to spend a few hours and stretch our legs a bit. You can opt to take a dog sled ride, which is being pulled in a cart by huskies. It's not the same as riding a sled on ice, but the people who did it seemed to enjoy themselves. It was a really interesting trading post with lots to do. And did I mention PUPPIES?
Caribou Crossing
Carcross, Yukon