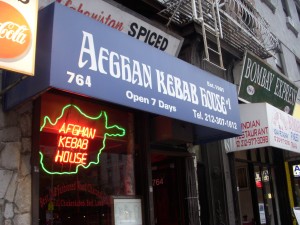 Before I moved into the city, my friend Shiraz and I spent many nights exploring different BYO restaurants in NJ, buying reasonably priced wine beforehand and trying out all different kinds of food. BYO dinners are such bargains, and in Bergen County, where we lived, there were so many options to choose from.
It's harder for us to get together these days, but when we do I can always count on good food, lots of wine, and great conversation. Unfortunately, there aren't too many BYO restaurants in NYC but all it takes is a little research on the internet to find the names of a few spots, several of which are in my new neighborhood. We both love middle eastern food and opted to meet up at Afghan Kebab House #1 on 9th Ave., each armed with a bottle of red wine.
We sat at a small two-top, and after we placed our order, our waiter kindly suggested that we move to a bigger table so that we would be more comfortable. The restaurant wasn't full, but I thought it was pretty nice of him to let us sit at a table for four even though there was just the two of us.
We ordered an appetizer of eggplant boorani to share. It was like a rich dip of sauteed eggplant and what appeared to be lentils, topped with a minty yogurt sauce.
They gave us a few slices of afghan bread to sop it all up. The eggplant was mushy, but in a good way, and the lentils provided a nice textural contrast. Overall it was a really yummy dish, and we scraped up every last bit.
For our entrees, we chose to split the combo kebab, which came with lamb tikka kebab, beef kafta kebab, and chicken kebab, and an order of the lamb korma, which is like a stew with vegetables and spices. The combo kebab was really delicious, and all the meats were well cooked. Both the lamb and chicken were very tender, and the beef kafta had a lot of nice seasoning to it.
One of the highlights for me, however, was the container of white sauce on the table, the kind they use at halal streetcarts. I doused my kebabs liberally with it, and added some green sauce from the table that was a bit tangy and not too spicy.
The lamb korma was very different from Indian korma, which is a creamy cashew based curry. This version was a bit more meaty tasting, and not creamy at all. I enjoyed the flavors but the lamb was way too dry, and had a mealy texture. I wouldn't order this dish again, but the sauce was good on top of the accompanying rice.
Overall I really like this restaurant. It's a cozy space and the service is very friendly. The prices are very reasonable, and the byo policy makes it such a great value. I will definitely be back here again.
Afghan Kebab House #1
764 9th Ave. between 51st and 52nd St.
New York, NY