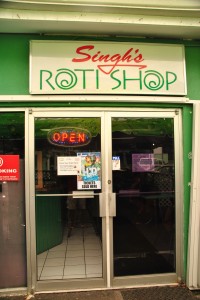 So on our way from Georgetown to Seymour's Jerk Centre, we passed by a place called Singh's Roti Shop. It was another local joint that I had read about before coming to Grand Cayman. The shop features Trinidadian and Caribbean cuisine, and I really wanted to try a roti, a sandwich wrapped in a flaky flat bread.
Because we were already on our way to Seymour's for lunch, I knew I wouldn't have much of an appetite if I ate a roti immediately beforehand, so Josh suggested that we get a sandwich to go and eat it later, since our hotel room had a refrigerator and a microwave. I knew it wouldn't be quite the same as eating the roti fresh, but it was still better than not trying the sandwich at all.
The woman at the counter who took our order was very friendly, and when we ordered the curried chicken roti, she said we would love it so much that we would be back again the next day. That's a pretty confident statement, and I liked that she seemed very passionate about her food. We also tried to get an order of doubles, which is curried chickpeas sandwiched between two fried flat breads, but unfortunately they had run out. It's only served on Saturdays so I guess it's very popular.
I really wanted to tear into the warm roti right away but I exercised some restraint. The next day, before we headed out to get marinated conch at Alfresco, we briefly microwaved the roti until it was warmed through. The flat bread was still flaky, but probably not as flaky as it would have been had we eaten it fresh. I was also surprised by the size and heft of the roti, since it looked pretty small when it was all wrapped up tightly in foil.
When we cut it in half so that we could share it, the smell coming from the curried chicken was absolutely incredible. The chicken was still tender, and it was layered with soft, mashed potatoes. The curry was the typical yellow curry, but this version was extremely flavorful and complex. We could see all the layers of the flaky roti, and each bite was a wonderful mix of spices and textures.
Josh and I absolutely loved the curried chicken roti from Singh's, and the woman was right, I absolutely would have gone back the next day to get a fresh roti had we not had a flight to catch. The shop itself is very casual, though there are tables where you can sit and eat inside. The curried chicken roti was C$7.50 so while it's not dirt cheap, it's pretty reasonable and one sandwich will definitely fill you up. The roti was one of the best things we ate on our trip, which says a lot considering we ate it after it had sat in a refrigerator all day and was reheated in a microwave. I would definitely recommend trying it out, and if we're ever back in Grand Cayman, I would go there again in a heartbeat.
Singh's Roti Shop
Corner of Dr. Roy's Dr. and Shedden Rd., George Town
Grand Cayman