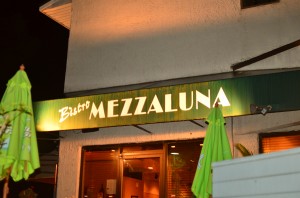 Whenever Josh and I are away on vacation, we prefer to eat the local cuisine rather than at places where we could find similar food at home. In Hilton Head, that usually means low country cuisine, seafood, barbecue, or Southern style food. Sometimes, though, usually towards the end of the week, we crave a little bit of comfort food. For us, that typically means Italian food. However, we haven't found an Italian restaurant in Hilton Head yet that we really love (we've tried Michael Anthony's and Antonio's, among others in the past). Bistro Mezzaluna was a new place for us.
I wasn't feeling particularly hungry that evening so I passed on an appetizer. Josh ordered the caesar salad, which looked really good. Unfortunately, there were raw eggs in the dressing so I wasn't able to try it. Josh enjoyed it though, and said it wasn't overdressed.
For his main course, Josh had chicken parm, which is usually our Italian restaurant barometer. It was a decent sized portion of chicken, though I wished it was pounded a little bit thinner. But if you prefer thick cut chicken parm, this was the way to go. It wasn't overly cheesy, but had the right amount of mozzarella melted on top. It was served with penne pasta and a pretty solid red sauce that was sweet and tangy.
I ordered the linguini bolognese, which was unusual in that it included both ground meat and meatballs. The menu said it was ground veal, and it was served in a light pink sauce. The meatballs and the meat sauce were both pretty coarse, and slightly tough. I also wish there was more tomato sauce in the dish, as the pink sauce was pretty thin and runny, so there was nothing binding the meat and the pasta together. The linguini was nicely al dente though.
Overall we thought that Bistro Mezzaluna was a fairly solid red sauce Italian restaurant. The menu offers all of our standard favorite Italian dishes, though there wasn't anything in particular that excited or wowed us. Prices are reasonable, with most apps and salads under $10, chicken and pasta under $20, and seafood and veal mostly under $25. The restaurant was spacious and pretty accommodating for our large group, though we still had to split up into two tables. It's a place we could take or leave – if we went back, I'd be fine with that, and if not, I wouldn't be upset.
Bistro Mezzaluna
55 New Orleans Rd. Ste 106
Hilton Head, SC