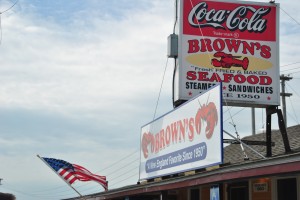 The day after our nephew Alexander's first birthday party in Massachusetts, we had half a day to spend with the family before we had to make the drive back home to NJ. Instead of staying around my sister's house, we decided to head across the border into New Hampshire and try out the lobster at Brown's Lobster Pound in Seabrook. According to my sister, this place has been featured on the Travel Channel and is famous for its lobster rolls.
It was about a 45 minute drive but the restaurant is just past the border so it wasn't bad. We pulled into the packed parking lot and there was a huge line of people waiting at the windows where you can order fried foods.
Since we were getting lobster, we headed straight inside to place our order. If you're ordering lobster and fried food, you can order inside where the line was much shorter. However, if you're only ordering fried food, you have to do it outside. We got a few 1 1/4 lb lobsters, a few lobster rolls, a fried oyster plate for my dad, and a fried chicken plate for Adam, who hates seafood (seriously, what kind of New Englander is he? I guess you can't expect much from a Red Sox/Patriots fan… haha j/k! Or am I?) We also wanted some steamers, which we had to order from a different counter inside.
They gave us numbers for our orders, and we settled down at some picnic tables in the corner. The restaurant is pretty big, and even though the parking lot was full there were many picnic tables still available. The restaurant serves soda, coffee, tea, etc., but you can bring your own beer and wine. Most tables had coolers of beer, and one couple behind us was tucking into huge lobsters while drinking champagne from flutes. Pretty neat idea!
Our orders of steamers came up first, and we eagerly dug into the piles of clams. To eat a steamer, you pull off the skin around the neck, swirl it around in a cup of hot water to clean off any grit, dip it in melted butter, and eat.
These steamers were fresh and briney, with a pleasing texture that wasn't too chewy. We swirled, dipped, and ate them until the rest of our food was ready.
I opted for a lobster roll instead of a whole steamed lobster. Although value-wise whole lobsters are a better deal (they were about $12/lb while one lobster roll was $12), I wasn't in the mood to get all messy. The lobster rolls weren't huge, but they weren't tiny either. There were big chunks of meat, and just enough mayo to keep everything moist and together but not overpowering. The bun was the New England style top loading hot dog bun that I love, and the outside was buttered and toasted so that it was slightly crisp but still delightfully chewy. It was only the second lobster roll that I've had in my life, and it was pretty good.
Josh opted for a whole lobster, which was just steamed and came with melted butter on the side for dipping. It was approximately 1 1/4 lbs, and the meat was sweet and fresh.
Some of the lobsters had roe and tomalley, which my mom and I both love. They have a complex flavor that turn a lot of people off so I guess it's an acquired taste, but we consider finding roe to be like hitting the jackpot.
Josh and I also split a cup of New England clam chowder. The chowder had great flavor and lots of clams but it was surprisingly thin. When I think of New England style chowder, I think of thick, velvety, rich soup. This soup had buttery and creamy flavor, but it was watery in texture. I didn't really mind because it was a hot summer day, but if it were wintertime, I prefer something with more body to it so that it sticks to your ribs.
My dad isn't as into lobster so he opted for a fried oyster plate. The oysters were decently big but they weren't as briney in flavor as I would have liked. They were also pretty heavily breaded, and while the coating was nicely fried and crunchy, it kind of made the oysters feel overly dry in my mouth. We dipped them in lots of tasty tartar sauce but I felt like that defeated the whole purpose of having oysters. We could have dipped anything into the sauce and it would have been the same. At least the fries were good.
Overall I liked Brown's Lobster Pound but I think the appeal is the kitschiness of the atmosphere. You're basically eating in an oversized shack, and the food is simple, hearty, and straightforward. Price-wise it's probably comparable to other similar seafood joints, but if you're going just for steamed lobster then it's overpriced. Lobster at the supermarket is definitely cheaper than $12/lb (we actually stopped somewhere on the way back to my sister's house to buy lobsters that were only $3.99/lb). Lobster rolls, however, cost $15 and up in NYC, so $12 is a relative bargain. If I lived nearby this probably wouldn't be a place we would go to regularly, but as a tourist, I thoroughly enjoyed it. While the oysters weren't great, the steamers and lobsters were very good, and it was a fun experience. The BYO aspect is also another huge plus.
Brown's Lobster Pound
407 NH Highway 286
Seabrook, NH