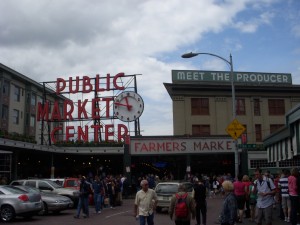 No trip to Seattle is complete without a visit to Pike Place Market, which has stalls upon stalls of fresh seafood, produce, flower, food and knickknack vendors. After we dropped our bags off at our hotel, we headed straight to the market, which was already bustling with activity. Our first stop was the famous fish market where they throw the fish around. Luckily, there was a tv crew filming them for some reason, and they ended up tossing a lot of fish. I managed to get a few shots of the flying fish.
We were starving but couldn't decide what we wanted to eat, so we decided to just walk through the market and stop at various places, picking up a few bites from each. But first, the beauty of the market:
And now, back to the food…
Pike Place Chowder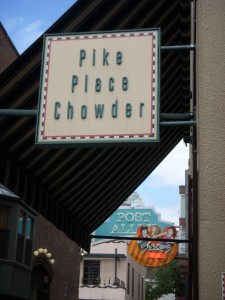 We started our day of eating at Pike Place Chowder, which is located in Post Alley. There were lots of different soups to choose from so we ended up ordering chowder samplers to share. We decided to try the classic New England clam chowder, the seafood bisque, and the market chowder, which is made from the fresh seafood of the day from the market.
I found the New England clam chowder to be a bit bland, even though they put bacon in it. This is one of my favorite kinds of soup but this version didn't live up to my expectations. My brother-in-law, who is a proud Bostonian, was also not so impressed with this version. It wasn't bad, but it definitely needed more seasoning and more briney flavor from the clams.
The seafood bisque, which is made with pacific cod, wild salmon, and shrimp in a creamy tomato-basil broth, was my favorite soup of the bunch. It was creamy and rich, and when they blended it they left little chunks of seafood that added a nice texture to the otherwise smooth soup. I thought the seasoning of this bisque was spot on, but it was Josh's least favorite one.
The market chowder was my least favorite soup, and Josh's favorite, so that just goes to show that we don't always have similar tastes. I guess I liked it less because it wasn't a creamy soup, and I prefer my seafood soups to be creamy. The soup had lots of little shrimp in it, and shreds of crab meat, but I'm not sure what else. There was also corn and other vegetables mixed in, but I had a hard time placing the flavors. There wasn't anything to bind it together, but I guess Josh liked it because it was a lighter soup.
Overall I thought Pike Place Chowder was a bit of a disappointment. When you advertise that your clam chowder was voted the "Nation's Best" though, I think you're just setting yourself up for criticism. I've definitely had better versions elsewhere, and none of the other soups really blew my mind, but I'm definitely not a soup connoisseur. I admit, I like Progresso's New England clam chowder and keep cans of it in my desk at work for the days I just can't get out to find lunch. Pike Place Chowder does have a lot of other options we didn't try, so maybe we just picked the wrong soups. Either way, I do think it's worth a taste if you're at the market.
Beecher's Handmade Cheese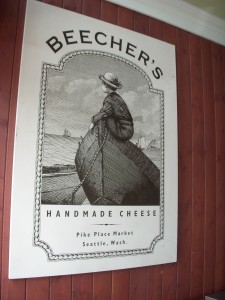 I've never heard of Beecher's before but someone in our group said that they had the best macaroni and cheese so how could we pass this up? But again, that just raises your expectations. We got in line and as we were waiting, someone behind the counter passed us a sample of cheese curds, which I've never tasted before. They were hard and had an almost rubbery texture, but nicely salty and not too milky tasting. I could easily snack on these while having a beer. I've only had cheese curds on poutine in Montreal before, but it's usually melted so that it has a stringy consistency. Now I just need to go to Wisconsin and try some deep fried cheese curds.
We got a large container of the famous macaroni and cheese to share. The macaroni and cheese is made with penne pasta, which is a departure from the standard elbow-shaped macaroni. I suppose that it helps the pasta retain a bit more bite, but it was kind of awkward to eat while we were strolling along in the market because it wouldn't stay on the fork.
As for the taste, it was pretty rich and delicious, with a nice cheddar cheese flavor and a sprinkling of chili powder on top to boost up the seasoning. The texture, however, was a bit too floury for me. I know that helps the cheese sauce to cling to the pasta but it left an unpleasant pasty film in my mouth. There was also no cheesy crust to the mac and cheese, which is usually my favorite part, and I missed the stringy gooey bits of cheese that is found in other varieties.
While this is a really good stovetop version of mac and cheese, those of you who prefer the baked kind (like me) might find it a bit disappointing. It's still worth a taste though – it never hurts to try things at least once!
Emmett Watson's Oyster Bar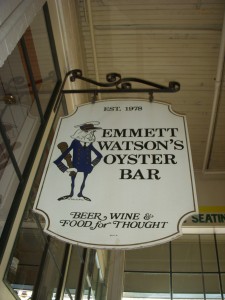 Josh was craving raw oysters and figured that the seafood in Seattle would be pretty fresh. We saw a sign pointing in the direction of Emmett Watson's Oyster Bar so of course we followed it. It's a casual sit down restaurant and bar serving all different kinds of seafood. We got a few pints of local beer and ordered a round of raw oysters, as well as a fried seafood combination plate.
The variety of raw oysters they had on hand that day were otter creek, hunts point, and miyagi. The miyagis were our favorite, as they were the briniest and tasted of the sea. We don't like to drown our oysters in sauce; a little squeeze of lemon is all I need.
The fried seafood combination plate, called the Captain's Basket, included fish, clams, shrimp, and oysters. The fried shrimp were the best, as they were fresh, meaty, and perfectly fried to a crisp.
I thought the seafood at Emmet Watson's was pretty fresh, and the oysters were really tasty. Service was a bit slow though, as we waited a long time for our food to come out. Still, it was a nice place to sit down and have a drink and just relax after all the walking we did in the market.
Piroshky, Piroshky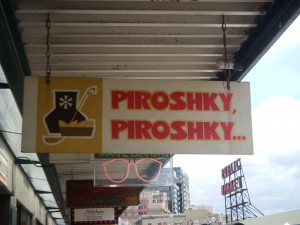 I had never heard about Piroshky, Piroshky, even though it was apparently featured on an episode of Anthony Bourdain's "No Reservations", a show that we watch occasionally. I guess we missed that episode. What drew us into this tiny shop was the long line. Seriously, every time we walked past, the line was out the door and about 15 people deep. We didn't know what a piroshky was, and we couldn't understand what the fuss was all about so we had to see for ourselves.
When we finally got inside I could finally see what a piroshky was, which is a Russian pastry that is stuffed with different things. We tried out the potato, onion and cheese piroshky, the beef and cheese, the apple cinnamon roll, and the marzipan roll.
The potato and onion piroshky had a soft filling of mashed potatoes.
The pastry isn't flaky, but more light and chewy. It was kind of like eating a soft, warm knish, and I enjoyed this one a lot.
The beef and cheese piroshky tasted exactly like a roast pork bun to me.
The beef was ground very finely so it was more mushy than crumbly, and there was a sweet sauce mixed in that made it similar to char siu. The pastry is also a bit sweet, like a lot of Asian breads that I've eaten, and I was seriously transported to Chinatown for a second. The baked cheesy bits on top helped to provide a more savory contrast, but overall I found this piroshky to be a bit too sweet for my liking.
The apple cinnamon roll had such potential, except that the one we got was a bit cold and stale on the outside. The inner parts of the roll were soft and delicious, with large pieces of apple rolled in with the cinnamon sugar, so I only wish that the whole thing was like that.
The marzipan roll was the surprise hit. I don't have fond memories of marzipan candy, but in this roll it was a soft paste with a subtly sweet almond flavor.
The pastry on this roll was a bit flakier, so it was kind of like a stuffed croissant. It was soft and warm and completely addictive. This was the only roll that we went back for more the next day before our cruise set sail.
Overall I did enjoy Piroshky, Piroshky, but if it were in NYC I'm not sure if I'd go there often. It's a bit pricey for what you get, but it's definitely a nice novelty place to stop by at if you happen to be in Seattle.
Pike Place Chowder
1530 Post Alley
Seattle, WA
Beecher's Handmade Cheese
1600 Pike Place
Seattle, WA
Emmett Watson's Oyster Bar
1916 Pike Place
Seattle, WA
Piroshky, Piroshky
1908 Pike Place
Seattle, WA
Tags: Chowder, Macaroni and Cheese, Oysters, Pike Place, Seattle