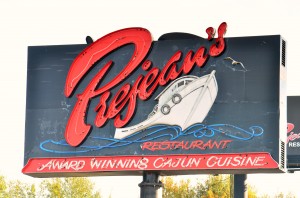 When I was researching Lafayette restaurants, Prejean's came up often in my searches. The reviews were mixed; some said it shouldn't be missed, others wrote it off as being too touristy. When we checked into our hotel, they offered us coupons from Prejean's that advertised a free gumbo if we ate there and presented the card. To be honest, that was a bit of a turnoff for me, and I was ready to pass on going but when the restaurant that we wanted to try closed for lunch earlier than we expected, Prejean's was our only option.
I really wanted to have crawfish etouffee while in the heart of Cajun country, but we were also pretty full from the three pounds of boiled crawfish that we had just put away, so I had Josh order just a side of etouffee rather than a whole entree. I figured it would be much less food, plus we had to eat in the car because J had fallen asleep on the drive over from Breaux Bridge, and we didn't want to disturb her. The serving was a big cupful and more than enough. The sauce was buttery and creamy – very rich. There were tons of crawfish tails mixed in, which I appreciated. We spooned the etouffee over the white rice they provided on the side, and it was a wonderfully hearty and homey combination. The etouffee was a bit on the sweeter side, and had lots of paprika and other seasonings. I think we liked the original etouffee we tasted at the Acme Oyster House better, but this was still a good version.
We also got a crawfish enchilada appetizer, which is supposed to be another one of their specialties. The enchilada was actually pretty tasty, with lots of cheese melted on top and some tomato-y crawfish sauce to round out the flavor. I wished there were more crawfish tails wrapped inside the enchilada though, as they got a bit lost underneath all the cheese and sauce. But it was a nice twist on a shrimp enchilada, and I'm glad to have tried it.
Overall I don't know if we could really pass judgment on Prejean's, as we only got an appetizer and a side dish to go. The food we tasted was good but didn't blow our minds. If we ever do make it back to Lafayette, there are still other places I want to try for crawfish etouffee.  However, the enchilada was a great segue into the next part of our trip – Texas. We hit the road for Houston after leaving Prejean's, en route to some really amazing Tex Mex food.
Prejean's Restaurant
3480 NE Evangeline Thruway
Lafayette, LA