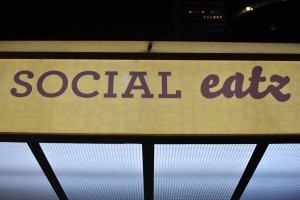 Social Eatz is a restaurant that garners a lot of buzz because it is the restaurant of Top Chef alum Angelo Sosa. Josh and I are big fans of Top Chef but we didn't root for Angelo when he was competing the first time around. While his food always looked good and his competitors clearly respected him, we had other favorites. Nevertheless, we didn't object when Jess and Jack told us we should try the food at Social Eatz. They had eaten there before and enjoyed it, and so we decided to go on a double date with them and check it out.
Jess made a reservation for us on a Saturday night, but the restaurant was surprisingly empty when we arrived. We got a great table right next to the window in front. Jess and I got some beer while Josh ordered the carrot ginger fizz, an interesting cocktail featuring carrot juice, ginger beer, vodka, and citrus. It was sweet, tangy, and bubbly, and very drinkable.
We decided to share a few appetizers to start. The first was edamame fritters, which our waiter said was a new dish for the restaurant. For some reason we were all expecting the individual edamame beans to be fried, and were quite surprised when we saw that it was actually like falafel balls made from pureed edamame. The fritters were fantastic – crispy on the outside and creamy on the inside. The edamame flavor definitely shined through, brightened up with some citrus. There was also garlic mayo on the side for dipping that was addictively delicious. I could have used that mayo on just about anything. My only complaint was that there were only two fritters in the order. I wish there had been more!
Our other appetizer was the noodle salad with plum ponzu. It featured cold buckwheat soba noodles with baby bok choy, sugar snap peas, and sliced scallions all mixed with a sweet plum and citrus dressing. It was light and refreshing and also a good mix of sweet and tangy. The noodles were cooked well so that they still had a nice chewiness to them, and this time I had no complaints about the portion size.
Both couples decided to share a bibimbap burger and a pair of tacos. There are lots of different burgers to choose from but the bibimbap burger won Eater.com's best burger in America contest so we wanted to try it out. We were happy to see that they cut the burgers in half for us in the kitchen, because they were really quite messy. The burger featured a beef patty topped with a runny fried egg, shredded lettuce, and pickled carrots and cucumber. There was also sriracha mayo on the burger that oozed out when we bit into the burger and dripped everywhere.
The burger itself was very flavorful, with the pickled vegetables and sriracha sauce definitely showing its Asian influence. The beef patty was cooked to a nice medium rare but it was kind of mushy in texture and got a bit lost under the egg and all the other components. What meat I could taste was well seasoned, and while I really did enjoy the burger, it didn't seem like a regular burger to me. I wouldn't compare it to a Shake Shack burger or Corner Bistro, because it's a totally different genre of burger. So even though it was pretty delicious in it's own way, if I'm craving a burger, this isn't what I'd go for. Nevertheless, we were happy to have tried it.
As for the tacos, we got an order of the Korean beef tacos and the tilapia tacos. The Korean beef tacos featured marinated skirt steak that had a slight kick to it from gochujang, which is a spicy Korean pepper paste. The taco was supposed to have bean sprout kimchee as well but I didn't really see it or taste it. There were pickled carrots and cucumber on the taco, as well as more of that sriracha mayo, which actually made the whole thing taste very similar to the bibimbap burger. The skirt steak was pretty tender, however, and flavorful on its own, and I enjoyed the fresh cilantro on top. I just wish that the taco had more pronounced kimchee flavor.
The tilapia tacos were pretty spicy, as the fish had been brushed with Thai chili. I enjoyed the fish and the accompanying green tomato salsa and avocado, which helped temper the spice. It was a flavorful combination of spicy and tangy, and I preferred these tacos to the Korean beef tacos. I just wish they hadn't added sriracha mayo to these tacos as well, as after a while, everything just started tasting the same.
Both the burgers and the tacos were a la carte, so we got two orders of fries to share. They were thin cut and crispy, like McDonald's fries, and dusted with a bit of paprika (I think). There was a mayo based dipping sauce on the side but the fries were good on their own and seasoned enough that they didn't need the sauce.
For dessert, we split an order of the yuzu cream puffs. The choux pastry was filled with yuzu curd, which tasted similar to lemon or lime curd. It was slightly sweet but the citrus flavor made it refreshing. The cream puffs were served hot, which I liked, and delicately crispy on the outside. We quickly took down the whole bowl.
Overall Josh and I both enjoyed Social Eatz but didn't find it to be outstanding. The food was tasty but nothing was distinctive. The menu indicates Korean, Vietnamese, and Japanese influences, but mostly, I just found it to be generically Asian fusion food. Sriracha mayo was on almost everything, and that flavor really dominates. After a while, all the flavors got muddled and everything just tasted like the mayo. I did enjoy the appetizers though, which were well executed and the highlight of the meal for me. On the surface, the menu at Social Eatz is very affordable. The burgers and sandwiches top out at $12, and the tacos at $9. Most things are under $10. However, since everything is a la carte, adding on a side dish is an additional $4.50 each. That means for a burger and fries, it's really about $16.50, not $12, which is really not that cheap. In terms of atmosphere, the restaurant did fill up by the end of our meal. It was a bit loud but not overly so, and the place has a trendy but casual vibe. I would probably go back, but I wouldn't go out of my way to make another trip there.
Social Eatz
232 East 53rd St. between 2nd and 3rd Ave.
New York, NY