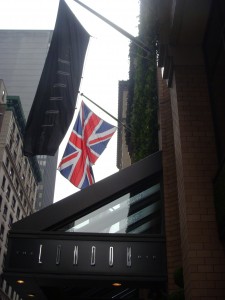 While Josh and I are not huge fans of the TV show Hell's Kitchen, we have been pretty curious about the cuisine of Gordon Ramsay ever since we read a little bit about him in Marco Pierre White's book, The Devil in the Kitchen. Although we think he plays an over-the-top character on TV, he does have an impressive resume and has worked for some very great chefs. He has multiple Michelin stars under his belt, which is a great feat, but these days, he's more known for being a screaming tyrant. So we had no idea what to expect when we booked a table at his restaurant Maze for Restaurant Week lunch. Maze is located at The London hotel on 54th St. We couldn't even find the Restaurant Week menu online but curiosity got the best of us and we made the reservation regardless. For those who are equally curious, here is the Restaurant Week lunch menu for Maze:
Appetizers
Octopus terrine with Kalamata olives, crisp potatoes, pickled shallots, sauce vierge
Asparagus veloute, braised morels, elephant garlic
Marinated fingerling potatoes, Holland leeks, poached quail's egg, prosciutto
Main Courses
Carnaroli risotto of parsley, preserved lemon and mascarpone
Roasted chicken breast, spring morels, pickled ramps, new potatoes, asparagus, thyme jus
Pan fried halibut, butternut squash, gnocchi, brown butter vinaigretteDry aged strip loin 8 oz, creamed spinach, pommes anna ($10 supplement)
Dessert
Carrot cake with cream cheese frosting, walnut praline ice cream
Vanilla custard with citrus fruits, brown sugar oats and mandarin sorbet
Chocolate pudding, stout ice cream, pretzel, peanut butter powder
Josh and I quickly made our selections and settled in to munch on the bread they provided. We're not sure what kind of bread it was but it was sort of like a focaccia, except chewier. Maybe it was like a thick pizza bianca? Whatever it was, it was a bit tough and flavorless, desperately needing some salt or something to give it a boost. Not even the butter helped.
So our meal did not get off to the best of starts but things looked up when they delivered our appetizers. As usual, Josh and I each started off with a dish and then switched halfway through. He started out with the marinated fingerling potatoes, which was served on a thin slice of prosciutto and featured a teeny little quail's egg that was perfectly poached with a runny yolk. The flavors of this dish were clean and each component stood out on its own. It was a simple dish but well composed.
Our other appetizer was the octopus terrine with Kalamata olives, crisp potatoes, and pickled shallots. Presentation- and composition-wise, both of our appetizers were very similar, but the octopus had stronger flavors that gave a nod towards Spain. There was a nice and spicy tomato sauce that came on the side, which added an acidic zing to the dish, and the octopus itself was very tender. I just wish that there was more of it, as there was only a very thin layer at the bottom.
For our main courses, we selected the roasted chicken breast and the pan fried halibut. The chicken had nice crispy skin and was pretty juicy in the interior, but it was also slightly underdone. I don't really get squeamish by slightly pink poultry, except there were a few sections that were inedible. Otherwise, it was very flavorful chicken, and the medley of vegetables underneath were fresh and seasonal. I loved the morels and wished there were more of them mixed in. It was a nice, light dish.
The pan fried halibut had a fall flavor to it, thanks to the butternut squash. The fish itself was well cooked, with a crispy exterior and meaty white flesh in the middle. The gnocchi were a bit chewy but at least they weren't super dense. The presentation was simple but it was a hearty dish and well prepared.
For dessert, we selected the vanilla custard and the chocolate pudding. The chocolate pudding was more like a ganache or fudge, served in a long log and had a relatively firm texture. The stout ice cream was absolutely fantastic, tasting just like a slightly sweeter Guinness in ice cream form. I will have to look into making stout ice cream for myself, because it was really good. The combination of the pudding, ice cream, and peanut butter powder worked really well together, but the pretzel had no real purpose. It was kind of stale and not very salty, so it didn't provide a contrast to the other sweet components. Pretzel aside, this was a very good dessert.
The vanilla custard had nice vanilla flavor and visible specks of vanilla bean in it, but it was kind of relegated to the background because of the assertive citrus flavors in the dessert. The oranges were a bit sour but tasted better when mixed with the sweet vanilla custard; I just wished there was more of the custard. The brown sugar oats added a textural contrast to the dessert but not much flavor. It was an ok dish but not spectacular.
We really didn't know what to expect going into the restaurant, but we walked out with some new respect for Gordon Ramsay. As far as Restaurant Week meals go, this was pretty good. There was a decent selection to choose from, and everything was well prepared and well presented. I liked the use of fresh vegetables in all the dishes and I walked out of there completely satisfied. While I still don't like his antics on TV, I can look past it as long as his restaurants are producing good food. I don't know how much involvement he has with this particular branch of Maze, but maybe if we're ever in London we can check out one of his restaurants there.
Maze
151 West 54th St. between 6th and 7th Ave.
New York, NY
Tags: Lunch, Midtown, Prix Fixe, Restaurant Week