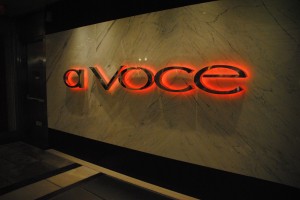 Restaurant Week is upon us, a twice-a-year ritual that has foodies and food lovers logging into OpenTable en masse in search of the best reservations. Well-known and high-end restaurants tend to book up fastest so if you haven't made your Restaurant Week selections yet, you better hurry up!
Josh and I are usually laggers when it comes to making Restaurant Week reservations, which means we often end up with very few choices that really appeal to us. This year I didn't want to get left behind in the mad scramble for reservations so I made sure that we booked early. We ended up getting a lunchtime reservation at A Voce Columbus, a restaurant that we've tried to book several times for Sunday night dinners (Josh's mom has really been wanting to try it as well) but could never get a reservation at a decent hour. We snagged a 12:45 spot on the first day of Restaurant Week – an auspicious way to start off the two-week gluttony fest.
We were coming separately from our respective workplaces so we met up in the lobby of the Time Warner Center and headed up the escalators to the third floor, where the restaurant is located. After we checked our coats we were seated at a two-top in the back room near the tall and wide windows that look onto Columbus Circle and the entrance of Central Park. Unfortunately it was pouring rain so our view was slightly marred by the raindrops running down the window, but it was lovely nonetheless.
The décor of A Voce Columbus is very sleek and modern, with tall ceilings and lots of natural light flooding in through the large windows that line one wall. The focal point of the room we were in was the large glass case that enclosed a huge wine rack full of bottles. There were also racks lining part of another wall, set behind glass windows. Despite the nice view and the interesting wine racks, however, I kind of felt like we were in a corporate cafeteria. The atmosphere was very sterile, the tables are a dark wood that aren't covered in a tablecloth or placemats, and we were seated on white leather chairs with metal frames that contributed to the casual feel.
Even so, the room still has an elegant appeal to it, and besides, we were there to sample the food. After they brought us both the regular lunch menu and the Restaurant Week menu to peruse, they set down a wooden platter with slices of focaccia bread and a bowl of ricotta covered in olive oil and herbs. The bread was delicious – crusty on the outside and fluffy on the inside, slightly salted, and not too oily. The ricotta was creamy and flavorful, a perfect match for the focaccia.
I generally don't like to book restaurants that don't post their Restaurant Week menus anywhere, but because we were eager to try A Voce Columbus, we took the chance that it would offer a decent menu. Fortunately, we weren't disappointed. For anyone who is looking, the Restaurant Week menu was as follows:
Antipasti
Minestre di cipolle (caramelized onion soup, bitto cheese fonduta, rye)
Mozzarella di bufula (mozzarella di bufula, calabrian chilies, dried grape tomatoes, arugula)
Tortelli di zucca (squash filled pasta, amaretti, parmigiano reggiano)
Secondi
Brasato di manzo (braised shortribs, creamy polenta, grappa roasted cippoline onions)
Boreta (orata, mussels, clams, shrimp, san marzano broth)
Ravioli (ricotta and dried pear filled pasta, cinnamon, cocoa)

Dolci
Panna cotta (chocolate panna cotta, toasted hazelnut)
Granita (espresso-amaretto granita, whipped cream, cocoa)
Since each diner gets to pick one dish from each course, Josh and I decided to get different things and exchange plates halfway so that we could try as many dishes as possible. We started out with the mozzarella di bufula and the tortelli di zucca. We both thought the mozzarella was super salty, as they sprinkled a lot of sea salt on top so that every mouthful had a crunch of salt. Texture-wise, it was a nice contrast to the creamy mozzarella and the accompanying chewy dried grape tomatoes, but after a few bites both of our mouths started puckering a bit from the salt. It was too bad, really, because it was actually a nice dish. The mozzarella was soft and flavorful, not too milky, and the dried grape tomatoes were very sweet. There was also arugula, which added a slight bitterness, and the whole thing was topped with a drizzle of olive oil and some chili flakes that weren't spicy at all. When I got all the components on the fork together I could still taste each item individually but they worked really well together as well. The dish just didn't need all that extra salt on top.
The tortelli (squash raviolis), however, were perfect. The delicate little pouches were filled with a creamy squash puree that savory, not cloying or over spiced. I've had too many squash dishes that tasted like pumpkin pie or dessert, but this dish highlighted the natural sweetness of the squash without overdressing it.
The raviolis were enrobed in a very light, buttery sauce that was really delicate and a dusting of parmesan cheese. The tiny amaretti crumbs scattered on top added a nice little crunch.
For the main course, we selected the boreta and the brasato di manzo. The boreta was a fish stew made from san marzano broth and filled with shrimp, mussels, and clams, and a large piece of orata (sea bream) on top. The orata was perfectly cooked with still-crispy skin. It was a white, firm, slightly oily, and flavorful fish, and it really stood out as the star of the stew. The broth was light, not super tomato-y, and had taken on the flavors of the shellfish. They thoughtfully provided a long toasted breadstick with the bowl to sop up some of the broth. Unfortunately, I thought the shrimp and the mussels were slightly overcooked, rendering them chewier than I prefer, but not super tough.
The brasato di manzo, or braised short rib, sat on top of a large serving of creamy polenta and a few sweet roasted cippoline onions. The short rib was tender and fell apart with a poke of my fork, but it lacked seasoning. It definitely needed salt but flavor-wise it was also very one note. I did like the polenta though, which was buttery and had nice texture to it.
Because there were only two choices for dessert, we got one of each. Josh stuck mostly with the granita, which was espresso-amaretto flavored, appropriately icy, and refreshing. The espresso flavor was surprisingly strong, and the whipped cream in the middle and on top mellowed it out a bit, adding a nice creaminess and richness to the dessert. I could also taste a hint of cocoa in the background.
I favored the chocolate panna cotta with chopped hazelnuts. The panna cotta was not too firm, with the texture of a stiff pudding. It's more dense than a mousse but also much creamier. I liked that the chocolate wasn't too sweet or rich, and the whipped cream on top was also unsweetened. I could eat every last bite of the dessert and not feel too full or heavy afterward.
Overall Josh and I both really enjoyed our meal at A Voce Columbus and thought it was one of the better Restaurant Week lunches that we've had. I was a bit disappointed that the dishes they offered aren't on the regular menu posted on their website, but I don't think the restaurant cut back on quality or variety. Though some of the dishes had a few flaws, they were in execution and were easily correctable mistakes. More importantly, I thought the composition of the dishes were harmonious and flavorful. Getting a taste of this restaurant during Restaurant Week has made me more eager to try its regular a la carte menu. And isn't that the point of Restaurant Week? To give diners an opportunity to try out a restaurant at a reasonable price (three courses for $24.07 at lunchtime, $35 at dinner) in the hope that they'll want to come back even when it's not Restaurant Week? In that sense, A Voce Columbus has certainly achieved its goal by participating in this wonderful semiannual tradition.
A Voce (multiple locations)
10 Columbus Circle at 60th St.
New York, NY
Tags: Columbus Circle, Italian, Prix Fixe, Restaurant Week