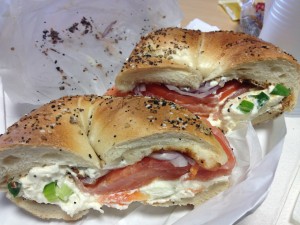 As you might have been able to guess based on the above picture, I finally got my bagel with lox, scallion cream cheese, tomato, and red onion, which means that Josh and I welcomed our daughter, Baby J, into the world!
Fortunately, I was in labor for only about six hours, which is considered to be short for first time mothers. Unfortunately, I didn't have time to eat before we went to the hospital, and once you're there, you can't eat anything. When all was said and done, I didn't get settled into my room until almost 11 pm, 13 hours after my breakfast of waffles and orange juice. By that point, I was starving. Labor might have been short, but man, it was hard work!
However, the hospital kitchen was closed due to the late hour, so my food choices were limited to either a turkey sandwich, a tuna fish sandwich, or yogurt. I was happy to eat turkey after abstaining from deli meats for so long, but this was a pretty sad, dried out, pre-made turkey sandwich. I managed to get some mayo from the nurse, which helped a little, but it wasn't the best post-pregnancy meal.
Luckily, Josh's cousin brought him some food from the California Pizza Kitchen, and while he focused on the pizza, I gobbled up most of the caesar salad, another forbidden food that I had been craving throughout my pregnancy. While I made caesar dressing at home without any eggs (which just isn't the same), I could never be sure if restaurant dressings included raw egg, and so I always abstained when eating out.
I did take a bite of Josh's Thai chicken pizza, which was cold but still tasty. It wasn't what I was in the mood for at the time, but I was happy to be able to eat the bean sprouts on top without panicking.
Food-wise, the next day was a much better experience. While the hospital food wasn't terrible, it was pretty bland, but that didn't matter because we were getting plenty of food from the outside. First was the above pictured bagel with lox, which was as good as I remembered. The lox was glossy and rich, pairing perfectly with the scallion cream cheese. Next was a spread of prosciutto San Daniele with baguette. And I really do mean a spread! There was almost a full pound of thinly sliced meat, which Josh laid it out along the counter in our room, and we encouraged visitors to help themselves.
Of all the deli meats I couldn't eat, prosciutto was definitely near the top of ones that I missed the most. Our usual summertime meal of mozzarella, tomato, basil, and prosciutto on slices of baguette was just not the same without prosciutto. Although Josh indulged occasionally while I looked on jealously, he was pretty good about not eating it front of me very often. I definitely ate a hefty portion of the thin, melt-in-your-mouth San Daniele at the hospital, and enjoyed every bit of it.
The day we went home from the hospital, we had lots of relatives over to visit Baby J. Josh's parents brought in a spread from The Kosher Nosh, and I was able to satisfy my Jewish deli meat craving. There was tons of corned beef, pastrami, tongue, and turkey, as well as cole slaw and potato salad, which I also was not allowed to eat during my pregnancy (no deli salads, especially ones that are mayo-based). I ended up making lots of half sandwiches with the individual meats – tongue is still my favorite!
And my most recent forbidden food indulgence? Sushi! I'm still not allowed to eat fish that is high in mercury (like tuna and yellowtail), so I only had the salmon sushi, the Alaska roll, and the ikura sushi. While yellowtail is my favorite fish and I still miss it, the salmon sushi was still pretty satisfying.
Is this the end of the post-pregnancy forbidden food indulgence? Of course not! I'm still looking forward to a nice rare steak, like the steak frites we used to eat at Les Halles, tuna/chicken/egg salad, rare lamb chops, a beautifully runny poached or sunnyside up egg, among a million other things. But I've got plenty of time now to satisfy all of my cravings! Although, the lack of sleep with a newborn is definitely no joke…
Tags: Bagels, Deli, Smoked Salmon, Sushi