After leaving Healdsburg in the early afternoon to head back towards San Francisco for our red eye flight back home, we thought about stopping at Muir Woods to see some redwoods but were deterred when signs along the highway indicated that all of the parking lots there were full. Instead, we decided to check out Sausalito, which is just outside SF across the Golden Gate Bridge.
Sausalito is a beautiful town right on the water. We parked near the Yacht Club, not realizing that the main part of town where all the shops and restaurants are was much further down the street. It was a gorgeous day out though, so the walk was quite nice. After looking at the boats in the harbor and making our way to the main part of town where there are sweeping views of SF, we met up with some of our friends in search of a late lunch.
The options along the water near the main part of town all seemed a bit too upscale for what we were looking for, so we headed back towards the Yacht Club where we had passed a cute and vibrant-looking taco shop on our walk into town. There was a bit of a wait for a table but the tacos looked too tempting to pass up.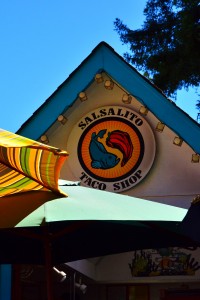 When we finally scored a table on the patio in front, we quickly ordered a basket of housemade chips, which came with two salsas. While we were a bit surprised to see that they charged for chips and salsa, since most places we go to give you those for free, the chips arrived on our table freshly fried, piping hot, and perfectly crispy. The salsas were a tangy verde version, and a more smoky and spicy red version.
Most of us wound up ordering a few tacos a la carte. Josh and I both got a fried fish and a fried shrimp taco each, and then split a pork and a steak taco. Both the fish and shrimp tacos were "baja style", meaning they were battered and fried, and topped with shredded cabbage and pico de gallo. There was crema on the table that we added on as well. Both were fried perfectly and were nicely crispy, though the flavor of the fish got a bit lost underneath all the toppings. The shrimp were more prominent, and my favorite of the two.
The steak taco featured marinated steak sauteed with caramelized onions and topped with cilantro. The steak was relatively tender but lacking in seasoning and flavor. We wound up using a lot of salsa to punch it up a bit, though I liked the freshness brought by all of the cilantro on top.
The pork taco was the most flavorful of the bunch, with shredded pork simmered in achiote and topped with pickled red onions and cilantro. The sauce was a bit smoky and complex, while the pickled onions added some acid and crunch to the taco.
Overall we were pretty happy with our taco lunch at Salsalito Taco Shop. We don't have much by the way of good, authentic-tasting tacos (ie., not chain restaurant tacos) in our neck of NJ, and so I enjoyed these a lot. The pork and the shrimp were standouts from the ones we tried. I did wish that they doubled up on the tortillas though, as these were quite delicate and tended to fall apart halfway through the taco. In addition to having to pay for chips and salsa, the tacos were a bit on the pricey side (about $4 each). They're not the hugest tacos but the amount of filling was decent, and you're probably paying for the real estate as well, since Sausalito really is a very pretty town with nice views. It made for a nice, quick lunch, and we enjoyed relaxing on the patio and doing a little people watching.
Salsalito Taco Shop
1115 Bridgeway
Sausalito, CA
After leaving Sausalito, we made a quick stop to take some pictures of the Golden Gate Bridge. Unlike the day we arrived, when everything was whited out from fog, this day couldn't have been any clearer. The views from a hilltop scenic point were just stunning.
And, of course, I couldn't leave the west coast without hitting up a certain burger destination. 'Nuff said. All in all, a great trip with lots of good food and quality time with friends.