The last port of call on our cruise before we returned to Seattle was Victoria, British Columbia. We got there in the afternoon and we were leaving only a few hours later so we decided to just explore the city instead of traveling all the way to Butchart Gardens. We ended up seeing the Parliament building, walking around the harbor, exploring the grounds of the Empress hotel, visiting a small night market along the water, and walking through the main shopping district. It's a cute little city, very clean and pretty, so it was too bad that we didn't have much time to spend there.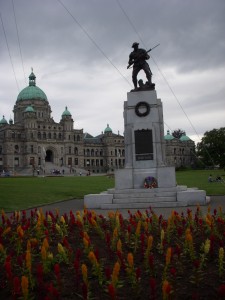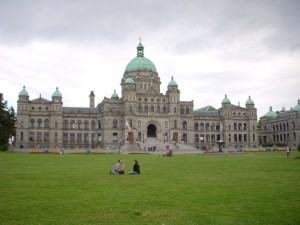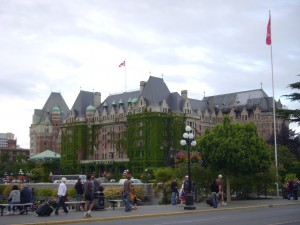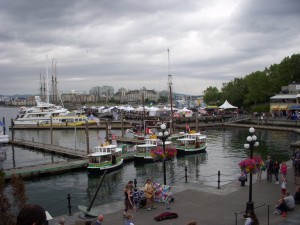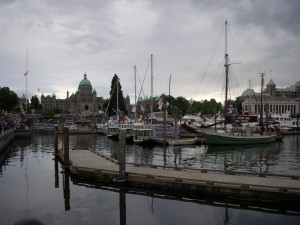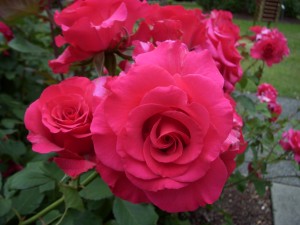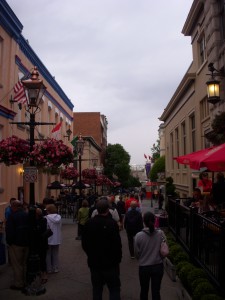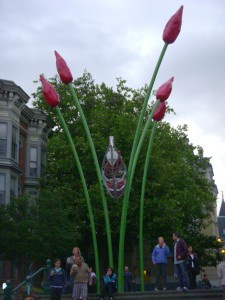 Wharfside Eatery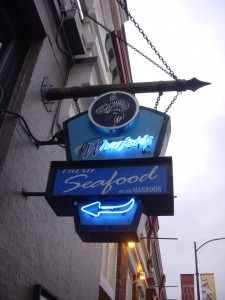 After walking around for a few hours, we decided to get dinner in the city rather than back on the ship. We opted for a restaurant near the water called Wharfside, which obviously served seafood. We got a few pints of local beers and ordered some appetizers to share.
We started out with lobster bruschetta, which was like lobster salad mixed with celery, basil and mayonnaise, and served on top of rounds of toast. These were pretty tasty and not too mayo-y so even Josh enjoyed it.
We also got an order of fried calamari that was served with tzatziki sauce instead of the standard marinara, which I thought was a nice twist. Unfortunately the calamari weren't very crispy and were served kind of cold.
Josh, his dad, and I split half a dozen oysters on the half shell. Though they were kind of small, they tasted fresh and had lots of briney liquid coming out of them, which I liked.
For my main course, I opted for the fish and chips. I had a choice between pacific cod and alaskan halibut. The waiter told me the alaskan halibut was better, even though the pacific cod was local. He didn't really give a reason why, but choosing the halibut was an extra charge. It was a pretty good rendition of fish and chips though, as it was super meaty and nicely crispy, but I don't know if the halibut made such a difference. The chips were seasoned potato wedges and sweet potato fries, which were a bit limp and not crispy enough, but they were still tasty.
Josh and his mom got a seafood platter for two, which came with mussels, fried oysters, alaska king crab legs, local clams, wild salon, and tempura prawns. They were looking forward to having fresh seafood after being on the boat for so long. They added half a lobster to their order as well. It was a lot of food, but unfortunately not that good. The seafood was overcooked and didn't seem that fresh to us.
In the end I really wasn't that impressed with the food at Wharfside. We didn't really know anything about the restaurant when we walked in but it looked like a nice place. The food just didn't deliver. Everything was the wrong temperature and not all of the seafood seemed that fresh, which is a bit no-no for a place that touts its seafood. The service was fine, but everything was really overpriced, especially with the exchange rate the way it is now. When we got into a cab to return to the ship, the cabbie mentioned that we probably got the "tourist" menu, which wouldn't surprise me. It was a disappointing experience overall.
Wharfside Eatery
1208 Wharf St.
Victoria, BC