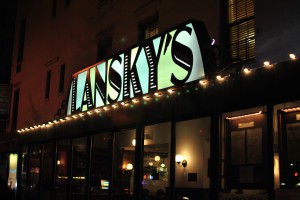 Lansky's Old World Deli is a place that I've walked by many times but never really thought about trying. One night Josh had a craving for a corned beef sandwich and all the delivery options we had seemed unappealing, so I looked up the menu for Lanksy's and we decided to walk over there to check it out. The restaurant has kind of a classic, retro diner feel to it, and the menu is pretty extensive. It's a kosher style deli, though it's not actually kosher because they serve meat and dairy together, plus you can add bacon to any sandwich.
It didn't take us long to figure out what we wanted to order, and then we dug into the bowls of pickles and cole slaw they brought us. Sadly there was only one half sour pickle in the bowl. Josh and I both prefer half sours because they taste fresher and are crunchier as well. The full sours weren't overpoweringly sour, but they had a slightly metallic taste to them that I didn't like. We probably could have asked for more half sours but we knew we had ordered a lot of food so we wanted to save the stomach space.
Josh doesn't eat cole slaw or any mayo based salads (ie., potato salad, macaroni salad) but I took a few bites and thought it was pretty tasty. It had a nice crunch and wasn't overly mayo-y, with a nice tang. It made a good side dish to munch on with our sandwiches.
We decided to go halfsies on a corned beef sandwich and a pastrami sandwich, both on rye bread. The sandwiches were pretty thick but nothing like the monstrosities that you get at the Carnegie Deli, for example. Still, they'll fill you up and they're more reasonably priced at $10.95 each. The corned beef wasn't as flavorful as some other places, but it was pretty soft and had a nice texture. We just used extra deli mustard to boost up the flavor a bit.
The pastrami, on the other hand, was fabulous. Juicy, smokey, and tender – this was some of the best pastrami we've had. There was tons of flavor throughout, and we could taste the seasonings and spices they used on the meat.
From the "nosh" section of the menu, we got an order of the macaroni and cheese to share as a side dish. It was made with four different cheeses (sorry, I don't remember what kind!) and was super creamy. It was served in a big bowl with a breadcrumb crust on top that could have been browned a bit more. The mac and cheese was definitely cheesy, and while we enjoyed it a lot, it was super rich so we only managed to finish off half the bowl.
We also got a side of french fries. They were made from freshly cut potatoes and fried to a deep golden brown. They were great when they were hot but did get a bit soggy as they cooled down.
Instead of dessert, Josh got a chocolate egg cream to finish off the meal. It's basically seltzer, milk, and chocolate syrup mixed together. This version was nice and bubbly, not too sweet, but definitely chocolaty. It was quite refreshing.
Overall we enjoyed the food at Lansky's, although the corned beef sandwich was a bit disappointing. It wasn't bad, it just wasn't great. The pastrami, however, was great. I would definitely come back just to eat another one of those sandwiches. Portions are big and prices are reasonable. Service was pretty slow but it looked like there were only two servers working the entire restaurant. Our waitress was apologetic about it but we did have to wait a while to flag her down every time we needed something. Lanksy's probably doesn't rank up there with the "best" delis in the city (Katz's, 2nd Avenue – both places we have yet to try) but it's a nice neighborhood joint serving solid kosher style deli fare. For those not interested in corned beef or pastrami sandwiches, the menu is pretty extensive and there are lots of other items to choose from. They also serve a brunch on the weekends that I'd be interested in checking out sometime.
Lansky's Old World Deli
235 Columbus Ave. between 70th and 71st St.
New York, NY