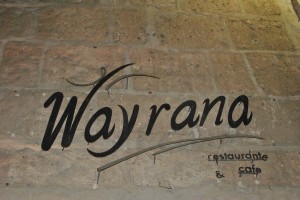 Wayrana was another restaurant that our guide recommended, and it was in our guidebook as well so we decided to give it a shot. We were a bit worried when we walked in and the only people eating in the restaurant was a large group of tourists, but the menu posted outside had looked promising, plus they offered the dishes that we had been hoping to try while we were in Arequipa.
We started out with a large bottle of Arequipena, which was not so different from Cusquena but we just liked that they also had a beer named after their city. Like most of the beer we had in Peru, it was pretty light and inoffensive.
There was one dish that our guide told us we had to try for lunch, chupe de camarones, but we couldn't find it on the menu at Chi Cha. Looking back, I now realize we were idiots and looked under the wrong section of the menu. The dish is a soup, so we were looking under the appetizer/soup section, but it was actually under the huge section titled "Camarones." Oh well. Even though our guide said that it was a dish that should be eaten for lunch because it's a very heavy soup, we decided to take the chance and have it for dinner. Since neither of us were really very hungry, we decided to split an order of the chupe to start, and then split an entree to finish.
Chupe de camarones is basically crayfish chowder. The soup is rich and creamy, made with lots of milk and cheese. It has a thick, velvety texture, and at times seemed more like a stew than a soup. There were lots of whole camarones, or crayfish, in the soup, as well as rice, corn, potatoes, and a poached egg. To make it even richer, the whole dish was topped with shredded cheese. Unfortunately I think there was some Andean mint mixed in there as well, which put me off a bit, but I pushed through because I really did enjoy the richness and the texture. The portion you see in the picture above is just half of a serving because when we told our waiter we were splitting, the kitchen thoughtfully plated our portions separately, which made things much easier.
The kitchen also split our entree for us, which may not have been the best thing considering our entree was cuy, or guinea pig. My initial impression of the cuy can be found here. But basically, they cut that sucker in half from head to toe, giving us an inside look of the cuy's innards, including its bony little rib cage and the contents of its little skull. The cuy was prepared Arequipan style, which meant that it was deep fried. That rendered the skin super crispy and tasty, but the meat was minimal and it was tough for me to really dig in and gnaw at the little bones. Seeing the head on the plate really did throw me off, but I think I would have really liked the dish if the cuy had been cut into little unidentifiable pieces.
Overall I was pretty impressed with the food at Wayrana, and service was definitely top notch. Even though I was initially turned off by the fact that the only people eating in the restaurant were tourists, my opinion definitely changed when I tasted the food. The chupe de camarones was really delicious, and the fact that I could eat it even with the Andean mint mixed in it is a testament to just how tasty the dish was. There were a lot of ingredients in there but everything worked together harmoniously. The cuy was also well prepared. It was basically just deep fried, but it was well seasoned and not greasy at all. I know most people are probably grossed out by the thought of eating guinea pig, but it really is similar to eating rabbit or quail. It's definitely something worth trying, and hey, if you don't like it, you don't have to eat it again. But at least give it a shot!
Wayrana
Calle Santa Catalina, 200, Int. B, Cercado
Arequipa, Peru