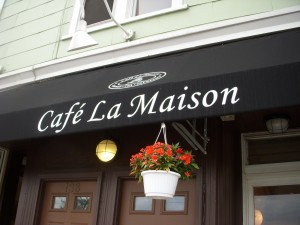 Like Joey from Friends, I love sandwiches. I like the endless possibilities that sandwiches offer – different breads, different fillings, different condiments. You can make up a different combination every time. When Josh's parents introduced us to Cafe La Maison in Fort Lee, it was like sandwich heaven. They have 30 varieties of gourmet sandwiches, on your choice of bread, plus assorted wraps, salads, and pastas.
The first time we went, Josh and I had a hard time deciding which sandwiches to try. We ended up splitting the Garden State sandwich and the Fab Four grilled cheese. The Garden State featured turkey, fresh mozzarella, sun dried tomatoes, arugula, and olive oil. We opted for a soft Italian hero, which had a nice chewy texture but was a bit too thick and dense. The turkey was thickly sliced and tasted fresh, though between that and all the bread, the sandwich did get a bit dry. The sun dried tomatoes helped cut through it with its tangy saltiness, but I wished there was some sort of dressing on it, and more olive oil. I ended up using some honey mustard, which provided some much needed moisture. I'm sure I could have gotten some balsamic vinaigrette, or better yet, some pesto sauce, if I had asked for some.
The Fab Four grilled cheese featured fresh mozzarella, cheddar, provolone, swiss, bacon, and tomato. We chose rye bread, which was buttered before it was grilled, making the outside nice and crispy while the filling was just oozing warm, melted cheese. The bacon added yet another layer of richness and decadence, but the tomato sort of faked you into thinking that the sandwich really wasn't that bad for you. Hey, at least we split one, right? Truthfully, the sandwich was so delicious and such a hit with us that we ordered it on our next visit to Cafe La Maison as well.
On our second visit, we also shared the grilled chicken and eggplant hero on Italian bread. The sandwich had a thick piece of grilled chicken breast, thin slices of breaded eggplant, fresh mozzarella, marinara sauce, and pesto on it. It was like a chicken/eggplant parm sandwich, only better. The chicken was moist and and tender, and the eggplant wasn't soggy or greasy. The pesto added a nice basil flavor, and the marinara sauce was sweet and tangy. Even the bread was better this time around, more crisp on the outside and not as thick. It was a really well constructed sandwich.
All of the sandwiches are served with a light cole slaw that isn't drowning in mayo, and a sour pickle spear. On the first visit, we shared a basket of sweet potato fries. The fries were fantastic – light, crispy, not the least bit greasy. We happily dipped them in honey mustard sauce.
On our second visit, we opted for the regular fries. These were also crispy and grease-less, but they were pretty flavorless as well. We tried salting them liberally with salt from the shaker but even that didn't help. I would stick with the sweet potato fries from now on, which not only tasted better, but are probably a bit more nutritious as well.
Overall I think Cafe La Maison is one of my new favorite lunch places to go to when we're in NJ. The restaurant is kind of small but it's bright and comfortable. We haven't even scratched the surface of the kinds of sandwiches they offer, but I haven't seen anyone disappointed with their choices so far. The ingredients they use are fresh and top notch, and it's the kind of place where we'll happily return to time and time again. The menu is very reasonably priced, with most of the sandwiches, wraps, and salads coming in under $10. They also serve assorted baked goods and breakfast items, like eggs and pancakes. It's definitely a nice little place to have in the neighborhood.
Cafe La Maison
140 Main St.
Fort Lee, NJ
Tags: Fries, Grilled Cheese, NJ, Sandwiches