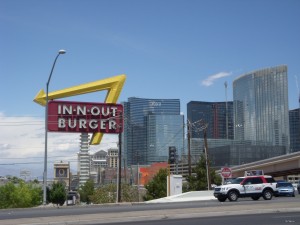 I'm going to share something with everyone that is probably kind of gross, but it might help paint a better picture of how food obsessed (or what a pig) I am. Whenever Josh goes to Vegas or Phoenix, which he typically does at least once a year, I make him bring me back an In N Out burger and fries. Even if that means it's been sitting inside his bag, squished in the overhead compartment of the plane and un-refrigerated for however many hours, I will still eat it. A quick nuke in the microwave on a low setting for about 30 seconds just warms it through and doesn't dry it out. Pathetic? Maybe. But it makes me happy, and Josh likes to make me happy, so despite being mocked by everyone who can't understand why he bothers to carry around a burger and bring it on a plane, he still makes an effort to bring me one from his travels. I married a great guy, didn't I?
But yes, I have tasted a fresh In N Out burger before, and that's how I fell in love. The first time I had one of their burgers was on a family trip to California. I had read about it, of course, and loved how everything was so fresh, despite that they're still fast food products. We made several visits to In N Out during that trip, and when we got back to NY, we searched the web to find the closest thing, visiting places such as Blue 9 Burger on the east side, but nothing came close. So before I even arrived in Vegas, I already told Josh that we had to go to In N Out, and of course we made room for it in our schedule.
The In N Out is a bit off the strip, right next to the freeway, but luckily it's within walking distance of the MGM Grand. So we slept in, skipped breakfast, and headed off in search of my coveted burgers and fries. It's a bit harrowing to be walking alongside the freeway, even with the sidewalk, but it's totally worth the journey. The place was packed when we arrived around 12:30, but fortunately the line moves quickly. I got a double burger with the works, no cheese, and Josh got a double-double animal style.
I've tasted the animal style burger before and found the mustard to be a bit too overpowering for my taste, so I stick with the plain burger.
I did try something new this time though, animal style fries, which I've read about on other blogs. They're fries covered in cheese, special sauce, and grilled onions. I had to eat them with a fork, and while they'd probably be awesome when you're drunk, they were just ok. The toppings overwhelmed the potatoes, so I was missing that freshness that I love about In N Out.
Luckily we also ordered plain fries, which I gobbled up more quickly than the animal style fries.
The burger was perfection though, and even better than I remembered. If only they would open up a branch on the east coast!
In N Out (multiple locations)
4888 Dean Martin Dr.
Las Vegas, NV