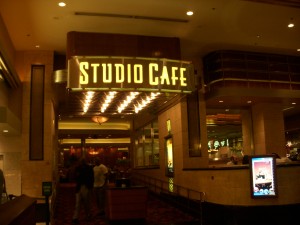 I flew out late Thursday night after work so I didn't arrive in Vegas until nearly midnight (3 am eastern time). The flight out was tiring, as it was full of college-aged kids already in party mode who couldn't wait until drink service so that they could buy ridiculous quantities of beer/wine from the flight attendants. Needless to say, I didn't get much rest on the flight, so for a late dinner (since they don't serve food on the plane these days) I just grabbed a quick club sandwich from the Studio Cafe in the MGM Grand Casino to take back to our room.
I was too tired to think clearly and forgot to take a picture of it, but it definitely was the strangest club sandwich I've ever seen. It had the standard turkey/ham/bacon/cheese combo, along with nonstandard alfalfa sprouts and half an avocado (not slices, literally half an avocado), and it was a triple-decker, but it was on a roll, not on toast or bread, and it wasn't cut into quarters. So basically it looked like a Big Mac, but with club ingredients. Regardless, I was starving and scarfed it down, along with the accompanying fries.
The next morning, since it was Friday, Josh still had to go to work so I dragged myself out of bed and accompanied him to breakfast, also at the Studio Cafe. I wasn't too hungry so I decided to be adventurous and order an omelet called the Quiche Lorraine, which had tons of fillings, including the standard onions, bacon and cheese found in a typical quiche lorraine. The waitress made a point to ask me if I was sure that I knew it was omelet, not actually a quiche, so I guess a lot of people have been confused by that before. When it arrived, I couldn't believe how enormous it was.
The eggs were wrapped around the fillings, not mixed in, so it was kind of like eating a giant crepe made from scrambled eggs. There was also an onion mixture on top that tasted like Lipton's French onion soup dip. It was pretty interesting, but a lot to handle after only getting a few hours of sleep. It was very rich and I could only get through about a third of it. The hash browns were fantastic though, a compressed cake of super crispy and hot shredded potatoes.
I think Josh was sick of eating at the same breakfast place every day for the last two weeks so he just went with a plain waffle that came with strawberry cream on the side. Good, but boring. He didn't even want to try a bite of my omelet. Poor boy, I guess one can get sick of eating out all the time? I don't get to go on business trips so I'll never know!
Overall the Studio Cafe is a good place to get a quick snack while you're at the casino, but it is by no means a dining destination in Vegas.
Studio Cafe
At the MGM Grand
Las Vegas, NV