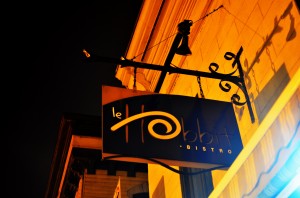 I had done some research on restaurants in Quebec City prior to our trip but I wasn't set on exactly where I wanted to eat, and I wasn't really sure where the restaurants were located relative to our hotel. I wrote down a bunch of names and addresses, and so when we finally arrived in Quebec City late on Thursday night, we zeroed in on the restaurants closest to our hotel. There were two restaurants on the same street nearby so we walked past both and settled on Le Hobbit Bistro, which seemed like a slightly brighter, more upbeat and open space than our other option (where we ended up eating the next night).
There restaurant was busy, but not overly crowded, which was fortunate since J's stroller takes up a lot of space. The waiter was pretty accommodating about shifting the tables around a bit so that we could put her (and all of her stuff) out of people's way. It was after 9:30 pm by the time we settled in, and the waiter informed us that the kitchen would be closing soon so we quickly placed our order. Josh was in charge of the wine while I picked the dishes that we would share.
He wound up ordering a 1999 Bordeaux from Chateau Les Mangons. It needed a little time to open up a bit but wound up being smooth, medium bodied, not too dry, and very drinkable. The bread basket, on the other hand, was kind of sad with some limp pieces of baguette that had virtually no crust on it.
For our appetizers, we got the French onion soup and the sweetbreads with fig and truffle oil. The French onion soup was warm and comforting on a cold night, exactly what you expect, but nothing extraordinary. It was well seasoned, hearty, and had lots of melted cheese on top – there's not much more you can ask for from a French onion soup.
I was really excited for the sweetbreads but I had started with the soup while Josh had started with this dish, and look on his face after he took one bite was not encouraging. He wouldn't really explain to me what the issue was so after we made our customary swap midway through, I gingerly dug in to see what the face was all about. Immediately, I noticed that the texture of the sweetbreads was off. It should be crispy on the outside and creamy on the inside, but this was chewy and gristly. I don't know if that was intentional or if they didn't clean the sweetbreads properly, but the texture is what threw Josh off. We both agreed that the plating, however, was gorgeous.
Flavor wise, the dish was screaming for salt, which was scattered about the plate in little flakes, but not actually on the sweetbreads themselves. There was also almost no sauce on the plate, and whatever sauce there was didn't really taste much like figs or truffle oil. That was pretty disappointing, since I love both. The celery root puree underneath the sweetbreads was properly seasoned though, as was the little microgreen salad next to it. When I got a little bit of everything on my fork and dragged it through the salt flakes, the dish was actually pretty tasty, if a bit subtle, but the texture was still bad. I had very mixed feelings about the dish overall, but I didn't hate it as much as Josh did. If the sweetbreads were the crispy/creamy texture that I'm used to, I would eat it again. But they weren't, and Josh thought it was just bland and bad in general. Oh well.
The main courses fared much better. We shared the venison skirt steak and the duck confit. The venison was tender and not too gamey, perfectly cooked so that it was pink and juicy on the inside. However, it also wasn't seasoned enough. A little bit of salt would have really elevated the flavor of the meat. Nevertheless, the pureed sweet potatoes underneath were super creamy and perfectly balanced between sweet and savory, and the melted leeks were buttery and mellow. Except for the lack of salt, we both really enjoyed the dish.
The duck confit was served with a port sauce and roasted vegetables. The duck was perfectly prepared, with the meat falling off the bone at the slightest push of the fork. I was amazed that the skin was still super crispy, a great textural contrast to the tender meat. The port sauce was intensely flavorful, slightly sweet, and paired perfectly with the wine. And unlike the venison and the sweetbreads, this dish was perfectly seasoned, which made it our favorite of the evening.
We passed on dessert, opting to enjoy the last bit of our wine instead. Overall we really did enjoy our meal at Le Hobbit, despite the few missteps with our dishes. While the texture of the sweetbreads was definitely problematic, everything else was just a seasoning issue and could have been easily fixed with a dash of salt. We liked the vibe of the restaurant, which seemed to be full of locals – most tables were groups of friends chatting in French, eating, and drinking. Our waiter was very accommodating, and we did not feel completely out of place dining with a baby. Prices were pretty reasonable – not cheap, but in line with a nice meal out. With two appetizers, two entrees, and a nice bottle of wine, dinner cost about $165 after tax and tip. It's definitely a place I would recommend to someone traveling to Quebec City.
Le Hobbit Bistro
700 Rue Saint-Jean
Quebec City, Canada