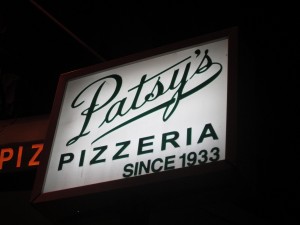 Patsy's Pizzeria is one of those NYC institutions that I've read about but have never gone to, much like Gray's Papaya or Katz's Deli. Maybe this will be the year that I finally get around to trying all of these places. At least I can finally check Patsy's off the list, as Josh and I enjoyed a good meal there with Alice earlier this week.
There are many Patsy's Pizzeria locations around the city but we went to the one closest to our apartment, on the Upper West Side. It's sort of tucked in on the corner of a residential street so I had never noticed it before, but it has a nice cozy dining room and an old school pizzeria feel to it. It's not a huge location but because it was a random weeknight there were plenty of tables available, and we were seated right away.
We decided to split a salad, pasta dish, and a pizza. The salads and pastas can be ordered either individually or in a family style portion. We asked our waitress if the individual portions could be split between the three of us, and she recommended that we get a family sized salad and an individual pasta, since we were also getting a large pizza to share. After we placed our order, we were brought a basket of rolls to munch on. The bread had a nice crispy crust and a soft, chewy interior. Pretty tasty, and a nice surprise since you don't always expect pizza joints to bring you bread.
The family sized salad we ordered was much bigger than we anticipated and could have easily fed twice as many people, but I didn't mind because I was craving fresh vegetables. We picked the Insalata Siciliana, which was lettuce with roasted peppers, black olives, capers, anchovies, carrots, tomatoes, and artichokes, topped with shredded mozzarella. It was tossed with a light Italian dressing, and while I liked that the salad wasn't overdressed, I thought the dressing was slightly bland. The salad itself, however, was a nice mix of ingredients, flavors, and textures. The capers and anchovies added a nice saltiness, the olives and artichokes provided a slight sourness, and the roasted peppers and tomatoes balanced it out with a bit of sweetness.
The pasta we chose was the rigatoni bolognese. The individual portion size was plenty of food, and we each had a large scoop of pasta with enough leftover for my lunch the next day. The bolognese was meaty but not super rich. It had a sort of red wine flavor to it though there wasn't a lot of tomato sauce to bind the meat together. It was decent, though definitely a pizzeria style of bolognese. The rigatoni was a good match and cooked to a nice al dente.
The main attraction at Patsy's, however, is obviously the pizza. Alice and I are both pizza purists, generally opting for the plain cheese or margarita pizza, especially when we're trying out a new place for the first time. As such, a plain pie was exactly what we ordered.
My first impression was that there was a decent amount of cheese on the pie, something that I always find lacking on most of these kinds of margherita pizzas (ie., Grimaldi's and Lombardi's). There was a lot of sauce though, which was slightly sweet and a bit tangy. Sometimes I wish I could get more cheese and less sauce, but overall it wasn't too unbalanced. I did like the big leaves of fresh basil scattered on top.
The crust was my favorite part of the pizza. It was thin and crispy on the bottom, but not tough or brittle. The edge of the crust had a nice chewiness to it, and I liked that it wasn't overly charred. I know charring is a big thing for a lot of NY style pizzas but I'm not a fan. This was browned enough that it had a nice toasty flavor, but not burnt.
Overall I was pleasantly surprised by how much I liked the food at Patsy's Pizzeria. It doesn't get the greatest reviews online, and while I still prefer the pizza from Lombardi's and Grimaldi's, the pizza was very well made, plus Patsy's has better variety in terms of other foods. The salad and rigatoni bolognese were both very tasty, and there are lots of different options to choose from. It's pretty reasonably priced, and the family sized portions make it a good place for large groups. It'll definitely be on our rotation for our Sunday night family dinners. I'm glad that our new year of good eats and exploring new places is getting off to a good start!
Patsy's Pizzeria (multiple locations)
61 West 74th St. between Central Park West and Columbus Ave.
New York, NY