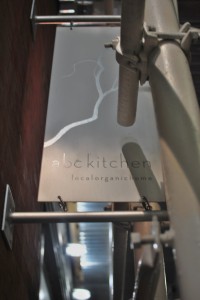 Back in October, we had a wonderful meal at ABC Kitchen in honor of Lisa's birthday. I was having a hard time finding a place that would seat 7 of us during prime dinner hours on a Sunday, and ABC Kitchen was the only available restaurant that interested me on the Open Table search results. It's a restaurant that has gotten a lot of buzz since it opened, and it was named the best new restaurant at the most recent James Beard awards. I usually shy away from buzzy places, preferring to wait until the hype has died down, but I had read plenty of good reviews from reliable sources so we decided to give it a shot.
We were seated at a round table in the front corner of the main room, giving us a great view of the room and its modern decor. It's pretty minimalist and kind of industrial, but also elegant and classy. Our table was made from knotty wood and sort of rustic, reminiscent of a tree trunk. I loved the chandelier above us, which was silver with white ceramic flowers all over.
The menu is fairly extensive, with several different categories to choose from. In addition to appetizers and entrees, there was market table category with various items to be shared, as well as pastas and pizzas. The menu prides itself on focusing on organic and local foods, so dishes change with the season. I had a tough time deciding on what to order but we ended up having a nice variety on the table so we got to taste a lot of different dishes.
The meal started out with some slices of slightly sour rustic bread, olive oil, and french radishes. The bread was fine, if a bit standard, but I loved the radishes. They were fresh, crunchy, and not too sharp. We ate them whole with just a bit of salt sprinkled on top.
We got a few market table items to share for the table. First up was a bowl of olives that were zesty and briney. They were marinated in olive oil and citrus peel, which gave them a nice brightness.
Next was an order of roasted beets topped with housemade yogurt. The beets were sweet and creamy, and the yogurt added a subtle tanginess.
Lastly, we all shared a pizza with jersey tomatoes, buffalo mozzarella, and fresh basil. The pizza had a whole wheat crust, which I was a bit nervous about since I generally don't like whole wheat breads, but the wheat flavor was very subtle. The crust had a crispy bottom and a nice chew on the edges. The buffalo mozzarella was creamy, and the tomato sauce was fresh and tangy. It was a very good pie.
Moving on to the main portion of our meals, Josh and I split the raw diver scallops and the crab toast for our appetizer course. The scallops were thinly sliced and topped with market grapes and lemon verbena. The dish was beautifully presented in a scallop shell sitting on top of a bed of ice. The raw scallops had a lovely firm and meaty texture to them, and they were lightly dressed with olive oil and citrus. The combination with the grapes was a refreshing blend of tangy and sweet.
The crab toast was technically under the market table section, and it was definitely big enough to share. It was a huge piece of toasted bread topped with tons of crab meat mixed with some dill and lemon aioli. The crab was fresh and sweet, and I liked the earthiness brought by the dill. It was a big serving for an appetizer but we didn't have any trouble finishing it.
For our entrees, Josh and I split the black sea bass and the roast suckling pig. The black sea bass was topped with chopped chilies and herbs and served over a bed of spinach and baby potatoes. The chilies added a nice kick to the otherwise simple dish. Lisa asked for her order to be less spicy, and the kitchen willingly obliged. The sea bass was cooked perfectly, with a nice sear on the skin and delicate flaky flesh. The broth in the bowl tasted a bit of ginger, and the whole dish was clean and well balanced.
The roast suckling pig was my favorite dish of the evening. It was outrageously decadent, with crispy crackling skin and a plum and smoked bacon marmalade on top. The meat was melt in your mouth tender, and I loved the sweet/smokey combination of flavors. I also enjoyed the braised turnips on the side, with the slightly bitter greens that helped cut through the richness of the dish. I almost didn't want to trade plates with Josh, though I did enjoy the sea bass as well.
I don't normally take pictures of other people's food or comment too much about dishes that Josh and I didn't order, but the minute I saw Alice's fried chicken, I knew it would be something special. The piece of chicken was absolutely massive, with both dark and white meat, and fried to a perfect crisp. The batter was delicate and not remotely greasy, while the chicken inside was juicy and succulent. It was served with collard greens (yum!) and a hot butter sauce.
Even though we gorged ourselves during the meal, we still managed to save room for dessert. I ordered the seasonal glazed doughnuts while Josh selected the sundae. The seasonal glaze was currant, though it didn't really have a distinctive flavor. The other flavors included chocolate glazed and a raspberry jelly doughnut. To be honest, I was a bit disappointed. The doughnuts were just meh, not freshly fried or very flavorful. I never got into the whole doughnut craze that hit NYC, so maybe I just don't appreciate them as much. I thought these were just marginally better than Dunkin's though.
Josh's sundae, however, was pretty fabulous. It featured salted caramel ice cream, candied peanuts and popcorn, whipped cream, and chocolate sauce. It was like a carnival in your mouth. While the ice cream was more caramel than salted caramel (it reminded me of dulce de leche ice cream), the peanuts made up for the lack of salt and the popcorn added a nice crunch. It wasn't overly sweet, and the ice cream was a refreshing finish to our decadent meal.
Overall we were all pretty impressed with the meal we had at ABC Kitchen. The food was fresh and well executed, and for the most part, the flavors of all the dishes were spot on. We enjoyed every single one of our shared market plates and appetizers. In addition to the crab toast and raw diver scallops that Josh and I ordered, the other diners at our table enjoyed the lentil soup, pretzel dusted calamari, and tuna sashimi. All of our entrees were hits as well. Only my doughnuts and the buttermilk panna cotta with huckleberry dessert fell flat (the panna cotta was deemed too firm and sour). In terms of service, we had several people waiting on us and they were all efficient and attentive. In honor of Lisa's birthday, they brought her a small chocolate cupcake with a candle in it. The only drawdown to the restaurant, I think, is the price. Appetizers average around $15, and entrees around $30. Not super expensive by any stretch, but definitely not cheap. While I would love to eat here often, it will be more of a special occasion kind of place for us. Nevertheless, I think ABC Kitchen deserves all the buzz and hype it receives, and I will gladly return for another meal.
ABC Kitchen
35 East 18th St. between Broadway and Park Ave. South
New York, NY