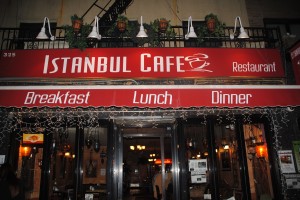 As recommended by Silva, Josh and I decided to try out Istanbul Café the last time we had a craving for Turkish food. Coincidentally, we ran into Felipe and Silva on our way to the restaurant, and Silva offered up particular dishes that she liked (the chopped tomato salad dip, the kofte, and the shepherd's salad with feta). We ended up ordering way too much food for just the two of us, but we did manage to cover most of the items she recommended.
Before heading to the restaurant, we looked up the menu to see if they sold alcohol. Not seeing anything noted, Josh called to ask and he was told that they do not offer any alcohol. He followed up by asking if that meant we could bring our own, and he got an affirmative response. When we arrived with our bottle of wine in tow, however, we were told that they don't serve alcohol, and we aren't allowed to bring alcohol either. I'm guessing this is for religious reasons, but that's not the response Josh got when he specifically called to ask. Perhaps there was some confusion on the phone, both in the questioning and in the response, as English did not seem to be the first language of the person who answered the phone.
Nevertheless, the no alcohol policy wasn't really an issue. They were apologetic about the situation and we quickly slipped our bottle of wine under the table, out of sight. I just thought it was weird that out of all the reviews I had read about the restaurant, no one mentioned the policy. We opted for water instead, and set about looking over the menu. As always, there were lots of things that I wanted to try, given that this was our first visit to the restaurant, so we ended up ordering sampler platters for both our appetizer and our main course.
The cold appetizer platter included hummus (mashed chickpea and tahini paste), lebni (thickened yogurt mixed with dill, garlic, walnut, and herbs), chopped tomato salad (hand chopped tomato, bell peppers, onion, garlic, and walnuts mixed with red pepper paste), eggplant salad (smoked eggplant mixed with mashed garlic and roasted red pepper), and a few stuffed grape leaves.
It came with a basket of grilled pita bread to dip with, and I thought all of the spreads were really tasty. The chopped tomato salad was flavorful and tangy, and the eggplant salad had a nice smokiness to it. The yogurt dip was thick but not too sour, and everything had a good amount of garlic in it. My least favorite was the hummus, but only because I think the hummus was a bit boring compared to the other dips. Otherwise it was a very respectable hummus.
We ate most of the pita bread and put a good dent into the appetizer platter, but there was still tons left so we had them wrap it up for us while we went to work on our entrée, the Istanbul combo. The giant platter came with chicken shish kebab, lamb shish kebab, kofte, doner kebab, and lamb chops, all served on top a bed of rice. The rice I think was a bit undercooked, as it had a strange crunchy texture to it. I know there was orzo mixed in with the rice, but that wasn't what was making it crunchy (I made sure to try a forkful sans orzo). There were also grilled tomatoes and peppers, but the peppers turned out to be jalapeno, and super spicy! I'm not sure why they served the jalapenos, and if it was intended to be a garnish, but they were way too spicy to be edible. Yikes!
All the grilled meats, however, were well seasoned and flavorful. I especially liked the kofte, which are meatballs made with ground lamb and beef mixed with Turkish spices. The doner kebab was wonderful as well, which is thin slices of lamb shaved from a spit. The outside of the meat was crusty and crispy, and I ended up making mini gyros for myself by wrapping the meat in some pita bread. Again there was too much food, even though we stuffed ourselves silly, and we ended up taking home about half of the combo.
Overall we both thought the food at Istanbul Café was well spiced and seasoned properly, but preparation-wise it suffered a bit. The lamb and chicken kebabs were tasty but tough and overcooked, and even the kofte was a bit gristly, surprisingly. Service, however, was efficient and attentive, although the restaurant was pretty empty when we were there. They wrapped up our leftovers right away and even threw in some extra pita bread for us, which I thought was a nice touch. The no alcohol policy presents us with a bit of pickle though, as we like to enjoy a nice bottle of wine when we go out for dinner. The resolution to that problem is to have the food delivered and eat it at home. It's available for order on Seamless Web, and I think that's what we'll do the next time we have a craving for good Turkish food.
Before we left the restaurant, they took us on a tour of the outdoor garden area in the back, which is really pretty. It looked like a nice place to hang out and smoke a hookah, if that's your thing. The restaurant also offers an extensive array of desserts, which we were to full to try but some of the pastries in the glass display cases looked amazing. Turkish teas and coffees are available as well, and it's a nice place to just sit and relax. The décor inside the restaurant is also interesting, with low tables and chairs and intricate lamps hanging all around. I definitely recommend checking it out sometime.
Istanbul Cafe
325 West 57th St. between 8th and 9th Ave.
New York, NY