No, I didn't forget about Day 3. On the evening of our third day in Tahoe, we decided to stay in and finish up all of the leftovers from the previous night. There was still lots of spaghetti and meat sauce, as well as a few of the appetizers and tons of dessert. On our last night in Tahoe, however, we were too tired to cook so we decided to go out and grab some casual/comfort food. We ended up at The Brewery, which is a local brewpub that produces its own handcrafted beers.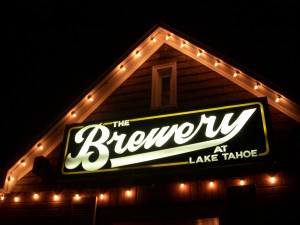 We called ahead since there were eight of us going out and they told us it would be an hour wait, first come first serve. We ended up hanging out at the bar while we waited and enjoyed some of their specialty brews. I tried the IPA, which was hoppy as expected, but not too bitter. Josh had the porter, which he wasn't a big fan of because he thought it was too watery and thin and didn't pack enough flavor. He ended up switching to the IPA, while I went with the Killibrew Brown Ale, which was not too light and not too dark – just right.
The wait wasn't short but it wasn't terrible, as we were all deep in conversation. We were seated soon enough and ordered a bunch of appetizers to share. First up was the spinach artichoke dip, which was served with garlic/parmesan toasts. The dip was cheesy and creamy, and though it could have used a tad bit more seasoning, it was a very good version.
We also got a vegetarian version of the nachos, which were a huge pile of tortilla chips covered in cheese, refried beans, tomatoes, guacamole, salsa, and scallions. The nachos were pretty standard but still tasty to snack on.
Lastly, we got an order of chicken wings with "Hot" sauce, which was in the middle on the mild to hottest options. The funniest comment of the night was from Claire's friend S, a chemist, who upon reading the hierarchy of spicy wing sauces questioned: "Why is 'Nitro' hotter than 'TNT'? TNT is TRI-nitro!!" Fortunately the Hot sauce wasn't too spicy, though it did have a nice kick at the end that lingered on our lips. The order came with a pound of wings, which turned out to be a lot of pieces since these were the tiniest wings I've ever seen. They were almost half the size of wings that I usually see but they were still pretty meaty and much less messy to eat.
For my main course, I got a Bad Ass® Burger, which is a half pound burger topped with sauteed mushrooms and onions simmered in their Bad Ass® Ale, served with lettuce, tomato, and pickle. I added swiss cheese to the burger, as well as raw red onion (I love raw onion on my burgers).
Unfortunately, my burger was cooked way past my requested medium rare, so it was a tad dry despite all the toppings. Was it Bad Ass®? No, but it was pretty well seasoned and very filling. I also liked the beer battered fries that came on the side, which were nice and crispy.
Josh had a "BYOB" (build your own burger). He requested Bad Ass® onions, bacon, lettuce, tomato, pickle, and swiss cheese. His burger came out without bacon, but at least it was more medium rare than my burger though it was still overcooked. I think the waitress forgot to write down bacon because she didn't seem to notice that it was missing.
Claire also had a burger while Sean went with the BBQ Combo, which included half a rack of St. Louis ribs and a grilled chicken breast. His combo came with a side of fries and his choice of soup or salad. He requested the soup but our waitress also forgot to bring that out and had to be reminded. He enjoyed the bbq a lot though, and the bite of ribs that I snagged was moist, tender, and flavorful.
Overall I didn't think the food at The Brewery was spectacular (it's mostly basic bar food after all), but it was pretty good and I liked the atmosphere a lot. It's very casual and lively, and from the outside, it looks like somebody's house. I liked the variety of beers on tap and prices were very reasonable, especially for a ski resort town. The specialty brews were only $4.50 a pint, which isn't too shabby especially compared to NYC prices. Service was a bit lacklaster but maybe that was because they were so busy that night. I think it would be a great place to hang out over a few pitchers of beer, order a bunch of appetizers, and watch sports games on the TVs all around the room. I would definitely recommend this place to anyone visiting the area, and I would definitely come back here next time we're in town. And maybe next time I'll actually try the Bad Ass® Ale!
The Brewery at Lake Tahoe
3542 Lake Tahoe Blvd.
South Lake Tahoe, CA