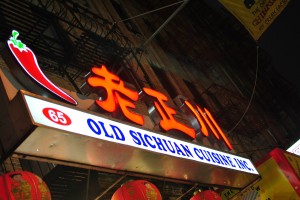 When Josh and I first moved into the city, we spent many weekends in Chinatown searching for the best soup dumplings. We never really found a soup dumpling that we didn't enjoy, but one of our favorites was New Yeah Shanghai Deluxe on Bayard St. We hadn't been there in years but when Josh's parents suggested Chinese food in Chinatown for Sunday night dinner, we recommended going to New Yeah because we remembered the dining room being nicer than some of our other favorites (Nice Green Bo, Joe's Ginger for example).
It took us a little bit to find the restaurant, however, because the name had changed to Old Sichuan. To make matters more confusing, there was a place called Old Shanghai Deluxe on the corner. Yet on an advertisement outside of Old Sichuan, it said New Yeah Shanghai Deluxe. We peeked inside Old Sichuan and it didn't look like the decor had changed much since its New Yeah Shanghai Deluxe days, so in we went. We ended up at a table in the front where the decor is kind of nonexistent but we didn't mind. The dining room in the back is a lot nicer though so if ambiance is important, ask to be seated in the back room.
They brought us a plate of peanuts while we looked over the menu. It looked like tables with Chinese patrons received plates of seaweed salad, but the peanuts were fine for us. They were slightly toasted and warm and crunchy – good for snacking on with some Tsingtao beer.
We had ordered some appetizers and a few main dishes to share but they brought everything to us pretty much at the same time, so that some of the entrees arrived before some of the appetizers. We found that a bit weird, and it made the service seem rushed. Nevertheless, we were all pretty hungry so we dug into each dish as they came. Soup arrived first – we got a corn egg drop soup for 2 and a wonton soup for 2. The serving sizes were big enough that we were all able to get a taste of each (there were seven of us altogether).
The corn egg drop soup had sweet kernels of corn and strands of egg mixed throughout. The soup had a nice, clean taste to it, though I thought it was a bit bland. It just needed a bit of salt, but Alice really enjoyed it a lot. I preferred the wonton soup, which looked pretty clear and nondescript, but the amount of flavor in the broth was actually very surprising. It was well seasoned and a bit peppery, with lots of umami flavor that I enjoyed. The wontons were soft and had a good amount of filling in them (pork I believe), but I really enjoyed just drinking the broth.
Alice and I both wanted an egg roll but the only thing they had on the menu was called a vegetable roll. It turned out to be more like a spring roll, though the size was more in line with an egg roll. While I found the spring roll wrapper to be pretty crispy, Alice thought it was a tad oily. I liked the filling though, with lots of crisp shredded veggies. It was flavorful and seasoned enough that we didn't need any sort of dipping sauce.
One of our favorite dishes to order at any Chinese restaurant is the pan fried noodles. Old Sichuan's version was really tasty – chock full of crunchy vegetables and lots of meat. We got the house special version that came with chicken, pork, and shrimp. My only wish was that there were more noodles in the dish. The serving of noodles was a bit paltry, and there was so much sauce and toppings that they got soggy very quickly. The best part of pan fried noodles is the fried noodles, which should be thin and super crispy. While the dish tasted good, the noodles weren't the star that they should have been.
Pork with garlic sauce is one of Josh's favorite dishes, and Old Sichuan's version was one of the best that we've ever had. The dish featured plenty of shredded pork sauteed with crunchy celery and wood ear. The garlic sauce was flavorful and had a nice kick to it, with just enough spice to tingle your tongue and lips but not to overwhelm your taste buds. It's great spooned over a nice pile of white rice, which helps temper the spiciness.
We ordered sesame chicken at my request. Kind of blasphemous I guess, considering this is more of an authentic Chinese restaurant rather than a place that caters to American tastes. But I was in the mood for a sweet, sticky sauce, and I was actually blown away by how good this dish turned out to be. Usually the chicken in sesame chicken is heavily battered and fried, so that it's hard to tell if you're eating breading or chicken. This chicken barely had any coating on it, and it was super tender and juicy on the inside. The sauce covering the chicken wasn't overly sweet or gloppy, and had a nice savory aspect to it. There were lots of sesame seeds sprinkled on top, and there was some plain broccoli on the side that I enjoyed dipping into the sauce and eating.
We also got an order of house special fried rice that had lots of scrambled egg and pork, chicken, and shrimp mixed in. It was fine, not too greasy, and a good complement to our other dishes.
Surprisingly, one of the last dishes to arrive at our table was the soup dumplings (usually they come first as an appetizer). We got an order of the pork ones, and they were absolutely fabulous. The skins were super thin but still had a nice chew to them, the filling was intensely porky, and there was lots of hot broth to slurp up. We doused them with a bit of black vinegar and ginger, and they were just perfect.
Overall we really enjoyed the food at Old Sichuan Cuisine. I wonder if the owners are still the same as when it was New Yeah Shanghai Deluxe, but regardless, I would definitely go back there. Even though service seemed a bit off, with appetizers and entrees arriving all jumbled together, the food was some of the best Chinese food I've had recently. We ordered the perfect amount for seven people – every dish was polished off and we were all satisfied but not bursting full. Prices are incredibly reasonable, even for Chinatown. I think our bill was about $65 in total. The menu is extensive with lots of authentic Chinese dishes as well as standard Americanized favorites. Definitely try out the pork in garlic sauce if you go; Old Sichuan's version renewed our love for this dish. And don't forget about the soup dumplings!
Old Sichuan Cuisine
65 Bayard St. between Mott and Elizabeth St.
New York, NY