This past Valentine's Day, Josh and I celebrated the 15th anniversary of our first date. Unfortunately, with a four and a half month old baby and both of us working full time, we really didn't have much time to celebrate properly on the actual day, since it was a Thursday.
The night before Valentine's Day, however, we were watching the latest episode of Top Chef, where one of the cheftestants, Josh, made foie gras three ways. As we watched him break down a lobe of foie gras on tv, I commented to my Josh that I would love to have my own lobe of foie gras to play with. The next day, he promptly ordered an entire lobe of foie gras from D'Artagnan for me. Definitely a unique anniversary present, but so fitting for us!
The following Saturday was the first weekend in months that we had no plans so we hit up the local Fairway for some ingredients and sequestered ourselves in our house, devoting the full afternoon to preparing our feast. On the menu: seared foie gras with balsamic glaze served with crostini, rack of lamb with shaved brussels sprout salad and mushroom spaeztle on the side, and creme brulee for dessert.
Josh had prepped the foie gras when it was delivered to our house in the previous week. Since it was a grade 'A' lobe, there wasn't much cleaning involved. He sliced it into half inch thick slabs and we vacuum sealed them in two-person portions, then popped them into the freezer. I was sad that we weren't able to eat any fresh out of the package, but we figured this was the best way to preserve the integrity of the foie gras. We were able to get six good-sized slices and a few end pieces out of the lobe. In anticipation of our meal, I defrosted one of the sealed bags overnight in our refrigerator.
To cook the foie gras, Josh added a bit of vegetable oil in the pan and scored one side of each slice with a cross hatch pattern, like you would do with the skin of a duck before cooking. It doesn't really do anything to the foie gras, but makes for a pretty pattern after cooking, and more seared bits on the outside. He also liberally sprinkled both sides of each slice with kosher salt. Once the pan was super hot, almost to the point of smoking, he laid the slices in the oil, counted 45 seconds out loud, and then immediately flipped them over. He cooked the second side for another 45 seconds, and voila, they were done. We put them on paper towels for a minute to rest and soak up some of the grease.
It was a mistake for Josh to put oil in the pan prior to searing, as the foie gras produced enough fat on its own. He ended up having to pour off a lot of the oil/fat (we tried to save it to use later on in the week, but we got busy again and didn't have a chance to cook with it. Next time.), and then he deglazed the pan with some aged balsamic vinegar to make a syrupy sauce that we ended up pouring over the foie gras. He served the seared slices on top of some crostini that we toasted with olive oil, and the result was pretty fantastic.
We paired the foie gras with sauternes, which is pretty classic. We bought a half bottle of the 2009 Chateau Doisy-Vedrines Sauternes, which was sweet but not cloying, fruity, and slightly floral. On it's own, it was a delicious dessert wine. However, I hated the pairing with the foie gras. After drinking the wine and eating some of the foie gras, I thought that it brought out the irony, sour notes of the liver. After eating the foie gras and drinking some of the wine, I thought it made the sauternes taste a bit harsh and acidic. While each was wonderful on its own, together, I thought it was a pretty horrible pairing. I'm not sure if it was just me, as Josh didn't seem to mind that much, or if we picked the wrong bottle of wine, or what. It wasn't a cheap bottle – about $40 for 375 ml, and it had received a 94 from Wine Spectator. I was disappointed, and wound up saving the rest of my glass for our dessert course, which turned out to be a better option.
For our main course, Josh prepared the rack of lamb by marinating it in olive oil with garlic and rosemary. Then he cooked it sous vide in our Sous Vide Supreme at 55 degrees celsius for about two hours. Afterward, he seared it quickly to develop a crust on the outside, and made a pan sauce with cognac, mustard, and chicken stock.
I was in charge of the side dishes. I took about a pound of beautiful bright green brussels sprouts and sliced them as thinly as possible. I could have shaved them using a mandolin, but I was too lazy to bust out and have to clean extra equipment. We tossed the brussels sprouts with a vinaigrette made from olive oil, lemon juice, and mustard.
I was inspired to make spaetzle based on a dish we had in Bratislava a year and a half ago – roasted pork tenderloin with spaetzle covered in a porcini cream sauce. I've never made spaetzle before and used the easiest recipe I could find, which was from allrecipes. I cut back on the nutmeg though, which is a personal preference (I really don't enjoy nutmeg). We don't have a spaetzle maker so I used the biggest holes on a box grater, pushing the dough through with a silicon spatula. It worked surprisingly well, and the result was chewy nubs of jaggedy spaetzle. For the sauce, I sliced cremini mushrooms and browned them in olive oil until they were soft and cooked down. Then I used the food processor to chop them into tiny pieces, put them back into the pan, and added heavy cream, salt, and truffle oil and cooked it through until the sauce was rich and creamy, but that the mushrooms were still distinguishable. I was incredibly pleased with how the dish turned out. The combination of the meaty lamb, the rich spaetzle, and the bright, slightly bitter brussels sprout salad, was just perfect.
Josh was in charge of dessert and made creme brulee upon my request. He uses the recipe from Cook's Illustrated The New Best Recipe cookbook, and uses real vanilla beans. The custard is velvety and smooth, not too sweet, and the sugar crust on top is hard to beat. I have to admit that I usually lick out the ramekins to get every last bit and all the little vanilla bean seeds that stick behind.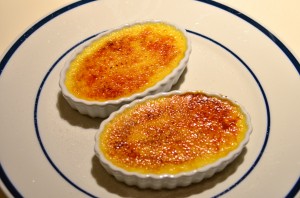 We still have several portions of foie gras left in the freezer, and I'm not sure what I want to do with them. Searing is quick, easy, and delicious though, so we really can't go wrong doing that again. Maybe we'll play around with the toppings – port wine, stone fruits, there are tons of recipes online. I'll also have to see what we can do with the end pieces; maybe we could make something more creative with those. I just don't want to experiment on the nice slices that we have, in case something goes awry.
All in all, even though we didn't go anywhere exciting or try any new restaurants for our anniversary, we ended up doing what we love most – cooking, savoring the fruits of our labors, drinking nice wines, and simply enjoying being together.