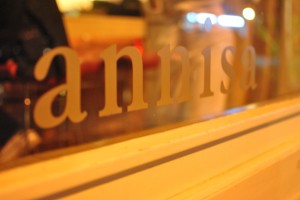 We went to Annisa back in October, with Josh's family as sort of a belated birthday dinner for me. I was really excited for this dinner, as I'm a big fan of Anita Lo, the chef/owner. The restaurant has also been awarded a Michelin star, and I've read many great things about the food.
The restaurant is actually pretty small, though it has high ceilings and an elegant, minimalist decor. We were seated at a round table in the middle of the room and had a great view of everything going on around us. The menu is pretty eclectic, with lots of French, Asian, and Middle Eastern influence. Everything sounded delicious, and it was quite hard to decide what to order.
After we finally made our selections, they brought us an amuse bouche to start. It was a little tart filled with chicken liver mousse, topped with chopped chives and a dollop of whole grain mustard. I liked the creaminess of the mousse, the delicate flakiness of the tart, and the tangy punch of the mustard. It was a flavorful bite and definitely woke up our palates.
We also noshed on some bread, which were ciabatta-like rolls that were served warm and had a decent crust.
For the first course, Josh and I geared towards the Asian-influenced appetizers, sharing the barbecued squid and the soup dumplings. The squid was lightly grilled with just a bit of char on the outside, and the meat was very tender. It was served with Thai basil, peanuts, and edamame. The sauces on the side tasted like hoisin and chili sauce, a great combination with the squid. It wasn't too spicy and had a nice sweet/savory flavor that worked with all the different components.
The soup dumplings weren't shaped like traditional xiao long bao, but looked more like regular dumplings. I'm not sure exactly what the dumplings were filled with, but they were topped with little slabs of seared foie gras, which dominated the flavor. Don't get me wrong, I love seared foie gras, but it seemed like the dumplings might have been an afterthought. They weren't as soupy inside as I would have liked, though I did enjoy the slight crunch from the jicama that counteracted the rich creaminess of the foie gras.
While the dumplings were slightly disappointing, the rest of the appetizers at the table were pretty successful (we all tasted everyone's dishes). The biggest hit was the cauliflower and romanesco gnoccho with hazelnuts and sheep's cheese. The gnoccho was light and creamy, packed with tons of cauliflower flavor. Everyone also enjoyed the chilled avocado soup with shiso and unagi croutons. It was more savory than I expected, and fortunately did not resemble liquified guacamole, as I had originally feared. The hot and cold tuna was also delicious, with a fresh and bright tartare (cold) and some flavorful tuna belly (hot).
I had a REALLY tough time choosing our entrees, and we wound up picking the halibut and the spanish mackerel. We usually don't both order fish dishes, but both came highly recommended from our waiter. The halibut was poached in olive oil and served with blistered shishito peppers and almond and lobster coral sauces. The halibut was gorgeous – delicately flaky and tender. The peppers weren't too spicy or overly bitter, and the sauce was wonderfully savory. It didn't taste a whole lot like lobster coral, but I enjoyed it nonetheless.
The spanish mackerel was beautifully broiled so that it had a nice browned crust on the outside and crispy skin. It was served with garlic fried milk, cubes of satsumaimo (Japanese yam), and korean chili. I love mackerel in general, and this particular version was really well prepared. I love the oiliness of the fish, which really gives it a distinctively bold flavor. The garlic fried milk was novel and delicious, almost like super creamy fried cheese curds, but tastier. This was my favorite dish of the evening.
Again, all the other entrees at the table were successful as well. The miso marinated sable with crispy silken tofu in a bonito broth was a clean, classically Japanese style dish. The pan roasted farm chicken with sherry, white truffle, and pig feet was a surprise hit. While I love pig feet, not everyone else was convinced at how luscious it could be until they tasted it in this dish. The chicken was juicy and tender, and the truffle wasn't overpowering. The grilled wagyu was the dish that I debated ordering instead of the halibut, and it too was very tasty. It was served with escargots, garlic chives, and alba mushrooms. While the beef wasn't as tender as I thought it would be (it was wagyu after all), it was flavorful and well seasoned.
For dessert, we shared the beignets and the bread pudding. According to our waiter, Chef Lo is also responsible for creating the dessert items, which is pretty impressive since a lot of chefs don't do pastry in conjunction with savory. The beignets were pecan and salted butterscotch, a nice combination of salty and sweet. They were freshly fried and pretty fluffy, not too dense. They were served with a bourbon ice milk that was kind of like a slushy sorbet. We could definitely taste the bourbon, but I thought it was a tad too icy for my taste; I preferred the beignets.
The bread pudding was made with poppy seed bread and butter, and served with meyer lemon curd. I LOVED this bread pudding, which was bright and lemony and not too sweet. The bread pudding itself was a bit dense but I couldn't get enough of the curd, which I soaked up with every bite. Meyer lemon has an intense, citrusy flavor that is slightly floral. I pretty much polished off the entire plate by myself.
At the end of our meal, they brought us little bites to finish things off. First was mini pineapple ice pops served on toothpicks. It was simple, just frozen pineapple juice, but refreshing. Next was candied ginger, which had a nice little kick to it. Lastly, we had mini mint chocolate truffles that weren't too rich or sweet – a nice ending.
Overall we were really impressed with our meal at Annisa. The menu mixed classic techniques with inventive twists, and everything was well composed and beautifully prepared. From start to finish, we enjoyed every course. The soup dumplings were pretty much the only disappointment, and not because the dish didn't taste good, but because it wasn't really what I was expecting. I would happily eat more of the seared foie gras. Our entrees were all superb, and while dessert is usually a bit of a downer for us, that wasn't the case here. Service was great as well. Our waiter was attentive and informative, stopping to chat with us once in a while. In terms of prices, it's definitely an expensive restaurant, with appetizers in the $15-$20 range and entrees ranging from $30-$35, but I like that it's a la carte so you can put together your own menu. It's a great place for a special occasion, or if you're in the mood to splurge a bit.
Annisa
13 Barrow St. between 7th Ave. South and West 4th St.
New York, NY