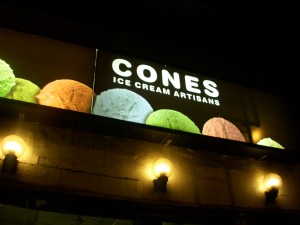 After our lovely dinner at Po Restaurant, we decided to skip dessert there in favor of some gelato down the street at Cones. There were plenty of flavors to choose from and even though I was considering being adventurous (corn gelato anyone?), we all stuck with our standard favorites.
I went with the pistachio gelato, which is my must-have whenever we're traveling in Europe. I ate tons of pistachio gelato when we were in Italy with Josh's family a few years ago and it's my favorite ice cream flavor. Unfortunately the one at Cones was kind of gritty, not smooth like you would expect gelato to be. Flavor-wise it was fine, but they blended the pistachio in miniscule pieces, which was the culprit for the grittiness. It's nice that they use real nuts but the texture was off putting. I also found several icy bits that detracted from the gelato as well.
Josh had the coffee mocha chocolate chip gelato, which also had tiny pieces of chocolate chip running throughout but they were less offensive because you were expecting them, and they melted on your tongue right away. The coffee mocha was mild in flavor, and while the gelato tasted ok in general, it definitely wasn't the best.
Josh parents opted for the lemon sorbet, hoping that it would be like the sweet creamy sorbet we had in Italy. Unfortunately the sorbet they received was icy and not creamy at all. It was also extremely tart, much tarter than you would expect from a sorbet. There was hardly any sweetness to it at all and made my mouth pucker a bit. It definitely wasn't what we were expecting and pretty disappointing.
Overall I wasn't too impressed by the gelato and sorbet we got from Cones. To me, they failed on both flavor and texture, the two most important things for good gelato/sorbet. However, I'm not all that familiar with the NYC gelato scene so I have no basis of comparison. All I can say is that I definitely won't be coming back here the next time a gelato craving hits.
Cones
272 Bleecker St. between Morton and Jones St.
New York, NY