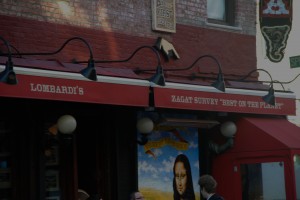 Since Josh and I have not had much success on our quest for the best go-to delivery pizza place in our area, we decided to supplement our recently mediocre pizza meals with a trip to Lombardi's, which is probably our favorite pizza joint in Manhattan. We slept in on a Saturday and then headed downtown to meet up with Lisa for a late lunch.
Despite the odd hour, late for lunch and too early for dinner, there was still a line to get a table. We put in our name and stood outside to wait, chatting until they called us over the convenient loudspeaker that efficiently notifies people when their tables are ready. We were seated in a small booth in the smaller room next to the main dining area. We quickly placed our order and settled down to look at some of the photographs decorating the walls while we waited for our food.
Fortunately we didn't have to wait too long, as our pizzas arrived a short while later. First up was a plain small cheese pizza, topped with lovely San Marzano tomato sauce, dollops of fresh mozzarella cheese, and shredded basil.
The crust was a bit thicker than we preferred but had a nice chewiness to it. It only got a bit soggy towards the middle of the pie, where some of the liquid from the sauce had pooled. Flavor wise though the pizza was fantastic. The tomato sauce was sweet and tangy, the mozzarella flavorful and stringy, and the fresh basil just completed the whole package. I only wished that they had put a bit more mozzarella on the pie, as there were some large sections that was only covered with tomato sauce.
The pizza is cooked in a coal oven and was nicely charred on the bottom without tasting burnt. It could have been a bit crispier but it was still a very good pie overall.
We also got a small white clam pie, our reason for coming to Lombardi's. Josh had been re-reading Anthony Bourdain's Kitchen Confidential and saw Bourdain's recommendation. We've been to Lombardi's many times before but it had never occurred to us to order the clam pizza, until now. Too bad, because we've been missing out this whole time!
The pizza is served sans tomato sauce and cheese, and is just covered with tons of clams, garlic, and herbs. It's served with lemon wedges to squirt over the top, and the garlicky, briny smell that emanates from the pizza is incredible.
The clam pieces are big and flavorful, though some can be a bit chewy. They're the perfect match for the almost equally as big garlic cloves, which are soft and sweet but pack a good punch. And because there is no sauce or cheese on the pie, the crust remained dry and developed a nice crispiness to it that was lacking from the plain cheese pie we had.
Between the three of us, we did manage to polish off both of the small pies (we had four slices each!). It actually wasn't that hard – the pizza was just that good! If you haven't been to Lombardi's, I highly recommend making the trip to Spring Street. It's a NYC landmark and boasts of being the very first pizzeria in the U.S. Don't be deterred if there is a long line, it goes pretty fast as service is really efficient. This is classic NYC pizza at it's best, and each pie is carefully crafted with quality ingredients. Don't miss out!
Lombardi's
32 Spring St. at Mott St.
New York, NY