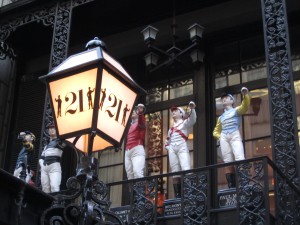 I don't have any pictures of my Restaurant Week lunch at the 21 Club because I wasn't sure if photos were allowed inside, plus I was with my co-workers who don't really know about the blog and would probably find my picture-taking a bit odd.  They do know, however, how much I love food so they put me in charge of selecting a place for Restaurant Week lunch. We had a large group – 10 people in all – so I knew finding a place that could accommodate all of us would be difficult. We were willing to hop on a subway but given the time that would take on top of a long lunch, I was looking for some place closer to our office.
I didn't have to look too far, as the 21 Club was just a few blocks away and the menu online looked fantastic. I knew my co-workers would appreciate the history of the restaurant, and I was thrilled when they were able to take my reservation on the exact date and time that we wanted. The restaurant called the day before our reservation to confirm, and I reminded the guys in our group that they had to wear jackets.
When we arrived at the restaurant, walking past the famed wrought iron fence lined with statues of jockeys, the lobby and waiting area was exactly how we pictured, elegant with an old school feel to it. When we walked into the dining room, however, we were all completely shocked by the decor. The entire ceiling was covered with hanging toy airplanes, football helmets, toy trucks, and other assorted antique toys. The tables were covered in red and white checkered cloths, and the place kind of had the vibe of a TGI Fridays, but in a good, kitschy way. It just wasn't the upscale, jackets required kind of place that I thought it would be.
Nevertheless, we had a large round table that was great for chatting, and after we placed our orders, we dove into the bread baskets full of assorted breads, rolls, and crackers. I snagged a small baguette that had a nice crispy crust, and a wheat roll with dried cranberries. What would have made the basket even better was if the breads had been warmed up first, but we all enjoyed the variety offered.
For appetizers, we had a choice of soup (I think it was minestrone?), salmon tartare, and grilled calamari. I was debating between the tartare and the grilled calamari, and ultimately settled on the tartare. The portion was actually larger than I expected, and the salmon was cut into big chunks, which I loved. The fish tasted fresh and was marinated in yuzu, giving it a nice brightness and tanginess. The tartare was topped with a wasabi creme fraiche that had just a slight kick, and was served with pickled daikon and taro chips. When all of the components were eaten together, it was a nice blend of sweet, sour, spicy, and salt. It was actually one of the best salmon tartares that I've ever tasted.
For entrees, we had a choice of flax seed crusted salmon, grilled pork belly, and cauliflower risotto. I can rarely resist ordering pork belly, and that was the most popular choice among my co-workers as well. The first thing that struck me about the dish was its size. There was an absolutely huge piece of pork belly resting on top of a bed of sauerkraut and served with fried potatoes and slices of sausage. The second thing that struck me was the absolutely irresistible smell coming off the pork belly, a combination of maple and bbq smoke. I could not wait to dig in, and the dish did not disappoint. Although my pork belly could have been grilled just a bit more (everyone else's had a deep brown color on the outside, while mine was a lighter brown), the fat on top of the belly still melted in my mouth, and the meaty part fell apart with a twist of my fork. Flavor wise it was sweet and smoky, and the richness of the fatty layer was nicely cut by the acid of the sauerkraut. The slices of sausage might have been overkill, but I didn't care. I'm normally not a fan of sausage, but this one was slightly sweet and really delicious. The dish was a winner all around.
For dessert, we had a choice of creme brulee, red velvet cake, and a salty caramel bombe. I went with the bombe, which was filled with marshmallow fluff. The cream on the outside had a subtle caramel flavor to it and was also kind of peanuty. There was chocolate involved as well, and it was pretty rich and decadent. While I wish that salted caramel played more of a starring role in the dessert, it was a sweet finish to a great meal.
Overall I was pleasantly surprised by the lunch we had at the 21 Club. While the restaurant is known for its history, I haven't really read anything remarkable about its food. I thought this was one of the best Restaurant Week meals that I've had though. I only wish that Josh could have joined us because then I could have tried more things from the menu. My co-workers raved about the grilled calamari though, and the salmon. The creme brulee was a hit as well. The risotto might have been the only miss that I heard about, as it had a gluey and stiff consistency, like it was undercooked. Not even the truffled mascarpone mixed throughout could rescue it. Nevertheless, we all rolled out of the restaurant happy and completely stuffed. There are only a few days left for Winter Restaurant Week 2011 so if you can't make a trip to the 21 Club before it ends, definitely consider it for Summer Restaurant Week!
21 Club
21 West 52nd St. between 5th and 6th Ave.
New York, NY