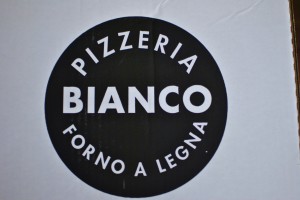 So way back in my post about In N Out Burger, I mentioned that when Josh goes to the west coast for work without me and stops in for a burger, he also brings one (or two) back home for me. And yes, I do eat the burger that's been sitting in his bag for God knows how long, between getting the burger and going to the airport, taking a cross country flight, and then taking the ride home from the airport. Gross, maybe, but hey, I'm just building up my stomach so that I can eat street food in foreign lands without any issues.
So in Josh's comeback post, he said that he would start blogging about meals that he has when he's on business trips, even though I might get jealous. And while he has yet to put up another post, I'm going to jump the gun and talk about something he had on a recent business trip to Phoenix. He goes there a few times a year for work and every time he goes, I tell him he should try Pizzeria Bianco, which has gotten rave reviews and is supposedly very similar to NYC pizza. For whatever reason, he never made it there, but this time, he did.
I was on the phone with him when he made his way over there, and after finding out that he could indeed get in and eat, I said to him in jest, "You better bring me home some pizza." Ok I was sort of serious, but sort of not. I mean, the logistics of bringing a pizza across the country is not the same as stuffing a small burger into your backpack. A pizza needs to be contained in a box, and then the box needs to be kept straight otherwise the pizza/cheese will slide to one side. But I hoped that he would find a way, since I've been talking about this pizza for quite some time now, and fortunately for me, he didn't disappoint.
Yes, my loving husband carried a pizza home for me from across the country. I asked him how he did it and he said he just put the box in his suitcase, which he carried onto the plane. So yes, the pizza did kind of slide to one side, but it actually looked better than I expected. The funny part is that the suitcase obviously had to go through the x-ray machine at the security gate, and I wonder what the security person thought when he saw a box of pizza go by. "Umm excuse me sir, do you know you have a pizza in your suitcase?"
Luckily there were no issues, and the pizza made it home to me in fairly decent condition. He saved me half a margherita pizza and half a wise guy, which has wood roasted onion, smoked mozzarella, and fennel sausage. We reheated the slices on our pizza stone and I eagerly dug in.
The margherita slice suffered a bit more during the reheating, which I think was because the crust had been stretched thinner. Plus it was the side that got smushed up a bit in the box. When we reheated it, the slices got a bit brittle, and the cheese was pretty dried out. It wasn't horrible, but I'm sure it was better when it had been fresh. The sauce was a tad on the sweeter side but it tasted pretty fresh.
The wise guy slices fared much better, and reheated quite nicely. I'm usually not a big fan of sausage but it tasted really good and worked really well the onions and cheese (there's no sauce on this pie).
The crust on these slices were crispy on the outside but still had a nice chew to them. The crust really did taste pretty good, and very similar to a Grimaldi's or Lombardi's crust.
Overall I thought the pizza from Pizzeria Bianco was pretty good, even after spending a few hours on the plane. If I had to move to Phoenix for whatever reason, I would be happy to have this place close by for whenever I was craving NYC pizza.  But Josh can talk about what it was like fresh out of the oven, if he gets around to posting again, since my assessment is a bit skewed. One thing I can say for sure is that I'm lucky to have such a loving and indulgent husband!
Pizzeria Bianco
623 East Adams St.
Phoenix, AZ