So I realize that I've been neglecting this blog in terms of NYC restaurant posts. I'm really far behind on posting, considering I have yet to write about the fantastic anniversary meal that Josh and I had at Eleven Madison Park in May. Yes, May. It's bad. I have restaurant pictures going back farther than that as well. Between work and all the travel posts, I really haven't put much thought into the NYC restaurant scene, although we have been eating at lots of new places. So I'm going to start mixing in regular posts with the travel posts, and hopefully that will force me to start covering more ground. At the rate I'm going, I'll still be writing about Peru for the next six months!
In terms of some good meals we've had lately, I had an odd hankering for Vietnamese food one weekend so we made the trip down to Chinatown where there are several highly touted Vietnamese restaurants. My hankering was odd because I've never really eaten Vietnamese food, aside from a bowl of pho in San Francisco five years ago, plus all the banh mi sandwiches we eat. But I had seen pictures of Vietnamese dishes in several blogs and I just got an uncontrollable craving to try some for myself.
We ended up at Pho Grand, a restaurant that I've read about, plus it was super close to the subway. We were pleasantly surprised to see that the restaurant had received an "A" rating on their health inspection, not that a lower rating would have stopped us from going.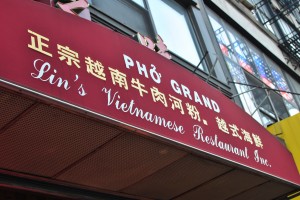 The menu was massive, and I started to feel a bit overwhelmed because I had no idea what to order. We selected a pho, since the restaurant has "Pho" in its name. For our other dishes, we ended up choosing "Cari Ga", or curry chicken, because we've still been searching for a curry chicken that is similar to the dish we had on Sentosa, in Singapore. Lastly, we ordered "Bun Cha Gio Thit Nuong", which is grilled pork and spring rolls with lettuce on rice vermicelli.
The pho we chose was the "Xe Lua", which was beef soup with rice noodles and six different cuts of beef, including brisket, tripe, tendon, eye of round, navel(?) and frank (flank?). It came with a little dish of fresh bean sprouts and basil that we mixed in, plus a wedge of lemon that we squeezed into the soup. It was an enormous portion and we dug in right away. The slices of rare beef on top were super tender but my favorite pieces were the chewy bits of tendon and tripe. The soup itself was flavorful yet light, and the lemon juice and fresh basil really brightened it up.
The curry chicken was pieces of leg and wing in a large bowl full of curry sauce and potatoes. The chicken had bones and skin so the actual meat was a bit sparse, but everything was tender and pretty tasty. The curry sauce was rich but not overwhelming with coconut milk, and it's the best version that we've had so far in the city. I would improve it by adding some more spice and punch, since it was just slightly on the mild side.
We had a choice of rice, vermicelli, or bread to accompany the curry. We chose the bread since that was what we had on Sentosa. It was a long piece of french bread that wasn't as crispy on the outside as we would have liked, but it was fresh and chewy in the middle. We ripped off chunks of the bread and tucked in some chicken meat, then soaked it all in the curry sauce before gobbling it up.
The grilled pork and spring rolls with lettuce on rice vermicelli dish is the one that threw me off the most. I thought it was the dish where you wrap the pork or spring roll in lettuce leaves with some of the rice noodles and eat it like a summer roll (turns out that dish is called "Banh Hoi Thit Heo Nuong"). What arrived was just a large pile of rice vermicelli topped with some pieces of grilled pork and spring rolls. The lettuce was shredded and buried underneath the noodles. It came with a little bowl of nuoc cham sauce, a sweet and sour dipping sauce that usually accompanies fried spring rolls. We didn't know if we were supposed to pour the sauce over the dish, or to pick up bites and dip it into the sauce. I was afraid of committing a faux pas, so I actually had Josh google how to eat the dish. Turns out we were supposed to dip bites into the sauce so that's exactly what we did.
I was worried that Josh would think the dish was too plain and get mad at me for ordering it, but he absolutely loved it! The rice noodles by themselves were plain but they had a nice chewy texture. When combined with the pork or the pieces of spring roll and dipped into the nuoc cham sauce, it was a great mix of flavors. The pork was slightly sweet and smokey and the spring rolls were crunchy and meaty. There were also pieces of pickled daikon and carrots that added a nice  tangy crunch. It was a filling dish yet light enough that we didn't feel heavy after eating the whole thing.
Overall we both really enjoyed our foray into Vietnamese food at Pho Grand. We thought all the dishes were really tasty and well prepared, though we really don't have a basis for comparison since we're Vietnamese food newbies. Service was fast and efficient, and prices were pretty cheap. We got a ton of food for about $20, and we had an entire takeout container of pho left over that we took home with us. I definitely plan on eating Vietnamese food more often, and this was a good place to get our feet wet. Vietnam is one of the places on our pre-baby bucket list, mostly because we've heard the food there is wonderful. If what we had at Pho Grand was authentic, then we're definitely in for a treat.
Pho Grand
277 Grand St. at Forsyth St.
New York, NY