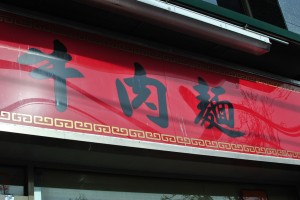 Ever since our fun Flushing food run, way back in July, I've been itching to make a return trip. But the fact of the matter is, Josh and I are lazy. It's one thing to walk 15-20 blocks for a meal, it's another thing to take a subway ride for almost and hour and have to switch trains along the way as well. But to be honest, the trip really isn't that bad, and we really should try to do it more often. The best part about Flushing, for me at least, is the access to some of my favorite Taiwanese treats. I was craving Taiwanese breakfast foods and read on a few different blogs that the place to go was King 5 Noodle House in Flushing. So one nice Saturday afternoon, after Josh and I went to the gym, we hopped on the train and made the journey out.
Our first stop in Flushing, before King 5 Noodle House, was the peking duck window at Corner 28 where they sell peking duck buns for $1. We showed a bit of restraint and ordered just one bun each. The meat was a bit chewy and the skin wasn't so crispy, but there were lots of scallions in the bun and plenty of hoisin sauce. It's not the best peking duck, but for $1, it's not bad. I enjoyed eating it while we walked over to the restaurant, and it definitely whet my appetite.
When we got to the restaurant, we only had to wait a few minutes for a table to open up. It was early afternoon though, and I was worried they had run out of soy milk by then, but we were in luck and everything was still available. We kind of went a bit crazy with our ordering. There were just so many things I wanted to eat, and I knew we wouldn't be able to finish it all, but I also knew that it will probably be months again before we come back, so I indulged all of my cravings.
We started off with a big bowl of soy milk and an order of fried cruller (yeoh tiao, or "oil stick") with a Taiwanese sesame pancake. Basically what you do is split open the sesame pancake lengthwise and stuff the cruller inside. Yes, you're basically stuffing a carb inside of a carb. Then you dip the "sandwich" into soy milk (I prefer sweet soy milk, rather than salty), and eat. The cruller at King 5 Noodle House was light and crispy, and despite its name, it wasn't the least bit greasy. The sesame pancake was flaky, and I like the combination of the savory carbs with the sweet milk.
To be honest, I don't love drinking soy milk. I really only order it so that I can dip the cruller into it. The milk is served warm, and just so that you're warned, in case you've never had homemade soy milk before, you have to drink it fast, otherwise it develops a weird skin that I find pretty unpleasant. It's sort of like drinking milk that's curdled, and has little bits in it. I mean, the skin really is perfectly safe, but that's the impression I get, and just the thought kind of grosses me out. So drink up quickly! Or just do what I do, just use the soy milk as a dip.
Another one of my favorite Taiwanese breakfast food is a dan bing, or an egg pancake. Basically it's a scallion pancake rolled around a layer of scrambled egg. In Taiwan, the pancake is usually pretty thin, almost like a crepe. Here it was thicker, like the scallion pancake you usually get as an appetizer. I wish the pancake was flakier, but I guess the heat and moisture from the eggs made it a bit soggy and chewy. Still, I like to dip slices of dan bing in some soy sauce and the combination of the sweet egg, savory pancake, and salty soy sauce is just heavenly. If you've never tried eating your eggs with a bit of soy sauce doused over the top, you're missing out!
The next item is sort of debatable as to whether or not it's a breakfast food. But in Taiwan, we eat soup dumplings for breakfast. Yes, that's right. Soup dumplings for breakfast! How awesome is that? The version we got at King 5 Noodle House was just ok; the ones we get in Taiwan are much better. I think they had been steamed earlier and reheated, so the skins were slightly tough and chewy. There just wasn't enough soup, and they seemed slightly dried out in general. Too bad, because I liked the thinness of the skins, and the pork filling was tasty. We just doused them with a lot of black vinegar sauce.
Moving on to lunch items, I realized that Josh had never eaten beef noodle soup (niu ro miem) during any of the trips we took to Taiwan. Beef noodle soup is almost like the Taiwanese national dish. There are so many hole in the wall places and food stalls in Taiwan that serve amazing beef noodle soup for incredibly cheap prices. Josh is a big fan of the beef brisket noodle soup that we get at Lan Zhou Hand Pulled Noodles, and I told him that while the noodles might not be as good, the Taiwanese version of beef broth would knock his socks off. King 5 Noodle House's beef broth did not disappoint. It was rich and savory with a great aroma and lots of different spices that give it such depth of flavor.
The noodles in the soup were pretty good as well, thick and chewy, though not as springy as hand pulled noodles. The bowl we got was such a huge serving that we ended up taking most of it home.
On every table, there are containers of pickled greens. Put a spoonful into the soup, and the crunchy, slightly sour vegetables add even more flavor to the soup.
Lastly, we got an order of deep fried bean curd. I originally wanted to order deep fried smelly bean curd (stinky tofu) but Josh saw this on the menu and thought it would be the same style of deep fried tofu, just not the stinky version. We had amazing fried soft tofu in Taiwan that he absolutely fell in love with, so we were hoping this would be similar. Unfortunately, what they brought us was yeoh tofu, or "oil tofu". Unlike the cruller, this was actually really very oily. It was fried tofu that was soaked in an oily mixture that had mushrooms in it. While flavorful, it wasn't what we were craving. I regretted not getting the fried stinky tofu because when we saw an order go by, it was the crispy cubes that we had been looking for. It didn't smell very stinky though, but I guess it's hard to get truly stinky tofu around here. Nevertheless, we probably wouldn't order this dish again.
We were really full by the end of our meal and probably didn't need to order the noodle soup or the tofu, but like I said, I wanted to indulge all of my cravings. The Taiwanese breakfast foods at King 5 Noodle House didn't disappoint. I'm not much of a breakfast person in general, preferring to order lunch foods whenever we go out for brunch, but Taiwanese breakfast is different. Most of the foods are savory, not sweet, and it's very carb heavy, which always makes me a happy girl. Eating all these things again really brought back fond memories for me of being in Taiwan. It's been a few years since we were last there, and we don't know the next time we can make a trip back. So even though we find the subway ride to Flushing to be a bit long, it's still shorter than a 17 hour plane ride to Taiwan. The next time I have a craving for Taiwanese food, I'll happily hop on the train and return to King 5 Noodle House.
King 5 Noodle House
3907 Prince St.
Flushing, NY