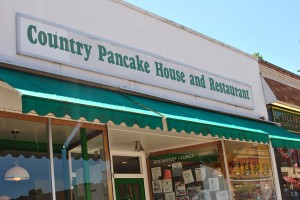 We were in NJ one weekend and went for brunch with Alice at the Country Pancake House and Restaurant in Ridgewood. It's sort of like a homestyle diner, with a massive menu and even more massive portions. There's a huge list of breakfast options, with many different kinds of eggs, omelettes, waffles, frittatas, etc., and, of course, pancakes. There are also multiple lunch/dinner options, with sandwiches, burgers, chicken, even seafood and steaks. Since it was still early, we decided to stick with the breakfast items, though there were so many choices that it was a bit overwhelming. We finally made our selections and settled in to munch on the basket of chocolate chip cornbread that they brought us.
The cornbread was sweet and fluffy, lightly toasted on the outside, and chock full of chocolate chips. They were a tad on the sweet side but still a pretty tasty way to start off the meal.
The restaurant also has a pretty extensive juice bar, so Josh decided to get a glass of cantaloupe and carrot juice. It was bright orange and a little frothy on top. Taste-wise, I thought the carrot flavor was stronger than the cantaloupe flavor. It was pretty refreshing though, with the natural sweetness of the vegetable and fruit shining through. I felt healthier just drinking a little bit of it.
For breakfast, I chose the country corned beef hash platter, which was a huge pile of corned beef hash topped with three poached eggs. It came with a side of home fries, but I substituted french fries, and two giant pancakes (I selected chocolate chip). The amount of food I got was just ridiculous, and there was no way for me to finish it all.
The eggs were all perfectly poached, soft on the outside and runny on the inside. The corned beef has was nice and meaty, with not too much diced potato filler. It wasn't overly salty, and when I mixed it with the egg yolks it became rich and velvety. The french fries were crispy and a little seasoned, just the way I like them.
The chocolate chip pancakes that came with my platter were the size of dinner plates, and there were two of them. They were light and fluffy and studded with lots of chips.
Both Josh and Alice chose the country spirit platter, which came with three eggs any style (they opted for over easy), bacon, sausage, ham, home fries, and pancakes. And no, it wasn't a choice between bacon, sausage, or ham, the platter came with all three. They both also opted for blueberry pancakes, which were just as large as mine.
We barely made a dent in our platters though, and all around us, everyone was getting huge doggy bags to go. After we had eaten our fill, I combined all of our leftovers and ended up taking home four eggs, four pieces of bacon, two pieces of ham, one sausage, about a pound of home fries, a huge pile of corned beef hash, and a huge pile of french fries. On top of that, we had four pancakes left over, three blueberry and one chocolate chip. This amount of food lasted me the entire week. I ended up eating some of it for lunch and some of it for dinner.
Despite the insane amount of food we each received, everything was well prepared and properly cooked. All of our eggs were appropriately runny, the bacon was perfectly crispy, and everything was served hot. To top it off, our platters were under $10 each. How can you beat that?
I feel like there's some sort of Man vs. Food challenge in here somewhere. Adam Richman – if you're looking for a place to visit in the northern NJ area, the Country Pancake House and Restaurant definitely fits the bill!
Country Pancake House and Restaurant
140 East Ridgewood Ave.
Ridgewood, NJ