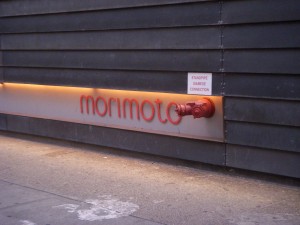 We had an extra special treat for this rendition of Sunday night dinner. We were trying to decide where to eat and somehow we ended up having the omakase at Morimoto. It was a nice surprise and quite a change from our usual Sunday night choices.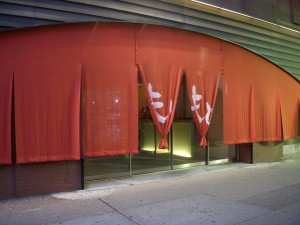 I was really excited as we walked through the red curtains into the entrance of restaurant. I was surprised by the décor, as it was super sleek and modern. I guess I was expecting something a bit more Japanese in style? The tables are separated by glass walls, so it kind of feels like you're sitting in clear cubicles. The glass is only a little bit frosted so you can still see the people around you. I guess it helps keep the noise level down, and so you don't feel like the tables are too close together, though they are. Every time a server brushed against the glass to serve the other table, the glass shook and knocked into our table.
Our waiter described the "chef's choice" omakase menu to us, which varies every day. Today's offering was seven courses, all of which sounded pretty good. Everyone at the table opted for the omakase, and ordered a few bottles of special Morimoto beer to start. The beers, which are made by Rogue, range from light to dark. Josh and I tried the Morimoto Black Obi Soba Ale, which was like a dark porter and had a nice coffee taste to it.
Josh's dad had the Morimoto Soba Ale, which was much lighter and crisper.
Our first course was the toro tartare, topped with a little bit of osetra caviar and served spread out on a wooden plank on ice. At one end were the "condiments", which included wasabi, crème fraiche, nori paste, chives, avocado cream, and rice cracker crumbs. There was a bowl of dashi soy for dipping as well.
The bowl came with a little metal spatula/shovel, which you use to scrape up some toro, dip into the dashi soy, and scrape on whatever condiments you like. I was partial to the nori paste, the avocado cream, and the rice cracker crumbs, which provided a nice crunch. The toro was really delicious and we all scraped up every last bit. My only complaint was that the spatula/shovel is flat, so when I dipped into the dashi soy I tended to lose some toro in the liquid, as there was nothing really to keep it in place. Regardless, it was a fun dish to eat.
The second course was fluke crudo seared with hot sesame oil accompanied by yuzu, microgreens, shiso, and mushroom. The sauce for this dish tasted exactly like the hot oil, scallion and soy sauce that my dad pours over steamed fish, a classic Chinese dish. It's my favorite way of preparing fish, but meaty steamed fish, not thin slices of raw fish. I'm not saying that it tasted bad, which it didn't, but the sauce totally overpowered the fluke, and the delicate flavor of the raw fish was completely lost. I liked the sauce, but I didn't like it in this dish because I felt like it wasted the fish, if that makes sense.
The third course was the "salad" course, with seared sockeye salmon on shiso tartar sauce accompanied by greens tossed with apple vinaigrette. The salmon was cooked perfectly – lightly seared on the outside and still very pink in the middle. The tartar sauce fortunately did not taste too strongly of shiso, as it's an herb that tends to overpower, and had an interesting pink color to it. The salad and apple vinaigrette on its own tasted a bit too acidic, but when combined with the salmon and tartar sauce all the flavors worked out well together. This was one of my favorite dishes of the omakase.
When we first placed our order, we were given a choice for the fourth course, either an oyster dish or a smoked salmon ravioli. Josh, his dad, and I all opted for the oyster while Josh's mom and sister chose the smoked salmon ravioli. While we were waiting for this course to arrive, the waiter came by and told us they had run out of foie gras for the oyster so we would all be getting the smoked salmon ravioli. I thought it was poor planning on their part, and it was disappointing that they didn't offer a substitute choice for the oyster. They should have come up with an alternative option, rather than just giving us all the smoked salmon by default. Not everyone wants to have salmon two courses in a row. Fortunately, I love smoked salmon, but unfortunately, I was disappointed by this dish. It was one tiny ravioli, filled with an insignificant portion of smoked salmon, sitting on top of pureed mountain yam and covered with yuzu foam. There were a few dots of salmon roe and dill as well. I found everything to taste a bit too bland, and there really wasn't much textural difference between the ravioli and the yam. The salmon roe helped, but there wasn't enough of it to provide enough of a salty punch. And I couldn't help wishing that we had had the oyster instead.
Our fifth course was sushi, which included pieces of unagi (eel), red snapper, Boston mackerel, silver whiting, and toro. The unagi was one of the better versions that I tasted, as it wasn't covered in so much sauce so you could still taste the eel. The red snapper was also super fresh, and I enjoyed it even though I'm not usually fond of it. The mackerel was tasty as well, but my favorite was the toro. It was lush and fatty and just delicious. I didn't like the whiting though, as I found the texture to be a bit too firm and it had a weird flavor to me but everyone else seemed to enjoy it.
Prior to our main course, we were given a palate cleanser of a shot of hibiscus tea topped with yuzu foam and pepper. It was actually really tasty, with the sour shock of yuzu bubbles followed by the sweetness of the tea, and just a tiny bit of pepper in the back of your throat. It was a beautiful presentation and definitely woke my taste buds up for the next dish.
For our main course, we had half a roasted lobster that was covered in garam masala and served with a little bowl of lemon crème fraiche. Also on the plate was a serving of wagyu beef with a sweet scallion sauce.
I liked the garam masala spices on the lobster, though if you're not a fan of Indian food this wouldn't be for you. I thought the lemon crème fraiche didn't really go with the dish (it tasted like super sour lemon-flavored yogurt to me), but Josh's sister liked it because it tempered the spice on the lobster.
The wagyu beef was pretty good, but it was a super thin slice and I thought the sauce overwhelmed the flavor of the beef. It was also a bit tougher than I thought it would be, considering it's wagyu. There were pieces of yam with the beef that I enjoyed, but overall I found the dish to be a bit too sweet and cloying.
For the last course, dessert, we had a steamed almond cake with apricot ice cream and torched meringue. When they brought us the dessert, we were told it was mango ice cream, but when we tasted it, and had no mango flavor whatsoever. It tasted more peach-like but we couldn't exactly place the flavor. We asked a different waiter, who told us that it was apricot. Apricot and mango? Not exactly the same thing. Regardless, I really enjoyed the almond cake, which was a bit gritty and chewy and sticky, if that makes any sense. Josh's parents didn't like the texture, but I guess maybe it's an Asian thing to love things that are "QQ". And once we found out it was apricot ice cream, then we could really taste the apricot flavor. However, I'm not sure that the apricot went well with the almond cake; I ended up eating each component separately.
The service kind of surprised me a bit, as it was pretty casual. I would have thought a place like Morimoto would strive for perfection in every way, including service. While they did sweep the table when serving each course, plates were cleared before everyone at the table was finished eating. That's a pet peeve because it makes everyone else feel rushed, me especially since I'm a slow eater and I like to savor my food. They also didn't take much care when providing utensils for courses that required more than just chopsticks. Spoons and forks were haphazardly placed on the table, sometimes piled on top of each other messily. They took away Josh's mom's napkin when she went to the bathroom, and we had to ask them for a replacement. It was mostly little things, like incorrectly telling us what was in our dessert course, but all of that put together makes a huge difference in the end. For the amount of money that you spend at Morimoto, you want a nice complete experience.
Overall I was a bit disappointed with the omakase meal. I've always read that omakase is the way to go at Morimoto, but most of the items we had can be ordered a la carte, and nothing really blew my mind. I think we would have been better off ordering lots of different things and sharing them. The food that we ate wasn't the best Japanese food I've ever had, nor the freshest tasting. A lot of courses were drowning in sauce, which really detracted from the overall flavor. If you're supposedly serving high quality ingredients, why would you need to cover it up? It didn't make sense to me. I might come back to Morimoto and order a few things off the regular menu, but I won't be doing the omakase again.
Morimoto
88 10th Ave. between 15th and 16th St.
New York, NY