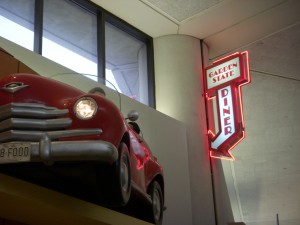 Unfortunately for Josh, his Vegas business trip was scheduled after we had already booked our flights to Chicago. Rather than trying to change his flights to go directly from Vegas and having to deal with the red tape and all the rebooking fees, he opted to take a redeye into Newark from Vegas and meet me at the airport for our flight out to Chicago. Because his flight arrived at 5:30 am, and our flight out was at 10:15 am, it didn't make sense for him to try and get home in between. I had him call me as soon as he landed and I headed to the airport immediately in an effort to cut down on the time he would have to wait by himself. We obviously had a lot of time until our flight so after we checked in and deposited our bag, we headed off to the Garden State Diner for a super early breakfast.
I've already waxed nostalgic about my love for Jersey diners, and the one in the airport was obviously a kitschy version – stainless steel chairs, red vinyl booths, neon lights, the whole bit. Still, it was more comfortable sitting in a booth than on those hard chairs by the gate, plus there was food involved.
We took our time deciding, and finally settled on Jersey eggs benedict for me (with Taylor ham instead of Canadian bacon), a bacon/egg/cheese sandwich for Josh, and a side order of fries to share. I asked the waitress if I could have the hollandaise on the side, and she seemed really confused, like she didn't know eggs benedict comes with hollandaise. Regardless, my order showed up with the sauce on the side as requested but unfortunately, the eggs were way overcooked. One still had a tiny bit of runny yolk, while the other was almost completely hard-boiled. I generally hate sending things back, but a hard-boiled poached egg for eggs benedict is inexcusable.
I flagged the waitress down, apologized first, and asked if I could new eggs since mine were overcooked. Again, she seemed really confused. I was trying to explain to her that the poached eggs should be runny, and she asked if I wanted them done "medium." I don't even know what that means! I've never been asked how I wanted my eggs done to a temperature, just whether I wanted them scrambled, or over easy, etc. So now I was also confused, because if I wanted runny eggs, do I order them rare? I didn't want the whites to be runny though, because that's not right either. So after some confused looks back and forth, I just restated that I would like the yolks to be still runny, not hard-boiled, handed my plate back, and hoped for the best. She returned with eggs that were better, but not perfect. I think the temperature of the water they were poaching the eggs in was too high because the yolk still had a layer of hard-boiling on the outside, but it was much runnier on the inside. The cheese on Josh's sandwich was quickly congealing so I just sucked it up and went with it.
I've never really had Taylor ham before, even though it's a NJ staple, but it tasted ok, kind of like a mix between mild bologna and mild salami, if that makes sense. Josh's sandwich was fine and exactly what he expected it to be.
The fries were standard as well.
To kill some more time, Josh ordered a vanilla milkshake, which was served in a classic tall glass with whipped cream and a cherry on top. This was the best thing we had – creamy, sweet, and just the right consistency.
To be fair, I wasn't expecting much from this breakfast. We're at an airport, after all. And just to warn you, Josh got a cup of coffee and said yes when asked if he wanted a refill. She took the mug away, filled it up, and brought back the same mug. In the end, we were charged for both coffees. I guess we should never assume that coffee refills are free, but usually at a diner they are. Our mistake. But the whole egg situation really threw me for a loop. Am I just crazy? Has anyone else been asked if they wanted their eggs cooked "medium" before?
Garden State Diner
At Newark Airport
Newark, NJ