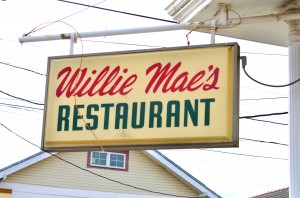 Our last sit-down meal in New Orleans was also one of the best we had during our vacation. The fried chicken at Willie Mae's Scotch House is pretty legendary, and I didn't want to leave town without trying it. After picking up our rental car for the rest of our trip, we drove straight to Willie Mae's in Mid-City for a fried chicken breakfast.
The area surrounding Willie Mae's is definitely a little bit more depressed than the touristy French Quarter or Garden District. The neighborhood was hit hard by Katrina, and volunteers actually helped rebuild the restaurant which had been completely destroyed. I don't know what it was like pre-Katrina, but it looked to us like a charming old school luncheonette located in a white house on a corner of a mostly residential neighborhood.
The restaurant opens at 11 and we got there around 11:30 so I was worried that we would have to wait in line or deal with the lunch rush. Fortunately we got there just in time and were seated immediately, though the place was full the entire time we were there. We knew that we were ordering fried chicken but we debated for a bit whether we should get two orders of fried chicken, or if we should just get one order and try something else from the menu. Since three pieces of chicken come to an order, it was easy for us to share a plate and get something different as well. We opted for the country fried pork chop, which is coated in batter and then fried. The crust is more tempura-like than the fried chicken's coating. It was not as crispy but was well seasoned, and the pork chop inside was still juicy and tender.
We got to pick a side dish with the pork chop and opted for red beans. The side portion turned out to be a huge bowl of soupy beans served with a mound of rice. I don't think I've ever eaten red beans before and therefore have no basis for comparison, but I thought these were fantastic. Simple but well seasoned, flavorful, and perfectly balanced with the rice, I couldn't stop eating it. I'll need to see if I can find a recipe somewhere!
But back to the main event: the fried chicken. Just to preface, I am by no means a fried chicken connoisseur. Any fried chicken craving that I have is easily satisfied by a run to the nearest KFC, and I'm just as happy eating the prefabricated, commercial grade sludge that passes for frozen chicken fingers. "Upscale" restaurant fried chicken has been pretty hyped this year, and I usually don't buy into that. Why should I pay ~$15 for two or three pieces of fried chicken when the same amount can get me a 6-piece bucket plus biscuits and sides? Well, if all of these restaurant fried chickens are like Willie Mae's, then I've been missing out. It is unbelievably good and definitely the best I've ever had. And at $10 for three pieces with one side plus a vegetable, it's a bargain. The chicken is perfectly fried to a deep brown color, and the crust is feather light and not greasy in the slightest. It shattered spectacularly when I bit into my piece (I took the thigh while Josh ate the breast; we split the wing), and was well seasoned. J loved eating all the fragments of crust that came off the chicken and couldn't get enough of them. The chicken itself was also super juicy and flavorful throughout, like it had been brined. I like dark meat because it's usually more tender and less prone to drying out, but I took a bite of the breast and was just as pleased with the juiciness and flavor.
For the side, I chose macaroni and cheese. It was casserole style so baked and on the drier side, but still cheesy in flavor. It just needed a dash of salt to liven it up a bit. The vegetable of the day was peas. Both were fine, though nothing special. Everything just paled in comparison to the fried chicken.
Overall we both absolutely loved Willie Mae's. The fried chicken was beyond my expectations, and I still drool a little every time I think about it. I was happy to have tried the country fried pork chop, but I also regret not getting a second order of fried chicken. We heard people ordering fried chicken plates with an additional side of fried chicken (3 pieces for $7.50), and now I understand why. The food in general was just simple and homey but expertly prepared; it was the ultimate comfort food destination. Service was fast and friendly, and both the sweet tea and the lemonade were great accompaniments to the meal. Don't let the fact that it's far away from the touristy areas of New Orleans deter you from going. It's truly a special dining destination that should not be missed.
Willie Mae's Scotch House
2401 St Ann St.
New Orleans, LA