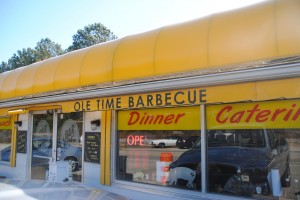 As promised, as soon as we landed in Raleigh, my brother, sister-in-law, and nephew picked us up from the airport and we headed straight to Ole Time Barbecue for lunch. The restaurant was smaller than we expected, and completely packed when we arrived, which is usually a good sign. Fortunately we didn't have to wait too long for a table, though it was a bit of a tight squeeze with Alexander's car seat. They brought us a basket of hush puppies to munch on while we looked over the menu.
These hush puppies were fantastic! Hot, crispy on the outside, soft in the middle, and full of corn flavor. They were irregularly shaped and clearly homemade, unlike the perfect logs that we've gotten at other bbq restaurants in the area. They were addictive and we polished off the basket quickly.
The combination meals seemed like the best way to try the most dishes. Josh and my brother both opted for hand chopped bbq pork and bbq chicken. The bbq chicken was falling off the bone tender and pretty tasty, while the chopped bbq pork was soft and super vinegary. Both were made even better after being doused in the acidic bbq sauce and tangy hot sauce.
For his sides, Josh selected the french fries (at my request) and fried okra. The fries were pretty bad – cold and soggy – but the fried okra was delicious. The little crunchy breaded slices of okra were bursting with flavor, and not slimy in the least. I may have found one of my new favorite side dishes.
My sister-in-law had the chopped bbq pork and Brunswick stew combination, with sides of collard greens and fried apple sticks. The stew was meaty, but the portion was small compared with the other combinations.
Unfortunately, I had the worst meal of the bunch. I opted for the full rack of baby back ribs, which were so dry and tough that never mind trying to pull them apart with my fingers, I couldn't even cut through the meat with a knife and fork. The meat was flavorless and stringy, and I ate about two ribs before giving up. What a huge disappointment. My sides of collard greens and baked beans were good, but nothing could salvage the awful ribs.
Overall I think we were all disappointed by the food we had at Ole Time Barbecue. It came recommended to us by a reader who commented about our dining choices during our first trip to Raleigh, plus it was featured on the Food Network show Road Tasted with the Neelys. While the hush puppies definitely lived up to expectations, everything else was downhill from there. I did like it better than Danny's Bar-B-Que but it was nowhere near as good as Smokey's BBQ Shack. The barbecue at Ole Time simply wasn't as flavorful or as meltingly tender, and the ribs were just terrible. I know my Northern palate isn't up to the same Southern standards, but dry is dry. None of the meats were really outstanding, and unfortunately, I don't think that we'll be going back the next time we're in NC.
Ole Time Barbecue (multiple locations)
6309 Hillsborough St.
Raleigh, NC